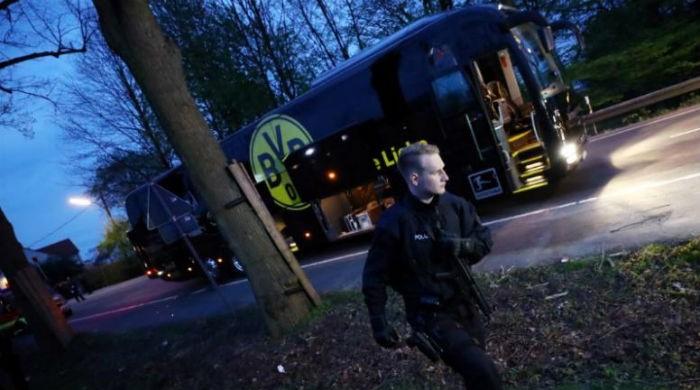 German police arrested a man on Friday suspected of detonating three bombs that targeted the Borussia Dortmund soccer team bus in the hope of sending the club's shares plummeting and making a profit on an investment, prosecutors said.
In a statement, the federal chief prosecutor said the 28-year old man, a dual German and Russian national identified as Sergei V., had bought options on Borussia Dortmund's stock before the attack.
The team bus was heading to the club's stadium for a Champions League match against AS Monaco on April 11 when the explosions went off, wounding Spanish defender Marc Bartra and delaying the match by a day.
Prosecutors last week expressed doubts about the authenticity of three letters left at the site of the attack that suggested that militants had carried it out.
The prosecutor's office said the suspect had bought 15,000 put options - contracts giving him the right to sell Borussia Dortmund's shares at a pre-determined price - on the day of the attack, using a consumer loan he had signed a week earlier.
"If the shares of Borussia Dortmund had fallen massively, the profit would have been several times the initial investment," it said, adding that such a slump could have resulted if any players had been killed or seriously injured.
In fact, the shares rose 1.8 percent on April 12, the day after the attack, and are up about 2 percent so far this year.
Team hotel
Police detained the suspect in the southwestern city of Tuebingen. He faces charges of attempted murder, inflicting serious bodily harm and causing an explosion, the prosecutor's office said.
It said he had booked into the same hotel where the Dortmund team was staying, and the hotel's Internet IP address was used in the transaction to buy the share options.
Der Spiegel magazine reported that the suspect received weapons training while completing then-mandatory service in the German military from April to December 2008.
It said he was identified following a tip from an informant in the financial sector, and a notice of possible money laundering by comdirect bank AG, a unit of Commerzbank AG.
Security is a hot issue in campaigning for Germany's federal election on Sept. 24, in which Chancellor Angela Merkel is seeking a fourth term.
Borussia Dortmund's Chief Executive Hans-Joachim Watzke told the Sueddeutsche Zeitung newspaper he was talking to security experts including former staff of Germany's GSG9 special operations police unit with a view to creating a security unit.
"We will spend a lot of money to improve the security situation of our team," said .
He added that BVB was also considering whether it needed to introduce measures to restrict trading in its shares.