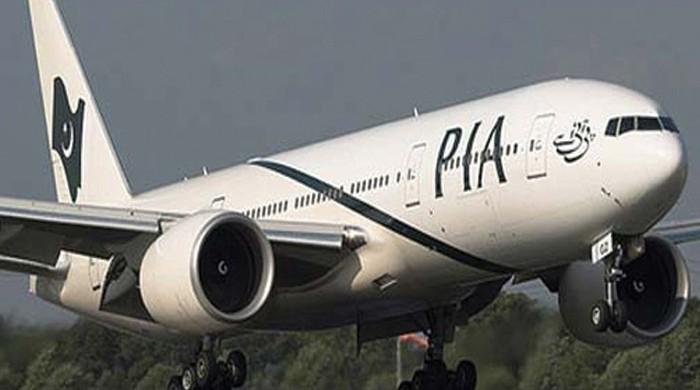 LONDON: Britain's National Crime Agency (NCA) said that a large quantity of heroin, a prohibited drug in the UK, was found at the PIA plane at Heathrow Airport but none of the 16 members of PIA was arrested or questioned by the NCA.
Geo News had exclusively revealed that the raid on PIA's plane at Heathrow airport on Monday evening was carried out by the UK Border Agency (UKBA) and then the investigation was handed over to the NCA for further investigation.
Scotland Yard had this correspondent categorically that its officers had nothing to do with the operation at the Heathrow airport. The Home Office has confirmed to this scribe that the UK Border Force agents took part in the operation and received heroin which was concealed at various parts of the PIA plane which had landed at Heathrow from Islamabad.
Speaking to Geo News on Wednesday afternoon, a spokesman of the NCA said that it cannot disclose any information about the operational matter of the drug bust but confirmed that "a quantity of heroin, a class A prohibited drug under UK law, was found concealed within the aircraft by Border Force officers".
He added that we do expect that investigation to have an international element".
He said that at no point were the crew (of PIA) under arrest, nor were they questioned by NCA officers. In total, 16 crew members were questioned by the UKBA in relation to the drug bust and their finger prints were taken. Its understood that if the NCA succeeds in establishing a link between the drugs and any of the crew members then charges will be brought.
Talking to media in Islamabad, the Prime Minister's Aviation Adviser Sardar Mehtab Abbasi said there has yet been no official word from the UK authorities on the issue.
"This is not an issue of PIA but of the international image of Pakistan, which has been tarnished due to this incident," he stated.
He said in his statement that they will not conceal any facts, adding that, "we will get to the bottom of the issue and use it to further clean our house".
PIA's UK station manager Sajidullah Khan has told Geo News that they have not been notified by the UK authorities about the discovery of heroin on the PIA plane. "We are getting news only from the media," he said.
He confirmed late on Wednesday that 15 crew members of the PIA have been returned their passports by the UK immigration authorities and they flew to Pakistan on the PIA flight. He said that the immigration authorities had confirmed that there was no evidence at this stage that anyone of them had committed any illegal act.
A spokesman of the Pakistan High Commission in London told Geo News that they are in touch with the UK Foreign and Commonwealth Office over the incident. "We have been informed that local authorities are investigating the matter and further findings will be shared with us when available," the spokesperson stated.
In February this year, a PIA flight was sensationally diverted to Stansted airport, triggering terror alert. The PIA flight, PK-757, had landed at Stansted escorted by RAF Typhoon fighter jets, which had been scrambled from the nearby Coningsby Royal Air Force base. Two days a British Pakistani named Khalid Baqa of Priory Road, East London, was charge for misrepresentation and fraud but it was established that on that particular occasion he had nothing to do with terrorism.
Pakistan High Commission had protested at that occasion that the diversion of flight was unrequired and that it had caused damage to reputation of the airline as well as Pakistan. Pakistan High Commission had said that a protest will be lodged with the British government and appropriate legal action will be taken but its understood that no action has been taken until now.