Update [08:25 AM PST]: 34 people are reported to be dead, with most becoming victims of suffocation in the chaos as guests and staff tried to flee choking smoke at the complex, according to a report by the ANC News channel, which cited Bureau of Fire Protection sources.
"We have been informed of several casualties, the number and identities of whom have yet to be determined," resort owner Travellers International Hotel Group Inc said in a statement.

As for the suspect, national police chief Ronald dela Rosa in a media conference said, "He burned himself inside the hotel room 510. […] He lay down on the bed, covered himself in a thick blanket and apparently doused himself in gasoline."
The bodies of two of the victims have been taken to the Veronica funeral parlour, staff member Leni Domingo told Reuters.
Officials said at least 54 people were hurt, some seriously, as they rushed to escape what at first had been feared as a militant attack.
Update [04:52 AM PST]: Around dawn, the body of the suspected gunman was found in a hotel room in the complex close to the Ninoy Aquino International Airport and an air force base.
Police said it appeared the suspect had killed himself after firing at officers searching the still-smoking building. "Our assessment is he burned himself. He committed suicide," Oscar Albayalde, chief of the capital's police office, said in a radio interview.
Officials said at least 30 people were hurt, some seriously, as they rushed to escape what at first had been feared as a militant attack.
Update [04:20 AM PST]: The suspect in the firing incident is dead, according to media reports.
The cause of his death is still unconfirmed. Philippines national police killed a man who fired shots inside a casino in the Philippine capital, AFP reported citing authorities.
"He's dead. He was killed by our troops," dela Rosa told the GMA television network.
However, according to Reuters, the gunman killed himself, police said.
Update [02:50 AM PST]: At least 25 people were hurt, some seriously, as they rushed to escape, medical officials, including those from the Philippine Red Cross' local Pasay Chapter, said.
Jeri Ann Santiago, who works in the emergency room at the San Juan de Dios hospital, close to Resorts World, said 13 people were being treated, but more were on the way.
Most of the patients were suffering the effects of smoke inhalation and some had injuries such as fractures, she added, explaining that none had gunshot wounds.

In addition, windows were smashed at the casino complex as police searched for the gunman responsible, a local police officer said.
However, a police officer at the scene mentioned there were no more gunshots, responding to an AFP journalist's prior report of more gunshots being heard. The policeman stated the sound of the blasts was from the windows being smashed, but could not say why the windows were smashed.
On the other hand, 54-year-old Gil Yonco stood weeping in the street at around 5 AM local time, since his daughter had been inside Resorts World on the second floor.
Yonco's daughter had called him for help because she was getting suffocated by smoke. However, there was no answer when he tried to call her back. "I am very worried as a parent, I need to find her," he said.
Ronald Romualdo, a maintenance worker at Resorts World, said he saw a woman fall from an upper floor while trying to escape. "Several people were injured," he added.
Update [02:30 AM PST]: At least three more gunshots have been heard at the casino complex as police look for a gunman who had fired an assault rifle earlier, an AFP reporter on the scene said.
Some windows at the complex shattered as the gunshots were heard, according to the reporter, about five hours after the man went into the casino and fired what police said was an M4 rifle and then disappeared.
Update [02:25 AM PST]: "We are looking into a robbery angle because he did not hurt any people and went straight to the casino chips storage room," National police chief Ronald dela Rosa noted.
The top security official said the suspect was "foreign-looking, a Caucasian, about six feet tall". However, the gunman may have escaped because smoke had obscured footage for CCTV cameras, he added.
Thirteen people had been treated at a nearby hospital for smoke inhalation and fractures, hospital staff told Reuters.
Update [02:00 AM PST]: "There hasn't been anyone shot... there are only injuries from people who tried to escape in a stampede or from smoke," dela Rosa said on DZMM radio.

The gunman, however, was still on the loose after firing an assault rifle, the national police chief said regarding the incident at Manila Resort, which is across a road from one of the main terminals of the Philippines' international airport.
Some people inside the casino recounted feelings of terror when the shooting occurred.
"I was about to return to the second floor from my break when I saw people running. Some hotel guests said someone yelled 'ISIS'," Maricel Navaro, an employee of Resorts World, told DZMM radio.
"Guests were screaming. We went to the basement locker room and hid there. People were screaming, guests and employees were in panic," Navaro added.

"When we smelled smoke, we decided to go for the exit in the carpark. That's where we got out. Before we exited, we heard two gunshots and there was thick smoke on the ground floor."
Update [01:50 AM PST]: While Daesh immediately claimed responsibility, stating "lonewolf soldiers" from its group carried out the attack, as per SITE Intelligence Group that monitors terrorist organisations, dela Rosa said police "cannot attribute this to terrorism".
He said it may have just have been an attempted robbery, pointing out the gunman tried to steal the gambling chips.
Update [01:30 AM PST]: National police chief Ronald dela Rosa issues a statement on the incident.
"There hasn't been anyone shot," dela Rosa said on DZMM radio, adding there was no indication yet it was a terrorist incident. "We cannot say this is an act of terror… he did not hurt anyone," he explained.
Dela Rosa said the man, who appeared to be acting alone, walked into one of the gambling rooms and fired an M4 rifle at a large television screen, then poured gasoline onto a gambling table and set it alight. He said the man then fired again at a stock room containing gambling chips and filled a backpack with them.
The man then left the room and went upstairs to a hotel section of the complex, according to dela Rosa, who added that there are no reports of hostage-taking, although the gunman has not yet been caught.
"We have cleared the rooms (on the floor of the hotel the gunman was last seen) but we don't see where he is," dela Rosa said.
Update [01:20 AM PST]: A spokeswoman for the US State Department said earlier it was not aware of any US citizens being affected but was continuing to gather information.
"We remain in close contact with local officials," she said, adding that US citizens were advised to exercise caution and monitor local media for further information. 
Update [01:10 AM PST]: Through Twitter updates, the Manila Resort management commented on how Philippine National Police is carrying out an operation to analyse the situation, but refused to share further information saying it "may jeopardise their movement at this point".

The company added that it has "no official information as to the identity or affiliation of the persons responsible" for the incident.
Update [01:05 AM PST]: Philippines police chief says as far as he is concerned, there is no indication that the firing incident at Manila Resort was an act of terrorism.
Update [01:00 AM PST]: A gunman with an assault rifle entered Manila Resort's gaming area and set fire to the tables, the police chief added.

Update [12:59 AM PST]: Philippines Armed Police was seen entering Manila Hotel near Resorts World, a witness told Reuters.

Update [12:50 AM PST]: US President Donald Trump Thursday expressed sadness and sympathy for victims of what he labelled a "terrorist attack" at a casino in the Philippines capital Manila.
"We're closely monitoring the situation," Trump said in response to the gunfire attack, which was quickly claimed by Daesh.
"But it is really very sad as to what is going on throughout the world with terror. Our thoughts and our prayers are with all of those affected."
White House Press Secretary Sean Spicer also tweeted.
Update [12:30 AM PST, Friday]: Military spokesman Restituto Padilla said the police were in control of the situation and the army was monitoring closely.
Philippines Red Cross responded to the incident right away.
Various people took to Twitter to talk about the attack.
Original reporting [11:45 PM PST, Thursday]: MANILA: Gunshots and explosions rang out from an entertainment resort in the Philippine capital Manila early on Friday and local media reported armed men were inside the complex.
The company mentioned that it is currently working with the local police to offer the best possible security to the visitors.

Resorts World Manila said on social media it was on lockdown and the local fire department said a blaze was burning on the second floor of the building.
"We ask for your prayers during these difficult times," Resorts World said on Twitter.
Witnesses who spoke to radio stations said several gunmen were seen in the complex. News channel ANC said there were two gunmen, wearing masks and black clothes.

The information could not be immediately verified.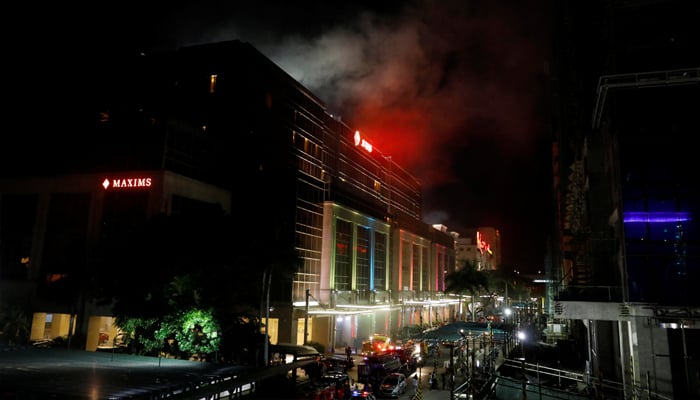 Pictures circulated on social media of the resort, close to the city's airport, showing plumes of smoke pouring from a building.
A source at one of the resorts told Reuters that employees were being evacuated and declined to give more details.
As the drama unfolded, dozens of police trucks and a handful of huge Special Action Force vans and armoured personnel carriers lined side streets near the hotel, casino and shopping mall complex.

Heightened security
The Philippines has been on heightened alert amid a crisis in the south of the country, where troops have been battling Daesh rebels since May 23.
Philippine President Rodrigo Duterte imposed martial law last week across the southern region of Mindanao to crush what he said was a rising threat of Daesh there.
He declared martial law shortly after militants went on a rampage through the southern city of Marawi, which is about 800 kilometres (500 miles) south of Manila.
Editorial note: Content shared by users on social media has not been independently verified.