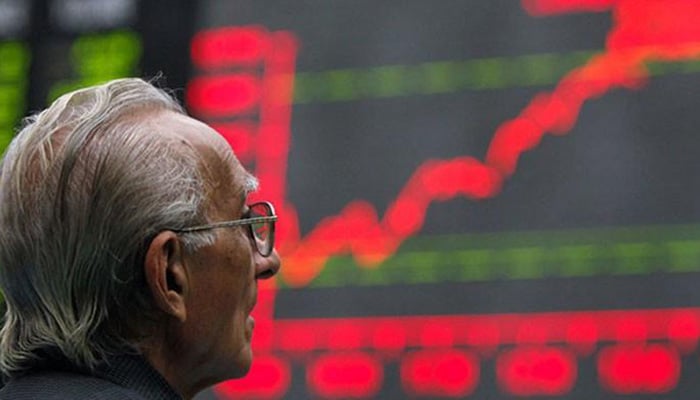 Stocks witnessed renewed buying interest on Friday as investors opted for cherry-picking in the oversold market amid rising global oil prices, dealers said.
Analyst Ahsan Mehanti at Arif Habib Corp said the market turned bullish following the visit of Chairman of the Securities and Exchange Commission of Pakistan Zafar Hijazi, asking brokers to give positive advice to the investors, The News reported.
"Surging global crude prices, renewed foreign inflows and Prime Minister's rejection of his resignation call and challenging the Joint Investigation Committee (JIT) report played a catalytic role in positive close," said senior analyst Ahsan Mehnati. 
The KSE 100-share index gained 1.27 percent or 553.89 points to close at 44,337.44 points. KSE 30-share Index was up 1.48 percent or 338.01 points to end at 23,102.10 points.
As many as 340 shares were active; of which 240 increased and 17 remained unchanged. Dealers said as the Morgan Stanley Capital International's value stocks have come down to attractive multiples, while long-term investors did their shopping on dips.
However, the immediate-term price movements still depend on political developments. The ready market volumes stood at 112.138 million shares as compared to 125.518 million shares a day earlier. Elixir Securities, in a report, said equities surged higher in late trading with the benchmark KSE-100 Index settling over 44,300-level.
"The first session saw choppy trading as stocks continued to struggle for the direction amid very selective participation," the brokerage said. "Activity, however, improved from the onset of the second session as local institutions reportedly turned buyers and cherry-picked cement, financial and other select Index names."
Despite higher activity in the second half, turnover for the entire day remained muted with the main-board shares gathering a volume of only 58 million shares, down 24 percent from Thursday.
Financial sector outperformed others, led by Habib Bank (up 1.3 percent) and United Bank (rising 2.4 percent), while Lucky Cement was up 1.8 percent, DG Khan Cement increased 2.6 percent and Maple Leaf rose 4.5 percent.
Analysts said investors will be closely monitoring and digesting developments on the political front over the weekend. They are hopeful for a positive outcome on Monday (17 July) when the Supreme Court would hear the case against the premier's family.
Companies, reflecting highest gains, included Wyeth Pakistan up Rs51.48 to close at Rs2,241/share and Sanofi Aventis that rose Rs45.33 to end at Rs1,718.33/share.
Companies, with most losses, included Agriautos Industries down Rs17.70 to end at Rs367.30/share and Pakistan International Container Terminal that fell Rs10 to close at Rs321/share.
Highest volumes were witnessed in Silk Bank with a turnover of 8.307 million shares. Its share value gained one paisa to close at Rs1.49/share. Power Cement was the second with a turnover of 8.214 million shares. Its stock price was up 18 paisas to end at Rs12.15/share. K-Electric was the third with a turnover of 8.159 million shares. It shed 20 paisas to finish at Rs6.59/share.