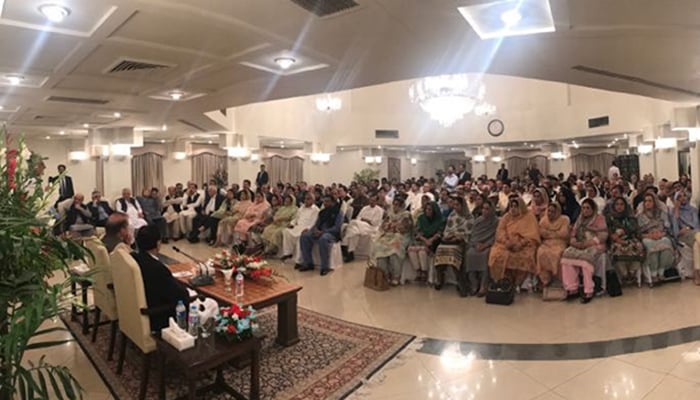 ISLAMABAD: Punjab Chief Minister Shehbaz Sharif will become his brother's successor in parliament and the party's candidate for prime minister. 
"If you support anyone after me, I ask you to support Shehbaz Sharif," said Nawaz during the PML-N parliamentary party meeting held at the Punjab House on Saturday. 
Nawaz Sharif also announced that Shahid Khaqan Abbasi will be the interim candidate until Shehbaz is elected to a National Assembly seat. 

"It will take Shehbaz Sharif 50-55 days to take over as prime minister. He will have to contest elections. For the interim period, I am recommending Shahid Khaqan Abbasi for the position of prime minister."

Shehbaz Sharif, 65, is currently serving as the chief minister of Punjab province, which accounts for more than half of Pakistan's 190 million people. He will also need to resign from his current position in order to be eligible for the post of prime minister.

Abbasi, 58, is a staunch Sharif loyalist and had been the petroleum minister in his cabinet until Friday, when Sharif resigned after the Supreme Court disqualified him following a corruption probe.
Speaking to reporters, interim PM-designate Shahid Khaqan Abbasi said the decision came from party leadership, adding that he would try to put Pakistan's economy back on track. 
'Disqualification not because of corruption'
During his address to party leaders, former prime minister Nawaz Sharif said he was proud that his disqualification was not due allegations of corruption brought against him. 

"I am proud that my disqualification was not because of corruption," Nawaz said. "Not a single corruption charge was proven against me," he stressed. 

PML-N to file review petition 
During the meeting, it was announced that the PML-N would file a review petition on the Supreme Court's verdict in the Panama Papers case.
"We have prepared a strong review petition," PML-N leader Barrister Zahid Hamid said during the meeting.

Upon Nawaz Sharif's arrival at the Punjab House for the meeting, Maryam Nawaz tweeted: "Prime Minister or not the Prime Minister, his love resides in the hearts. Nawaz Sharif gets a rousing welcome at the parliamentary party meeting."
Nawaz Sharif stepped down as the prime minister of Pakistan on Friday after being disqualified from holding public office by the Supreme Court.
Announcing its verdict, the five-member bench unanimously disqualified Sharif for failing to disclose his un-withdrawn receivables constituting assets from UAE-based Capital FZE in his nominations papers for the 2013 General Election, stating that this meant he was not 'honest' and 'truthful', as per the Constitution.
"It is hereby declared that having failed to disclose his un-withdrawn receivables constituting assets from Capital FZE Jebel Ali, UAE in his nomination papers filed for the General Elections held in 2013 in terms of Section 12(2)(f) of the Representation of the People Act, 1976 (ROPA), and having furnished a false declaration under solemn affirmation respondent No. 1 Mian Muhammad Nawaz Sharif is not honest in terms of Section 99(f) of Const. Ps. No. 29-30/2016 & 03/2017. 24 ROPA and Article 62(1)(f) of the Constitution of the Islamic Republic of Pakistan, 1973 and therefore he is disqualified to be a Member of the Majlis-e-Shoora (Parliament)."
In the verdict, all five judges ruled to send references against Sharif, his children Maryam, Hussain and Hasan, son-in-law Captain (retd) Safdar and Ishaq Dar to an accountability court.