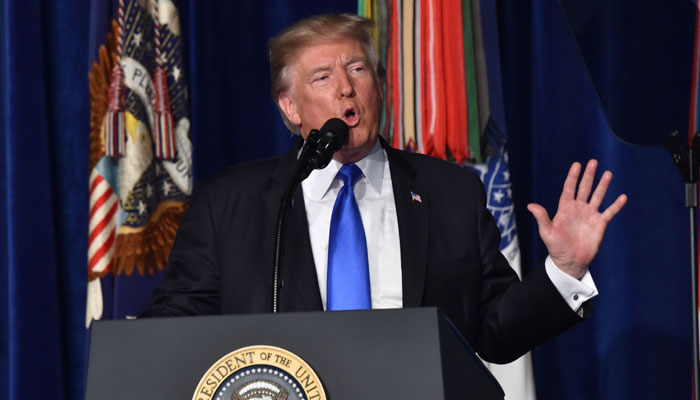 WASHINGTON: US President Donald Trump cleared the way for the deployment of thousands more US troops to Afghanistan Monday, backtracking from his promise to rapidly end America´s longest war, while pillorying ally Pakistan for offering safe haven to "agents of chaos."
However, the Foreign Office has yet to issue a statement after Trump's address. Maryam Aurangzeb said Foreign Minister Khawaja Asif will issue a statement on the matter. 

In his first formal address to the nation as commander-in-chief, Trump discarded his previous criticism of the 16-year-old war as a waste of time and money, admitting things looked different from "behind the desk in the Oval Office."

"My instinct was to pull out," Trump said as he spoke of his frustration with a war that has killed thousands of US troops and cost US taxpayers trillions of dollars.
But following months of deliberation, Trump said he had concluded "the consequences of a rapid exit are both predictable and unacceptable" leaving a "vacuum" that terrorists "would instantly fill."

While Trump refused to offer detailed troop numbers, senior White House officials said he had already authorized his defense secretary to deploy up to 3,900 more troops to Afghanistan.
He warned that the approach would now be more pragmatic than idealistic. Security assistance to Afghanistan was "not a blank check" he said, warning he would not send the military to "construct democracies in faraway lands or create democracies in our own image."
"We are not nation building again. We are killing terrorists."
The US has grown increasingly weary of the conflict that began in October 2001 as a hunt for the 9/11 attackers has turned into a vexed effort to keep Afghanistan´s divided and corruption-hindered democracy alive amid a brutal Taliban insurgency.
The Daesh group later vowed it would make the country "a graveyard" for the United States as long as American troops remained in the country.
Trump also indicated that single-minded approach would extend to US relations with troubled ally Pakistan, which consecutive US administrations have criticised for links with the Taliban and for harboring militants – like Osama bin Laden.
"We have been paying Pakistan billions and billions of dollars at the same time they are housing the very terrorists that we are fighting," he said, warning that vital aid could be cut. "That will have to change and that will change immediately."
Ahead of the speech, Pakistan´s military brushed off speculation that Trump could signal a stronger line against Islamabad, insisting the country has done all it can to tackle militancy.

"Let it come," army spokesman Major General Asif Ghafoor told reporters, referring to Trump´s decision. "Even if it comes... Pakistan shall do whatever is best in the national interest."
Door open to political deal with Taliban
Trump for the first time also left the door open to an eventual political deal with the Taliban.
"Someday, after an effective military effort, perhaps it will be possible to have a political settlement that includes elements of the Taliban in Afghanistan," he said.
"But nobody knows if or when that will ever happen," he added, before vowing that "America will continue its support for the Afghan government and military as they confront the Taliban in the field."
His Secretary of State Rex Tillerson went further, saying the United States would "stand ready to support peace talks between the Afghan government and the Taliban without preconditions."
The Trump administration had originally promised a new Afghan plan by mid-July, but Trump was said to be dissatisfied by initial proposals to deploy a few thousand more troops.
His new policy will raise questions about what, if anything, can be achieved by making further deployments, or repeating the demands of previous administrations in more forceful terms.
´Rigorous debate´
Trump´s announcement comes amid a month of serious turmoil for his administration, which has seen several top White House officials fired and revelations that members of Trump´s campaign are being investigated by a federal grand jury.
He sought in his address to convince Americans weary of his controversial off-the-cuff remarks.
"I studied Afghanistan in great detail and from every conceivable angle," he said, hoping to show he has sufficiently pondered the decision to send more young Americans into mortal danger.
One of the main voices arguing for withdrawal, Trump´s nationalistic chief strategist Steve Bannon, was removed from his post on Friday.
His strategy did however win over national security-focused Republicans with whom he has had strained relations, such as influential Senator John McCain.
China defends ally Pakistan
China defended its ally Pakistan on Tuesday after US President Donald Trump said the United States could no longer be silent about Pakistan´s "safe havens" for militants and warned it had much to lose by continuing to "harbour terrorists".
Asked about Trump´s speech, Chinese Foreign Ministry spokeswoman Hua Chunying said Pakistan was on the front line in the struggle against terrorism and had made "great sacrifices" and "important contributions" in the fight.
"We believe that the international community should fully recognise Pakistan´s anti-terrorism," she told a daily news briefing.
"We are happy to see Pakistan and the United States carry out anti-terror cooperation on the basis of mutual respect, and work together for security and stability in the region and world."
China and Pakistan consider each other "all-weather friends" and have close diplomatic, economic and security ties. China has its own security concerns in the region, in particular any links between militants in Pakistan and Afghanistan and Daesh groups China blames for violence in its far western region of Xinjiang.
"We hope the relevant US policies can help promote the security, stability and development of Afghanistan and the region," Hua said.
Senior US officials warned security assistance for Pakistan could be reduced unless the nuclear-armed nation cooperated more in preventing militants from using safe havens on its soil.
Afghanistan hails Trump's revised strategy
Afghanistan welcomed Trump's revised vision for the Afghan war, stating that it was the "result of intense deliberations" and took into account "both our countries' needs and considerations."
Afghanistan's Ambassador to the US Hamdullah Mohib released a statement hailing Trump's announcement regarding US policy towards Afghanistan and Southeast Asia.
Afghan President Ashraf Ghani welcomed Trump's announcement in a tweet later. 
In 2010, the United States had upwards of 100,000 US military personnel deployed to Afghanistan. Today that figure is around 8,400 US troops and the situation is as deadly as ever.
More than 2,500 Afghan police and troops have been killed already this year.
India welcomes Trump commitment to Afghanistan
India welcomed Trump´s plan to increase US engagement in Afghanistan, saying it shares Washington´s concerns about a safe haven for terrorists.
"We welcome President Trump´s determination to enhance efforts to overcome the challenges facing Afghanistan and confronting issues of safe havens and other forms of cross-border support enjoyed by terrorists," the Indian foreign ministry said in a statement. "India shares these concerns and objectives."
New Delhi, already the fifth largest donor of aid to Afghanistan, said it would continue its efforts, "including in partnership with other countries".
India has vied with Pakistan for influence in Afghanistan, building dams, roads and a new parliament in the troubled country. Last year, it offered a fresh $1 billion in aid.
Analysts said Trump´s speech offered reassurance to those in New Delhi who feared a US pull-out could pave the way for greater Pakistani involvement in Afghanistan.
Instead, they said, Trump had made clear he would overlook Pakistani concerns to allow India to build its engagement there.