The International Consortium of Investigative Journalists (ICIJ) has released a database of around 13.4 million documents revealing over 25,000 companies owned by the world's rich and influential individuals.

The ICIJ coordinated the Panama Papers investigation into offshore companies.
The latest files have disclosed the financial details of politicians, corporations, and celebrities among others.
The Paradise Papers comprise a major part of documents leaked from the company 'Appleby'.
The documents — obtained by a German newspaper from two companies in Singapore and Bermuda — have made public the data of over 25,000 companies owned by individuals from 180 countries, from 1950 to 2016.
Around 381 investigative journalists from 67 countries worked extensively to bring these facts before the people.
Senior The News reporter and ICIJ member Umar Cheema was also part of the team that unearthed the Paradise Papers.
In Pakistan, only Jang Group partners with the ICIJ.
Pakistanis named in Paradise Papers
Shaukat Aziz
Pakistan's former Prime Minister Shaukat Aziz was an employee of Citibank before becoming a politician. He was one of the shareholders and directors of Bahamas-registered Cititrust Limited from 1997 to 1999, along with other executives of the bank.
In 1999 Aziz was appointed finance minister and created the Antarctic Trust.  Antarctic Trust set up by him whose beneficiaries include Aziz's wife, their children and granddaughter.
Aziz had set up the trust in Delaware (USA) before becoming finance minister. Interestingly, the trust was neither declared during his stint as finance minister nor as prime minister.
Speaking through his attorney in New York, Shaukat Aziz said that he didn't have to declare the trust in Pakistan as he was a settlor.
When asked if his wife or children declared the trust, he responded that they didn't have to declare because they were beneficiaries, not the beneficial owners.
Aziz served as prime minister from August 28, 2004, to November 15, 2007 and was appointed as finance minister in 1999.
Aziz settled abroad after his tenure came to an end in 2007.
Ayaz Khan Niazi
Moreover, former National Insurance Corporation Limited chairperson Ayaz Khan Niazi has also been identified in the records in connection with four offshore holdings in British Virgin Islands.
One of them was a trust, Andalusian Discretionary Trust, while the other three were set up as companies: Andalusian Establishment Limited, Andalusian Enterprises Limited and Andalusian Holdings Limited.
All the three companies were set up in 2010 when Niazi was the chairperson of National Insurance Corporation Limited.
In the record, however, Niazi's two brothers, Hussain Khan Niazi and Muhammad Ali Khan Niazi, were shown as the beneficial owners, whereas Ayaz along with his father Abdul Razaq Khan and mother Fauzia Razzaq acted as directors.
Businessman Sadruddin Hashwani
Sadruddin Hashwani, a leading business magnate in the hoteling and oil industry, owns one company in Barbodas and Cayman Islands each. They are: Bowenergy Resources (Pakistan) SRL and Ocean Pakistan Ltd.

Documents show the companies were used for securing hefty loans from Standard Chartered situated in yet another offshore jurisdiction, Mauritius, as well as its branch in London.
The above two companies are in addition to a couple of other offshore holdings discovered through Panama Papers: North Atlantic Services Limited and Rushlake Hotels (USA) Inc., registered in British Virgin Islands.
Responding to The News' questions, Hashwani said he had answered in detail the last year (when the companies were identified in Panama Papers) and there is nothing to add in case of the two newly discovered companies. As for loans from Standard Chartered from its Mauritius branch is concerned, it was a business loan and the charge was registered in favour of the bank with the Security Exchange Commission of Pakistan (SECP) hence nothing is hidden.
Businessman Mian Mansha 
Mian Muhammad Mansha, chairman of Nishat Group, has been linked with six offshore companies. Four of them are in British Virgin Islands: Mallen Securities Ltd, Maple Leaf Investments Ltd, Lyle Trading Ltd and Dolin International Limited. The remaining two are in Mauritius: Croft Limited and Best Eagles Holdings Inc. An account in a Swiss bank has also been found connected with these companies which dates back to 1994 and was in existence till 2007.
Responding to The News' questions, Mansha said he had to move to the United States in the mid-1990s due to the adverse political situation in Pakistan. These bank accounts were meant to meet day-to-day living in that period. Finally, almost a decade ago, these accounts were liquidated and amounts repatriated to Pakistan through official channels and have been duly recorded in tax returns.
Alauddin J Feerasta
Alauddin J Feerasta, chairman of Soneri Bank, is the owner of Rangeworth Limited, a company registered in British Virgin Island, having an account in a Swiss bank. Nooruddin Feerasta, his nephew and chairman of Rupali Polyester Limited, also has a company set up in British Virgins Island with an account in Swiss Bank. Both of them did not answer questions sent by The News.

World Leaders 
Queen Elizabeth II
Queen Elizabeth II has invested millions of dollars in medical and consumer loan companies, Appleby's files show. While the Queen's personal estate, the Duchy of Lancaster, provides some details of its investments in UK property, such as commercial buildings scattered across southern England, it has never disclosed details of its offshore investments.

The records show that as of 2007, the queen's personal estate invested in a Cayman Islands fund that in turn invested in a private equity company that controlled BrightHouse, a UK rent-to-own firm criticised by consumer watchdogs and members of Parliament for selling household goods to cash-strapped Britons on payment plans with interest rates as high as 99.9 percent.
Rex Tillerson
US Secretary of State Rex Tillerson was a director of Marib Upstream Services Co., a Bermuda-based company created to conduct oil and gas operations in Yemen's Marib-Al-Jawf basin.
Tillerson joined the company's board in March 1997, when he was the president of Exxon Yemen, and resigned in March 1998, according to Appleby's client database.
Marib Upstream Services was a joint venture of three companies: the Yemen Gas Company, the Yemen Exploration & Production Company and the Yemen LNG Company. The Yemen Gas Company was state-owned, Yemen Exploration & Production Company was owned by Exxon Mobil and Hunt Oil, and the Yemen LNG Company had several shareholders, the largest of which is the French oil company Total. Marib Upstream Services operated in accordance with a production-sharing agreement between Yemen and the oil companies until 2005, when Yemen ended the production-sharing agreement and turned over production rights to a state-owned company.
Tillerson did not respond to a request for comment from ICIJ and its media partner The New York Times.
Queen Noor of Jordan
Other royals and politicians with newly disclosed offshore ties include Queen Noor of Jordan, who was listed as the beneficiary of two trusts on the island of Jersey, including one that held her sprawling British estate.
Wesley Clark, a one-time Democratic presidential hopeful and a retired four-star US Army general who served as NATO's supreme commander in Europe , was a director of an online gambling company with offshore subsidiaries, the files show.
In addition to disclosures about politicians and corporations, the files reveal details about the financial lives of the rich and famous – and the completely unknown. They include Microsoft co-founder Paul Allen's yacht and submarines, eBay founder Pierre Omidyar's Cayman Island investment vehicle,
Singers Madonna and Bono
The Paradise Papers also reveal Madonna's shares in a medical supplies company. Pop singer and social justice activist Bono – listed under his full name, Paul Hewson – owned shares in a company registered in Malta that invested in shopping center in Lithuania, company records show.
Stephen Bronfman
The files reveal that Stephen Bronfman, Canadian Prime Minister Trudeau's adviser and close friend, teamed up with Leo Kolber, another Liberal Party stalwart and former member of Canada's Senate, and Kolber's son to quietly move millions of dollars to a Cayman trust. The offshore maneuvers may have avoided taxes in Canada, the United States and Israel, according to experts who reviewed some of the 3,000-plus files detailing the trust's activities.
As the offshore riches grew, lawyers for Bronfman, the Kolbers and other wealthy interests lobbied Canada's Parliament to fight legislative proposals to tax income from offshore trusts.
Bronfman remains a key fundraiser for Trudeau, who has championed openness in government and promised a crackdown on offshore tax dodging. In September, Trudeau told the UN General Assembly: "Right now, we have a system that encourages wealthy Canadians to use private corporations to pay a lower tax rate than middle-class Canadians. That's not fair and we're going to fix it."
US Secretary of Commerce Wilbur Ross
The Appleby files show how Wilbur Ross, Trump's commerce secretary, has used a chain of Cayman Islands entities to maintain a financial stake in Navigator Holdings, a shipping company whose top clients include the Kremlin-linked energy firm Sibur. Among Sibur's key owners are Kirill Shamalov, Russian President Putin's son-in-law, and Gennady Timchenko, a billionaire the US government sanctioned in 2014 because of his links to Putin. Sibur is a major customer of Navigator, paying the company more than $23 million in 2016.
When he joined Trump's cabinet, Ross divested his interests in 80 companies. But he kept stakes in nine companies, including the four that connect him to Navigator and its Russian clients.
These revelations come against a backdrop of growing concerns about hidden Russian involvement in US political affairs.
Tech mogul Yuri Milner
In 2011, the investment fund of tech mogul Yuri Milner acted as an intermediary when one of the Russian government firms, VTB Bank, quietly invested $191 million in Twitter Inc. Documents also show that a financial subsidiary of the Kremlin-controlled energy giant Gazprom funded a shell company that, through its ownership of a Milner-affiliated company, held roughly $1 billion in Facebook shares shortly before the social network's 2012 initial public offering.
More recently, Milner invested $850,000 in Cadre, a real estate firm co-founded by Trump's son-in-law and White House adviser, Jared Kushner.
Milner is a Russian citizen who lives in Silicon Valley. His ties to Twitter, Facebook and Kushner's firm have been previously disclosed. But his links to the Kremlin financial institutions weren't previously known.
Former Canadian PM Paul Martin
Paul Martin was the Liberal prime minister of Canada from 2003 to 2006. He had been a prominent businessman who owned CSL Group Inc. but sold it to his sons in 2003 to minimize conflicts of interest while serving as prime minister. Martin was criticised by political opponents for his company's offshore holdings. In 1995, as finance minister, he had exempted Barbados, where CSL would set up key units, from offshore tax reform.
In 1991, CSL Self-Unloader Investments Ltd., part of the CSL Group, was registered in Bermuda. It was created to hold the shares of two Barbadian corporations involved in a leaseback contract for three shipping vessels owned by the group. The company was active while he held government positions, including minister of finance.
CSL Group registered at least 12 more entities in Bermuda in the years after Martin's children took over the firm according to the Appleby files. The companies were registered in 2012 and 2013 and their purposes involved international traffic, vessels and transportation of cargo.
A spokesperson for Martin said that he "has not been involved in CSL in over a quarter century and is not in a position to comment on its operations."
Former Canadian PM Brian Mulroney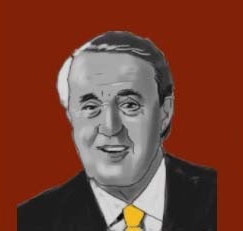 Brian Mulroney served as prime minister of Canada from 1984 to 1993 as leader of the Progressive Conservative Party and is now a law partner in Montreal.
Mulroney is listed in Appleby's files as a director between 2004 and 2009 of Said Holdings Limited, a Bermuda company controlled by controversial Syrian-Saudi businessman Wafic Said. 
Said was a key intermediary in the controversial al-Yamamah oil-for-arms deal, worth tens of billions of dollars, between the United Kingdom and Saudi Arabia. BAE Systems in 2010 settled a US Department of Justice bribery investigation and a separate British probe by pleading guilty to criminal charges and paying about $450 million in fines.
Said responded that "Brian Mulroney did indeed sit on the board of my family investment company, Said Holdings Ltd. for the years you mention, and made a very valuable contribution to it. I am proud of the role I played in helping to secure the Al Yamamah program and with it many tens of thousands of well-paid and highly skilled jobs in the United Kingdom."
Former Japanese Premier Yukio Hatoyama
Yukio Hatoyama was Japan's prime minister from 2009 to 2010. He resigned after only nine months in power, a term mired in fundraising irregularities and his inability to follow through on a campaign pledge to relocate U.S. troops from Okinawa.
In March 2013, Hatoyama was appointed honorary chairman and senior consultant of Hoifu Energy Group Ltd., an oil and gas exploration and production company incorporated in Bermuda in 2000.
According to a company report, his role was to use his "amicable relationship" with the energy industry in the United States, Japan, China and Africa as the directors planned to expand Hoifu's oil and gas business.
Hatoyama confirmed that he is the honorary chairman of Hoifu but said that "in substance" the title "has no meaning."
Ex-president of Liberia Ellen Johnson Sirleaf
Ellen Johnson Sirleaf has served as the president of Liberia since 2006. Before her presidency, Johnson Sirleaf was a director of Databank, a financial services provider based in the West African country of Ghana.
Johnson Sirleaf was listed as a director of the Bermuda company Songhai Financial Holdings Ltd. a subsidiary of Databank's finance, fund management and investment company Databank Brokerage Ltd., from April 2001 until September 2012, according to Appleby's files. Ken Nana Yaw Ofori-Atta, now Ghana's finance minister, was a co-founder of Databank and a co-director, with Johnson Sirleaf, of Songhai Financial Holdings.
Stephen D. Cashin, chief executive of Pan African Capital and a board member of Databank, responded to a request for comment from Sirleaf-Johnson that Songhai was designed for offshore investors to invest in Ghana's Databank and that Databank had no business in Liberia. Sirleaf-Johnson was elected to the board of Databank before being elected president, he told ICIJ, and she has no interest in Songhai or Databank. Cashin said Sirleaf-Johnson actually resigned from Songhai before her election campaign, but the resignation was "not effected" until 2012 due to "an administrative oversight" in Bermuda.
The list includes some more former and current public officials and can be viewed here.
Multinationals
Facebook
The most popular social medium in the world with more than 2 billion users and
$28 billion US revenues in 2016.
Facebook funneled billions in profits via Ireland to the Cayman Islands, where the corporate tax is 0 percent.
Nike
World's biggest shoe manufacturer with Cristiano Ronaldo and Rafael Nadal promoting its products, Nike is named the most valuable trademark of its kind with $32 billion revenues in 2016.
Setup in the Netherlands allows the company to avoid taxes on a large part of its profits in Europe and the Middle East. Revenues in the region were 8.4 billion Euros.
The company has hoarded $12.2 billion outside of its domicile the United States. On this amount Nike has paid less than 2 percent in taxes.
Apple
World's biggest tech firm in terms of revenues, which amounted to $216 billion in 2016.
It is world's 9th biggest company overall in terms of revenues and second biggest mobile phone manufacturer, after Samsung.
The EU Commission last year ordered Apple to pay 13 billion Euros in outstanding taxes to Ireland. The case is now in the European Court of Justice.
What is Paradise Papers?
The Paradise Papers is a database comprising around 13.4 million documents, which reveals over 25000 companies owned by the world's rich and influential individuals.

The documents were obtained from two companies in Singapore and Bermuda by a German newspaper and shared with the ICIJ. A major part of the Panama Papers comprises leaked files from company 'Appleby'.
The files reveal data of over 25,000 companies owned by individuals from 180 countries, from 1950 to 2016.
Below is a comparison of Paradise Papers with Panama Papers:
Number of politicians and public officials
Paradise Papers: 127 politicians and public officials (14 current or former country leaders included) from more than 47 countries
Panama Papers: 140 politicians and public officials from more than 50 countries
Which leak is the bigger than other?
Paradise Papers is bigger in number of records (13.5 million in Paradise Papers vs. 11.5 million in Panama Papers) and Panama Papers is bigger in terms of size of the leak (1.4 Tb in Paradise Papers vs. 2.6 Tb in Panama Papers).
It is one of the biggest leaks in the history of journalism instead of the biggest, and then one may also compare some of the different figures related to the data size between Paradise Papers and previous leaks.
Journalists in Paradise Papers project
Media partners, countries, journalists
* Number of journalists 381
* Number of media partners 96
* Number of countries 67
If you just consider the number of journalists, yes. There are more journalists working on the Paradise Papers than the Panama Papers at the time of the project release (381 Paradise Papers - 376 Panama Papers).
As for the number of media partners and number of countries, there are a few less. Panama Papers had 100+ media partners and 76 countries. The ICIJ currently has for Paradise Papers 96 media partners and 67 countries.
Disclaimer: It is pertinent to note here that not every offshore firm is necessarily illegal.