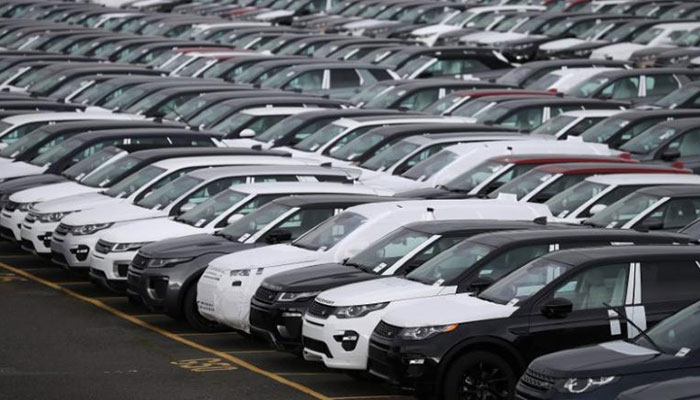 KARACHI: Passenger car sales jumped 24 per cent to 70,040 units during the first four months of the current fiscal 2017/18 as consumer buying power improved on decades-low financing rate, analysts said on Monday.
Pakistan Automotive Manufacturers Association (Pama) recorded passenger car sales at 55,859 units in the July-October period of FY2017.
In October alone, local assemblers sold 19,400 cars, showing a 34 per cent increase over the same month a year earlier. "The monthly sales were highest in the history," Mohammed Sohail, chief executive at Topline Securities said.
Sohail attributed the upward trend to improving buying power, growing popularity of ride-sharing in the country, like Uber and Careem, and low auto financing rate. Analysts said the government's recent measures to tighten the noose around used car imports also led to a surge in the demand of local cars.
The government is likely to bind car exporters to pay duties on used cars in dollars from next year. Cars are imported in Pakistan under personal baggage and gift scheme under which overseas Pakistanis could export cars to the country.
Though regulatory duty was not imposed on small used cars, their arrival is slow due to the restrictions, according to the analysts. Topline Securities, in a report, said Pak Suzuki was the major beneficiary as the majority of used car imports fall under lower engine capacity segment.
Pak Suzuki's sales were up 36 per cent to 46,941 units in the July-October period. Honda's car sales grew 55 per cent to 17,110 units due to the success of new models: Civic/BRV and the recently revamped City.
Toyota recorded a 10 per cent rise in car sales during the four months. The brokerage said the industry's sales grew 32 per cent to 83,809 units in July-October. A total of 21,757 tractors were sold during the period under review. Tractor sales are expected to increase due to lower general sales tax, a Rs2 billion subsidy on tractor buying by Sindh government, and fertiliser cash subsidy.
Sales of trucks and buses rose 23 per cent in the July-October period. The upward trend is expected to continue, fuelled by China-Pakistan Economic Corridor projects, higher road connectivity, low financing rate, and the change and enforcement of axle load limit per truck on highways by the National Highways Authority. 
Sales of motorcycles and three-wheelers were recorded at 636,756 units in July-October FY2018 as compared to 504,779 units in the same period a year earlier.
Originally published in The News