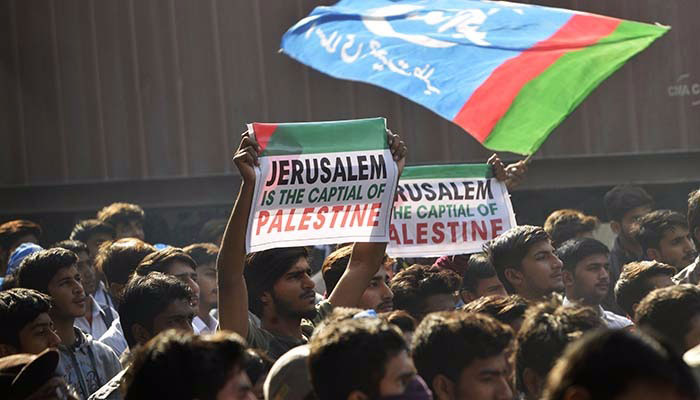 Religious parties and lawyers' associations held protests across the country on Friday against President Donald Trump's decision to recognise Jerusalem as Israel's capital. 
President Donald Trump on Wednesday recognised the disputed city of Jerusalem as Israel's capital — a historic decision that overturns decades of US policy and risks triggering a fresh spasm of violence in the Middle East.

Pakistan had condemned the US move and urged the United States to revisit its decision as soon as possible in order to avoid the potentially grave repercussions in the region and beyond.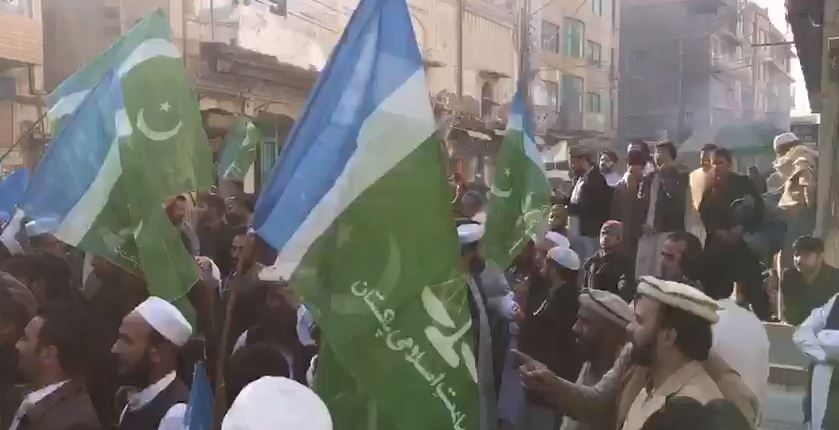 Karachi 

In Karachi, the Majlis-e-Wahdatul Muslimeen took out a protest in Nazimabad, the Jamaat-e-Islami (JI) in Banaras, Tanzeem-e-Islami at the Karachi Press Club and the Islami Jamiat-e-Talba (IJT) at North Nazimabad. 
Islamabad 
In the federal capital, the JI protested at Aabpara, the MWM in G-6 and lawyers at the F-8 district courts. 

In Rawalpindi, a protest was taken out at Choor Chowk. 

Lahore 
The IJT took out a protest at the US Consulate, situated near the press club. Moreover, Hafiz Saeed's Jamaatud Dawa held a protest at Chauburji while the JI protested at Masjid-e-Shuhada. 
Similarly, lawyers' bodies protested at GPO Chowk on Mall Road, located next to the Lahore High Court. 

Peshawar
In Peshawar, the Difa-e-Pakistan Council, an amalgamation of religious parties, took out a protest outside the Peshawar Press Club while the JI held demonstration outside the Mahabat Khan Mosque and the IJT on Kohat Road. 
Protest rallies were taken out in the other parts of the country as well. Jamiat Ulema-e-Islam protest rally, under the party Emir Sami-ul-Haq, originated from Akora Khattak. The participants of the procession held demonstration against the US move on the GT Road.

The residents and religious party supporters expressed their anger over the current development. The tribal leaders in the Khyber Agency held protest at Bab-e-Khyber.
The leaders said that the US-Israel collusion is equal to handing out invitation for the third world war.
Protests were carried out in parts of Punjab such as Chishtian, Mandi Bahauddin, Chichawatani, Sargodha, Multan, Vehari, Kamalia etc.
In Muzzaffargarh, a protest was held by the Diffa-e-Pakistan Council at the Jhang Mor Chowk. The protesters said that the US president's statement on Jerusalem is unacceptable.
The demonstrations were also held in parts of the Azad Jammu and Kashmir, including Bagh and other districts.