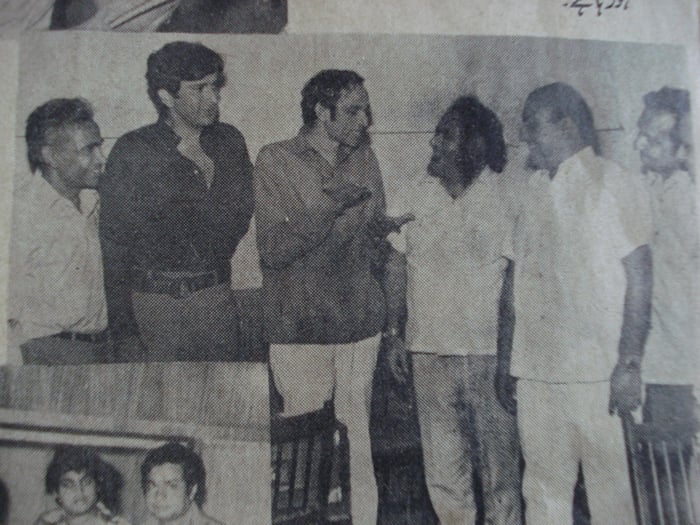 Given the title of 'Voice of God' by celebrated producer/director Manmohan Desai, playback singer Muhammad Rafi left the world in July 1980, after singing for a good 36 years. At the time of his death, he was 56. 
A singer with a wide range of songs, his 93rd birthday is being celebrated on 24th December this year. Rafi was a master of transforming his voice that could suit every actor. With a career of over 35 years, he lent his voice to over a hundred actors. Mukesh-Raj Kapoor, Talat Mehmood-Dilip Kumar and Kishore Kumar-Dev Anand options were available for musicians whenever a film was being planned, but Rafi changed it all. He replaced Talat and Kishore for Dilip and Dev respectively, while occasionally singing for Raj Kapoor. He also became the only singer to have 'voiced' for all the Kapoor brothers. Raj, Shammi and Shashi.
It was on 4th December this year, when the 'evergreen' romantic hero Shashi Kapoor breathed his last. He was born as Balbir Raj Kapoor on 18th March 1938 in Calcutta and was one of the few actors who started his career in the late 40s as a child artist. He was a dashing hero in the 60s, 70s and most of the 80s until he retired in the 90s, as a character actor. He, like his elder brother Shammi, was lucky to have the services of Muhammad Rafi as a playback for a good 2 decades. The maximum number of evergreen songs pictured on him had the voice of Rafi.
From the early 60s till the early 80s, Rafi-Shashi gave listeners some great songs. The first time it happened in Yeh Dil Kisko Doon in 1963. A black and white film by K Mishra, it had over half a dozen songs from Rafi. The film that made him a star was two years later was Jab Jab Phool Khile. A love story, it had seven songs from Rafi and all were better than each other. Pardesiyon se na aankhyian milana, ek tha gul aur ek thi bulbul are still popular among youth. The music was composed by Laxmikant-Pyarelal, which was also one of his earliest hits. Next came super hit songs from the same team of Laxmikant-Pyarelal, Shashi and Rafi in the shape of comedy film Pyar Kiye Ja; the romantic gore haatho pe na, and the rebellious kehne ki nahi baat were part of the soundtrack which also had Kishore Kumar as a singer as well as an actor.
Legendary musician Madan Mohan used 'Rafi for Shashi' in Neend Hamari Khwab Tumharay for two duets and one solo song. The sweet voice of Rafi was perfect for Yun Rutho Na Haseena, while the legendary singer joined hands with Asha Bhosle for two duets.
Prakash Mehra's debut as a director was Haseena Maan Jayegi in 1968. Mehra, famous for films with Amitabh Bachchan, used Shashi –Rafi combo to perfection; the result were songs like bekhudi me sanam, chalay thy saath mil ker, o dilbar jaaniye. The film was a musical success of the year, followed by Nasir Hussain's Pyar ka Mausam in 1969, with excellent composition by R.D.Burman. Che khush nazare, ni sultana re and tum bin jaon kahan were chartbusters. The emergence of Kishore Kumar and Rajesh Khanna from Aradhna in 1969, broke the partnership for some time, but the second innings of Rafi, that started in 1976; had much in store for Shashi.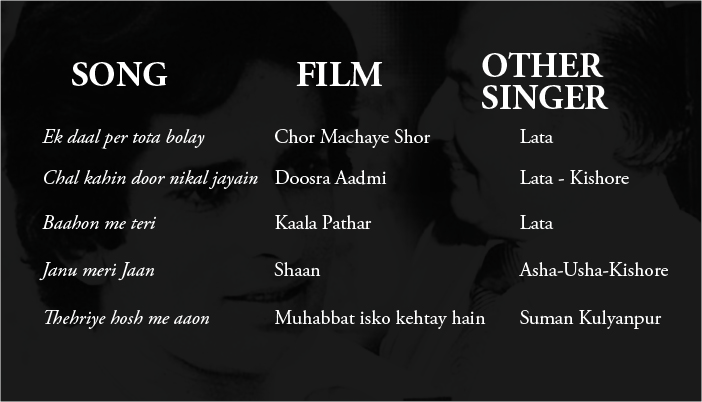 Rafi came back with a bang with films like Hum kisi se kum nahi and Amar Akbar Anthony. This time, he was lending his voice to 'younger' actors. There were moments when Rafi sahab was seen singing for 'juniors' while Shashi had to lip sync for other singers.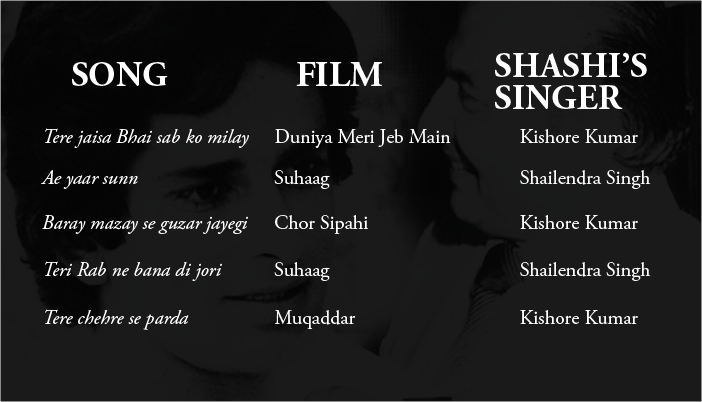 Even in 1980, the year Rafi died, was one the most productive for the duo. Considered the most romantic and soothing duet of the decade, mujhay choo rahi hai teri garm saansain was sung by Lata and Rafi for film Swaymvar; Yamma Yamma, for Ramesh Sippy's Shaan, is considered to be the last recorded song by Muhammad Rafi, while the last 'picturised' song by the late singer was seen in the film Maan Gaye Ustaad in 1981.

One by one, every 'star' Rafi sahab was associated with, is joining him up in the skies. It has been nearly 38 years since Rafi sahab died after an equally long career. In the last 7 years, stars like Shammi Kapoor, Dev Anand, Joy Mukherjee, Vinod Khanna and Rajesh Khanna left the world. Rafi had a big role in establishing their careers; a fact which they all have acknowledged in their lives. They surely must be enjoying their time with 'the greatest singer to have lived', up there. With Shashi Kapoor just joining the party, one can imagine the celebrations they would be having right now, on Rafi's birthday.