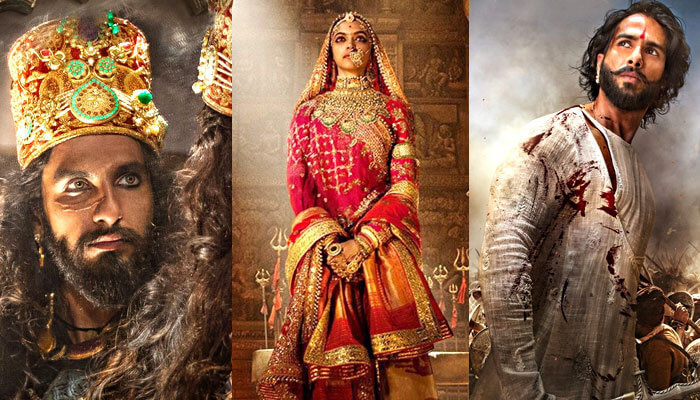 In a video message, Indian director-composer Sanjay Leela Bhansali made the following statement about the protagonist of his film:

I have always been inspired by Rani Padmavati's story and this film salutes her valour and sacrifice. We have made this film with a lot of responsibility and have kept the pride and honour of the Rajputs in mind.
Yet, the Rs 150 crore film, Padmaavat, kicked up a political storm, inspiring its very own vigilante mob, Karni Sena, which claimed to represent the Rajput caste. Cinemas were threatened to be torn down, while enraged Rajputs called for a ban on the movie, which delayed its release by several months.
Finally, dogging all obstacles, the 14th century period drama made its way to the big screen. Since then it has proven to be a phenomenal success and cakewalked to the Rs 100 crore mark in just four days.
The story is not grounded in history. In fact, it takes its inspiration from a poem written by Sufi poet Malik Muhammad Jiyasi in 1540, that glorifies a fictional queen Rani Padmavati, who becomes a bone of contention between Delhi's Sultan Alauddin Khilji (played by Ranveer Singh) and Rajput king Maharawal Ratan Singh (played by Shahid Kapoor).
Padmaavat is not unlike any of Bansali's previous ventures. The sets are dazzling with sprawling gardens, palatial castles, and heroines dripping in jewels. This film opens with a Sri Lankan princess Padmavati hunting in a forest where she accidentally injures Raja Ratan with an arrow. She then nurses him back to health in a cave, where he is immediately enamoured by her beauty. Once they marry, she is then declared the queen of Chittoor.
Over in Delhi, a savage and sly Khilji, the nephew and son-in-law of Jalaluddin Khilji, has his eyes set on the throne. Power-driven Khilji kills his uncle and becomes king. Thereon, he kidnaps Padmavati's husband, promising to return him only if she gives herself to him.
From the regal costumes to the magnificent fort in Chittoor to the monumental darbar of Delhi, Bhansali has made sure that every scene reflects the extravagance that he is famous for. War scenes have been rendered in excellent CGI. In fact, this is the first Indian film to be released in an Imax 3D format.
But it is the actors that breathe true life into the characters and the sets of 14 century India. Deepika Padukone is believable as the besieged Rani Padmavati and the pride of the Rajputs, once again showing her fondness for portraying historical roles. She does justice to Bhansali's belief in her ability to carry the lead role.
Kapoor while a little static in his performance attempts to portray the king with nuance and confidence. But it is Singh who makes the film his own. He is cruel, conniving, and brutal, a departure from the Khilji of history. His kohl-rimmed hungry eyes display an inner madness. He rips meat off the bone with his teeth. Everyone is a mere pawn in his game for success.
If there is anyone who can challenge the Bollywood's Khans, it has to be Ranveer Singh.
But it is also equally important to answer whether Bansali's film has historical accuracy? Khilji did conquer Chittoor in 1303, when the Raja had only been on the throne for a year. The siege lasted for eights months before Khilji triumphed.
Scholar and poet Amir Khusro wrote that Khilji arrested Raja Rattan Singh but took pity on him and so saved him from execution. Nowhere do Khusro or other historians of the time mention Padmavati or any other queen for whom Khilji marched to Chittoor.
However, in the 15 century, the Hindu poet Narayan Das wrote that the queen was not just a figment of our imagination. She was indeed known for her beauty and that a Raja of a neighbouring state wished to marry her, leading to a short war.
Yet, Rajput historical manuscripts have never made any mention of her but she does show up in British narratives, who found her to be a fascinating character and propagated the original poem by Jiyasi. Finally, in 1906, a Bengali play depicted Padmavati as a central character which then led to Bhansali's obsession.
Even Rani's origins are mired in confusion. Tradition says that she is either from Sri Lanka or Pugal, a small town in Bikaner, Rajasthan.
As for Khilji he ruled parts of India as one of most powerful of rulers of the Khilji dynasty. Considered a strict king, he was also known to follow the Persian traditions of finery and etiquettes. The uncouth ruffian that the film depicts is far removed from reality. During his tenure, Khilji introduced taxation and price control to Hindustan, which enabled his tenure to be one where there was relative prosperity. To ask the audience to accept the Sultan in two dimensions - lustful, ambitious and barbaric compared to refined and shrewd - is an injustice that Bhansali is guilty of. But perhaps, that is the only gripe in an otherwise exceptional effort by a daring filmmaker.
The writer is a researcher at Geo TV and can be contacted at [email protected]
Note: The views expressed are those of the author, and do not necessarily reflect the official policy or position of Geo News or the Jang Group.