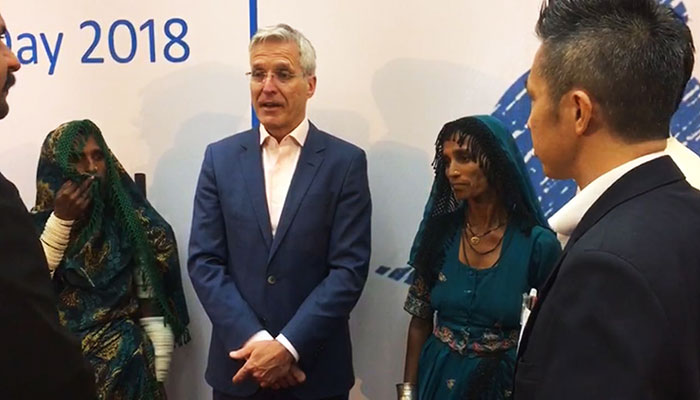 KARACHI: Pakistan Stock Exchange (PSX) celebrated International Women Day on Thursday by ringing the gong to honour women, a tradition which started last year. 
The tradition of ringing the exchange's gong by women activists started four years ago in global exchanges, and PSX was among 65 stock markets which have continued the practice.  
At the PSX's trading floor, leading gender diversity promoting organisations such as UN Women, World Bank and Women on Board Pakistan were gathered for the "Ring the Bell" ceremony. 
It was a gesture of solidarity with the cause of promoting inclusiveness in the business world.

No country in the world has gender parity, the best participation rate is 40 percent in the Scandinavian countries. In the UK, corporate gender parity is around 22pc and in Pakistan it is 9pc.
The Gong ceremony was attended by Jamshed Qazi of UN Women, Sultana Siddiqui of Hum TV, Sabrina Dawood of Dawood Foundation, Deputy High Commissioner UK Elin Burns and CEO PSX Richard Moring.
Chairperson Unilever Pakistan Shazia Syed spoke on the occasion and said that although leadership has no gender, women's influence on the lives of every child makes it clear that women have a lasting impact in the emergence of leaders.
Women on Board Pakistan Chairperson Rahat Kunain in her address highlighted the role of WOB in enhancing female participation in the Pakistani corporate world. 
Pakistan corporate law requires companies to have at least one female member on its board, technically, this opens doors for at least a thousand women and WOB is gathering that resource pool, she said.
WOB's objective is to have at least 25pc gender parity on corporate boards in Pakistan by 2025.