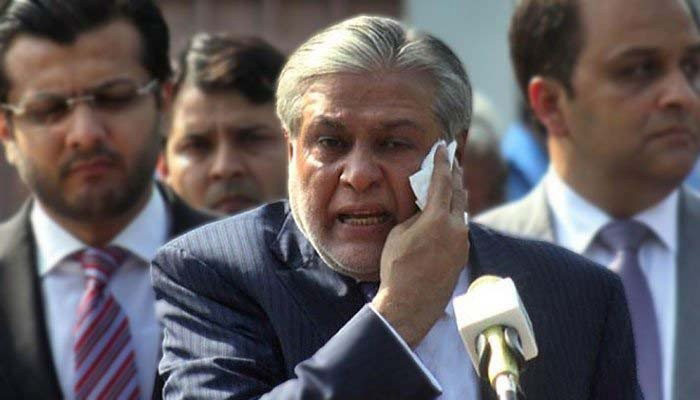 ISLAMABAD: An accountability court hearing the assets accumulation case against former finance minister Senator Ishaq Dar on Monday reserved its decision on the plea of other accused against their indictment today.  
Judge Mohammad Bashir, who is presiding over the case, had on March 5 ordered to indict National Bank of Pakistan (NBP) President Saeed Ahmed, Naeem Mehmood and Mansoor Rizvi today. 
The three have been accused in the supplementary reference filed by the National Accountability Bureau (NAB) against the former finance minister. 
Two of the three accused in the case had petitioned the court last week against their planned indictment. The counsel of Mehmood and Rizvi had argued before the judge that NAB had provided their clients with a 700-page-long reference, many pages of which are unclear.
The accountability court had issued a notice to NAB to submit its response to the plea. 
After hearing arguments from the suspects' counsel Qazi Misbah, the court reserved its order on the matter. 

The NAB prosecutor opposed the plea arguing that it is a delaying tactic by the defence. 
Moreover, during today's hearing, NBP President Ahmed challenged his nomination as an accused and pleaded the court to declared it null and void for lack of evidence. 
The case
Dar, a close aide of Pakistan Muslim League-N chief Nawaz Sharif, is accused of possessing assets disproportionate to his declared sources of income.
NAB filed an interim reference against Dar in September last year in light of the Supreme Court's July 28, 2017, verdict in the Panama Papers case.
The recently-filed supplementary reference is based on seven volumes and includes the account details of the accused persons, with transactions amounting to $4.06 million, according to NAB's Special Prosecutor Imran Shafiq. The three accused in the supplementary reference are identified as directors of Dar's companies. 
Dar was recently re-elected to the Senate of Pakistan.