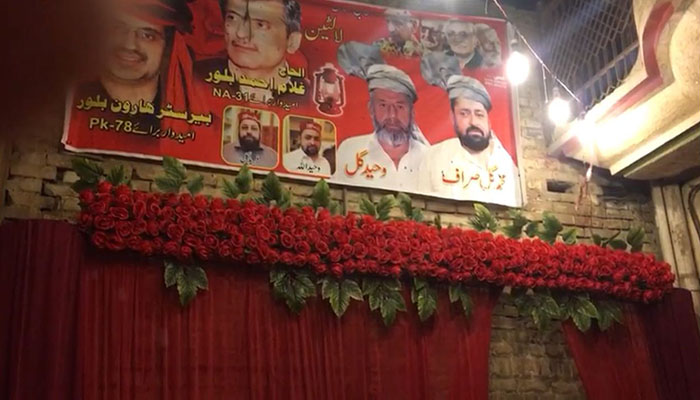 PESHAWAR: Senior party leaders, politicians, and lawmakers condemned the horrific suicide bombing Tuesday night here in the city that claimed the lives of 20 people, including that of Barrister Haroon Bilour.
Danial Bilour, the martyred leader's son, said his father had tried to tell him via a friend to not come to a corner meeting that, 20 minutes later, claimed the electoral candidate's life.
As he addressed fellow Awami National Party (ANP) leaders and party members hours after his father was martyred, he urged party workers to not lose hope.
"I feel proud to say that everyone present here is Haroon Bilour.

"Tomorrow, if they attack me too, every party worker will come out as Haroon Bilour. Tomorrow, if they attack me too, don't give up hope," Danial added.

'Someone wishes to sabotage elections'
Among those who voiced their condemnation of the suicide attack were Jamaat-e-Islami Pakistan (JI) chief Siraj-ul-Haq, Muttahida Qaumi Movement-Pakistan (MQM-P) leader Farooq Sattar and convenor Khalid Maqbool Siddiqui, Akhtar Mengal of the Balochistan National Party (BNP), Azad Jammu and Kashmir (AJ&K) President Sardar Masood Khan and Prime Minister Raja Muhammad Farooq Haider Khan.
Mian Iftikhar Hussain, a leader of the Awami National Party (ANP), which had named Bilour as its candidate for Peshawar's PK-78 constituency in the July 25 elections, said the government had failed to provide security to the party.

"Perhaps someone wishes to sabotage the elections … wants to push the ANP out of the electoral race," he said.

However, the "ANP will fully participate in the elections", he added.
'Bilour family has suffered the worst'
Terrorists were making futile attempts to hinder the way of democracy, former prime minister Nawaz Sharif said, adding that the militants, however, "failed yesterday and they will fail today too".

Pakistan Muslim League-Nawaz (PML-N) leader Shehbaz Sharif said he was "grieved to learn about shahadat of Haroon Bilour" and that he "strongly condemn[ed] this barbaric act of terrorism".
"Bilour family has suffered the worst terrorist violence & rendered sacrifices for Pakistan. Basheer Bilour Shaheed was a brave leader who was martyred 6 years ago. Son of Haroon Bilour is reported to be critically injured along with others.
"Pray for his & others' early recovery," the former CM Punjab added.

Ex-finance minister Miftah Ismail wrote: "Speechless at the tragic blast in Peshawer that took the life of Bashir Bilour Shaheed's son and Irfanullah Khan Marwat's son-in-law Haroon Bilour. ANP and Bilours have rendered far too many sacrifices in the war against terror. May Allah grant them sabr. My heartfelt condolences."

"We condemn the terrorist attack on Haroon Bilour and his party workers in Peshawar. Our thoughts and prayers are with the shaheeds and those who are fighting for their lives. These heinous acts will not deter the resolve of the nation. TM."
"Too tragic the shahadat of Haroon Bilour," tweeted Governor of Sindh Mohammad Zubair. "This is very sad not just for ANP but for Pakistan. Let's hope Pak remains on course."
'Weakness of security institutions'
Justice (retired) Sardar Mohammad Raza Khan, the chief election commissioner (CEC), also condemned the terrorist attack, terming it a "weakness of security institutions".
The attack was a conspiracy against the transparent elections, the CEC said, noting that the provincial governments were ordered to provide fool-proof security to all candidates.
On the other hand, Caretaker Prime Minister Nasirul Mulk also denounced the attack on the ANP corner meeting.
Pakistan Tehreek-e-Insaf (PTI) Chairman Imran Khan has expressed sorrow over the deaths of Haroon Bilour and other ANP workers. In his message on Twitter, Khan condemned the terrorist attack on ANP corner meeting.

The PTI chief called for the provision of security to all political parties and their candidates during their election campaigns.

"Very sad to learn about the terrorist attack on the anp corner meeting and the resultant death of participants including haroon bilour. Heartfelt sympathies for those who lost their near and dear ones in this attack," Asad Umar posted on Twitter.

"Strongly condemn the barbaric attack on ANP's corner meeting. Deeply saddened to know of Haroon Bilour's sad demise. Thoughts and prayers with the deceased's family. Caretaker Provincial govt and KPK Police must pursue the terrorists involved in the act."

"Shocked and saddened to hear the news about the Yaqatoot blast and Haroon Bilour. Political differences aside but terrorism in no form is acceptable.

"May Allah give Jannat to the martyrs and keep everyone safe in the future," former CM Khyber Pakhtunkhwa Pervez Khattak said.

"I am deeply saddened and shocked by the news of Haroon Bilour's demise in the cowardly suicide attack in Peshawar. Thoughts and prayers with the Bilour family."
"Strongly condemn the terrorist attack on ANP's corner meeting in Peshawar. Sad to hear about the death of Haroon Bilour. RIP"

"Shocked and deeply saddened at the tragic death of Bashir Bilour's son Haroon Bilour in a terrorist incident in Peshawar. Terrorism in any form against anyone is highly condemnable. May the departed souls rest in eternal peace!"

"Strongly condemn the bomb blast that occurred during ANP corner meeting in Peshawar. I express my condolences to the families of Haroon Bilour and other ANP workers who were martyred in this blast. My sympathies to the families of the wounded."

'A conspiracy'
Bilawal Bhutto Zardari, the chairperson of the Pakistan Peoples Party (PPP), expressed sorrow over the martyrdom of Bilour. He said it was becoming clear as to who terrorists wanted out of the election race.
"The terror attack on pro-democracy individuals is a conspiracy," Bilawal said, adding that they shared in the bereaved Bilour family's grief.
"The nation should be aware of the fact as to what do terrorists wish," he added.
Asif Ali Zardari, the PPP's co-chairman and former president of Pakistan, said the Bhutto family and his party grieved together with the ANP.

Pak Sarzameen Party (PSP) Chief Mustafa Kamal said those who had their hands coloured with the blood of innocents did not deserve to be considered as humans.

Kamal called the authorities for bringing the perpetrators of Peshawar blast to justice.
Former interior minister Rehman Malik tweeted: "The terrorists are worst than animals."
"First father sacrificed his life for Pakistan and now his son Haroon Bilour.The terrorists are worst than animals.May God bless his soul in peace.Whythe KPK police failed to provide security despite direct threat on ANP leadership was conveyed as per the report of NACTA."
World joins in
"I am saddened to hear of the assassination of Haroon Bilour. His father late Bashir Bilour served the people and embraced martyrdom the same way. I strongly condemn this atrocious act of terrorism & extend my profound condolences to his family, ANP leadership & his colleagues. HK."
What transpired
Last night's explosion occurred in YakaToot neighbourhood moments after Bilour had arrived at the venue, near the stage, to address supporters at the meeting as welcoming party members and admirers engaged in a display of fireworks, which the bomber made use of as his cover.

There was no immediate claim of responsibility for the attack, which marks the first major pre-election instance of violence. Live television footage showed volunteers and police rushing the wounded, at least 65 of them as of reporting time, to the hospital.