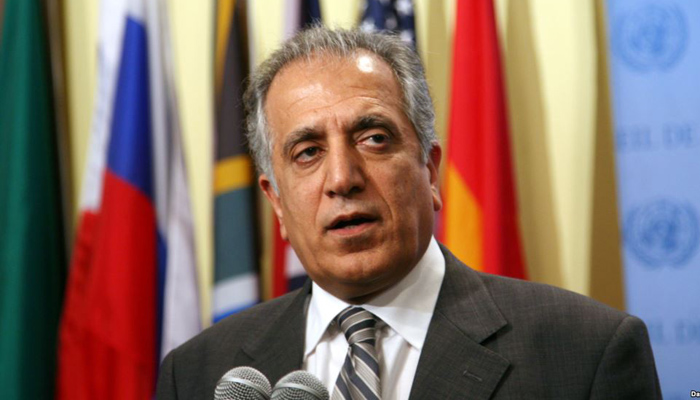 US special envoy Zalmay Khalilzad on Thursday said the latest talks with Taliban in Doha were "productive".
Khalilzad met with the Taliban's top political leader in Doha starting Monday, in what is believed to be the highest level engagement between the US and the Taliban since the months-long peace push began. Khalilzad had on February 25 tweeted that he and Mullah Abdul Ghani Baradar had held a "working lunch" ahead of a fresh round of talks with the insurgent group as the US seeks a way out of its longest war.
The US special envoy in a series of tweets today said that the recent talks were productive. "Emerging from three solid days of talks with the Taliban in Doha. Meetings were productive. We continue to take slow, steady steps toward understanding and eventually peace."
"Both sides will take the next two days for internal deliberations, with plans to regroup on Saturday. All four key issues remain on the table," he added.

In another tweet, Khalilzad said, "As talks continue in Doha, there is also progress on forming a national team in Kabul ready to engage in intra-Afghan dialogue and talks with the Taliban."

Marathon talks last month saw the two sides walk away with a "draft framework" that included a Taliban vow to prevent Afghanistan from becoming a haven for international terror groups.

There was no accord on a US withdrawal or a ceasefire, however, issues which have derailed attempts at peace talks in the past, while the government in Kabul has voiced increasingly loud fears it was being sidelined from the talks.
The latest negotiations came as violence soars in Afghanistan, with the UN reporting Sunday that more civilians were killed in 2018 than any other year since records began in 2009.
US President Donald Trump has signalled his eagerness to end his country´s involvement in Afghanistan, where 14,000 American troops are still deployed.
Afghanistan has suffered nearly constant conflict since the Soviet invasion of 1979, which was followed by civil war, the Taliban regime, and the US invasion in late 2001.