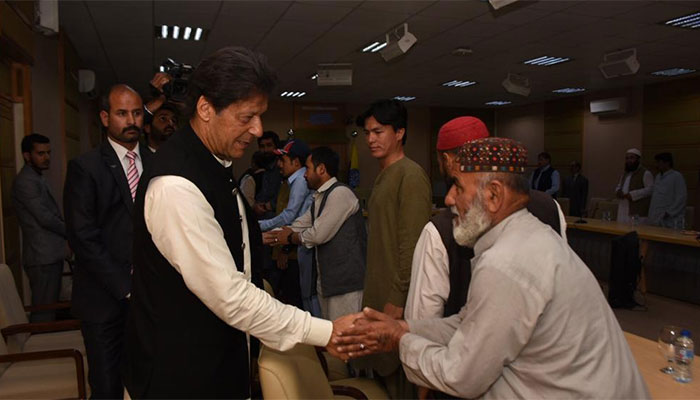 QUETTA: Prime Minister Imran Khan met on Sunday the bereaved relatives of the Hazarganji incident in Quetta, which killed 20 people and left scores injured.
The prime minister met with delegation at Balochistan University of IT, Engineering and Management during his visit to Quetta.
The prime minister offered condolence and prayers for the departed souls.

The prime minister said that the nation stands beside the Hazara community in this difficult time.
He said that complete implementation on the National Action Plan remains imperative, adding that the government is determined to root out extremism from the country.
The premier assured the minority members that the federal and provincial government will provide complete protection to the citizens.
The PM, while referring to the horrendous tragedy, said that the hostile elements are trying to create a rift among people.
"We need to defeat the enemy in unison," said the prime minister, adding that the security forces have given invaluable sacrifices for the sake of peace.
At least 20 people were killed and 48 others injured in a blast believed to be targeting the Hazara community in Quetta's Hazarganji sabzi mandi last week.
Eight Hazara, an FC official and two children were among the dead.
Members of the Hazara community had carried out sit-in at Quetta's Western Bypass, demanding better security measures and protection of the Hazara.