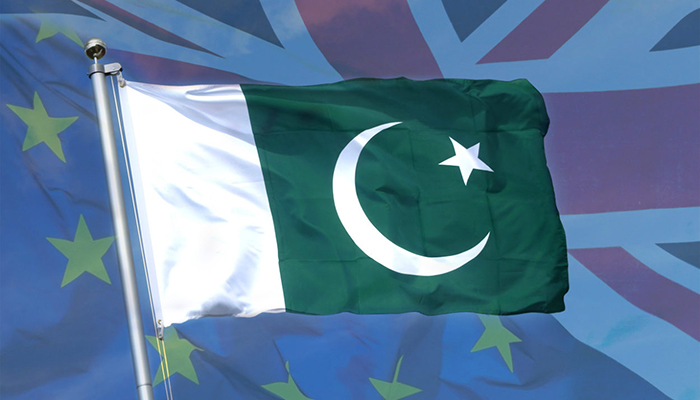 Britain, as a rule, takes a lot of time to walk out of anything. We, in the sub-continent, know, how many decades it took for it to exit the region. That is why the European Union must prepare itself for very long goodbyes.

As Britain, confusingly and slowly, stumbles towards Brexit, many in Pakistan are rightly concerned about losing its strongest ally. An ally which would defend its interest at the EU chambers of power. Our relationship with the other two important EU powers, Germany and France, is by no means as sturdy.
Moreover, the EU is Pakistan's largest export partner. The UK government's support to Pakistan was crucial in helping it get this preferential trading status from the EU. Also, a large chunk of these exports are routed through the United Kingdom, which means that the terms on which the UK will leave the EU are of great concern to the Pakistani economy.
If post-Brexit, the UK is not able to preserve full access to the EU markets, then it would reduce the foreign exchange Pakistan earns from its exports. This is a major challenge. As of now, we have not seen any clear strategy from our policymakers regarding how they will protect this valuable source of foreign exchange revenues.
Preparation and subsequent consensus building with the UK and the EU needs to start earnestly and immediately to protect our national and commercial interests. Separately, special efforts need to be directed towards Germany and France.
The UK and Pakistan have an excellent strategic relationship and that cooperation continues to grow as they share technology and intelligence.
On the intelligence front, Pakistan has assisted Britain to pre-empt many threats. During the tenure of the late Sir Charles Blandford Farr, the chairman of the British Joint Intelligence Committee, Pakistan's assistance was acknowledged at the highest level. Furthermore, British technical assistance has been critical in tracing many transnational terrorist cells operating in the border areas of Pakistan.
Post-Brexit, this bilateral cooperation will be critical for both the countries to keep their citizens safe from any major terrorist activity.
Mohammad Nafees Zakaria, Pakistan's new High Commissioner to the UK, told me via email that that "the China-Pakistan Economic Corridor (CPEC) and Brexit are two important developments, and as the global economic gravity shifts towards Asia, Pakistan is opening new vistas of business opportunities to the advantage of the people in both countries."
Which makes one wonder that once out of the EU, can Britain become apart of the CPEC?
It is not difficult to visualize CPEC as a platform which offers the potential to strengthen this trilateral relationship. Antoine Levesques of the UK-based think-tank the International Institute of Strategic Studies told me that "as a means to this end, Pakistan could further improve its national regulatory environment for third-party investors in the CPEC."
As of now, in preparation for Brexit, British trade envoys have been discussing trade deals with many countries. As an immediate measure, Pakistan's trade negotiator must consider opening up their markets and tying it to a preferential visa regime. This type of access will assist both countries. For Britain, it will reduce the large generation gap which they are facing, and which is a burden on their social services and productivity. For Pakistan, in a relatively short time frame, such cooperation will increase the number of skilled expatriate workers who would, in turn, increase its foreign exchange remittances. This will partly help in plugging the immediate shortfall of foreign exchange earnings we may suffer due to Brexit, and the possible restriction of access to the larger EU markets.
Brexit poses a complex challenge. But, it also offers plenty of opportunities. How will Pakistan's new ruling party safeguard Pakistan's interests remains to be seen.
Siddiqui is a London-based analyst on South Asia. He tweets @SiddiquiAftab