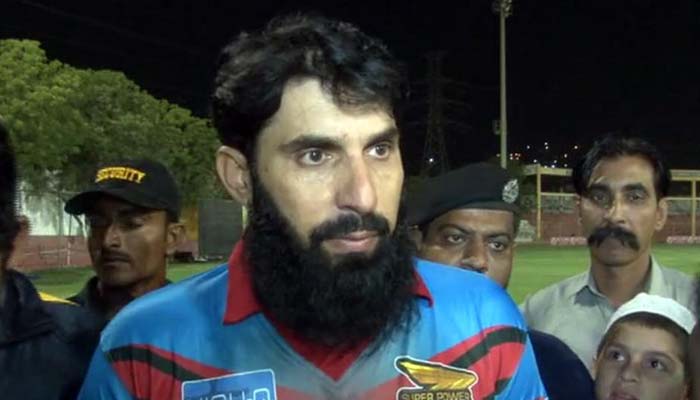 KARACHI: Misbah ul Haq, the former captain of the Pakistan cricket team, has termed Ramzan cricket festivity in Karachi as a "Mini PSL" that can help find new talent, especially in the emerging category.

Speaking to Geo.tv in Karachi, Misbah said that Pakistan's international players and top first class players are playing along with young players and that is a good sign for the new players.
"Participation of international players, top first class players, involvement of broadcast makes it feel like a mini PSL. There are three to four top tournaments being played in Karachi which gives good exposure to youngsters," Misbah said.
"They'll not only learn but will also gain confidence. It is good for Karachi cricket and Pakistan cricket," he added.
Several tournaments are being played at different venues including the Corporate Cup at the Moin Khan Academy, the MA Shah tournament at the Asghar Ali Shah stadium, and the Naya Nazimabad tournament. All these tournaments are being broadcast live on TV screens with handsome prize money in offering as well.
Misbah feels that these types of top tournaments could produce new talent for Pakistan Super League (PSL) franchises and junior teams.
"These tournaments can provide players to franchises and Pakistan in age group. Omar Associates team is also playing here which is also Quetta Gladiators' team. I have seen a couple of good leg spinners and batsmen. You can find some good emerging talent from these tournaments," Misbah suggested.
The former captain also praised the level of competition in Ramzan tournaments and that he was enjoying his participation in Karachi's traditional cricket festivity.
"It always feels good to be playing cricket anywhere," he said.
"Ramzan cricket is very difficult. You play ODIs, you play Tests, but this is totally different and challenging as you don't know the strength and weaknesses of your of opponents which makes it difficult for you to plan," Misbah highlighted.