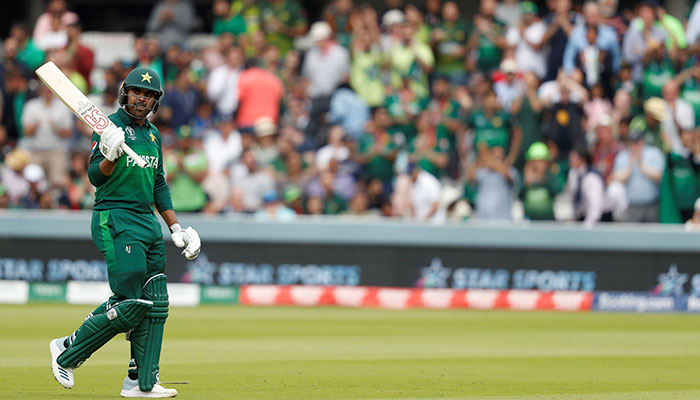 LONDON: Skipper Sarfaraz Ahmed said that the inclusion of Haris Sohail in the playing 11 paid off as his innings were the 'main factor' for Pakistan's win and a turning point in the World Cup game against South Africa on Sunday.

"Haris Sohail put in a great performance. Today the way Haris batted, he is hungry to play in the game. He's the main factor, the turning point, the way he batted in the last 15 overs, it was like Jos Buttler," the skipper said in the post-match ceremony.

Sohail´s dashing display had set the tone for a dispiriting day for South Africa. The 30-year-old dropped following Pakistan´s opener against the West Indies, made up for lost time as he demolished South Africa´s beleaguered bowlers.
Hitting nine fours and three sixes in his ruthless blitz, Sohail gave Pakistan a shot of adrenaline after Babar Azam´s more sedate 69 laid the foundations for victory.
Sarfaraz credited the entire team for giving a phenomenal performance and added that the decision to change team combination also gave the desired result to him. However, the team captain was cautious of the fact that the team has to work harder on fielding.
Pakistan dropped as many as six catches in the game. The skipper said that the coming three matches are crucial for the team in order to qualify for the semi-finals. "We have to sort it out," Sarfaraz remarked on the fielding blunders.
The captain credited Amir, Shadab and Wahab for giving 'complete bowling effort'.
"Credit goes to Amir, took early wickets and in the middle overs as well. Shadab was really good in the middle overs as well," the skipper said.
Pakistan will play its next game against New Zealand on Wednesday.  
CricFun - Predict & Win: Making cricket more fun with predictions and prizes.