'Do you know this gentleman'? asked the perplexed lady sitting next to me. I smiled and forwarded my article' Real Pakistani American' to Dr Pamela, who had just exchanged business cards. She was representing the Mayor of Baton Rouge in the Sister Cities International Conference being hosted in Houston, Texas. And, the chief guest was none other than the former President of the United States George W Bush.

In their speeches, the dignitaries were highlighting the role of Sister Cities in promoting people to people contacts. But, there was one thing in common. Every single speaker doled out cordial praise for a Pakistani American. And, by every passing moment, the gala seemed to be hosted in honour of that very man, Javaid Anwar.
Amid huge applause, Chairman Sister Cities International Ron Nirenberg expressed special thanks to the Chief Patron of Houston- Karachi Sister Cities Association. City Mayor Sylvester Turner equally highlighted the role of Javaid Anwar and expressed his sincere gratitude. He bestowed Honorary Citizenship to this world-acclaimed philanthropist. Still, the best had yet to come.
After sharing his life experiences off the record, former President of the United States opened his heart for his friend. He honoured Javaid Anwar with one of the most prestigious Leadership Award.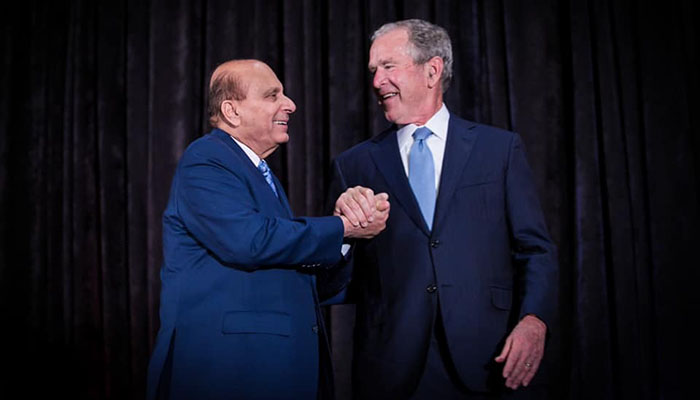 George W Bush later mesmerized the delegates from all over the world by saying, 'Javaid is one of the most generous people a man can know'. Former President didn't stop here. 'He is a community activist in the Midlands but also an internationalist in his vision. And, so this is a well-deserved honour for him', he continued.
The representatives of eighteen sister cities of Houston were stunned to witness the next moment. After giving the award, former President of the United States stood on the stage for ten minutes as a short documentary was played to highlight the services of Javaid Anwar. Everyone gave a standing ovation as George Bush kissed Anwar's head and hugged him.
For some, it was a surprise. After 9/11, Muslims Americans were stigmatised. And, for a number of reasons, even innocent Pakistani Americans were attacked. But, this ceremony turned out to portray them as not only a peaceful patriot but also selfless philanthropists.
In the gala, Pakistani delegation was equally welcomed. Former President shook hands with Mayor Karachi and exchanged greetings. Later, Wasim Akhtar told me that George Bush also asked him about the city of 20 million people and the challenges related to power and funds. Bush remarked that the Houston business community was ready to help.
The Houston Mayor expressed his keen interest in visiting Karachi next year. Giving me an exclusive interview, Sylvester Turner said Houston and Karachi can strengthen ties in many sectors. He welcomed Prime Minister Imran Khan's visit to the United States. And, expressed hope that such visits will build a relationship on better footings.
Former Lieutenant Governor Maryland went a step further ahead. Kathleen Hartington Kennedy emphasized that health and education are the sectors where both sister cities should concentrate. Member of the prominent political Kennedy family also exclusively choose this scribe for the interview.
This Sister Cities International Conference was basically a platform to share experiences in improving the cities and strengthen ties for mutual benefit. In his interactions, Senior Director KMC Masood Alam remarked that 'global dynamics have changed during past decades and urbanisation is another big challenge for the megacities'. He said, 'the sister city cooperation in the area of knowledge, sharing of expertise and best practices will be of much help in dealing with these challenges'.
The very idea of Sister Cities International was a brainchild of President Dwight D. Eisenhower. In 1956, he proposed linking American cities in other countries. It turned out to be a better platform to exchange people to people contacts and promote culture. In many cases, it achieved the desired results of lessening the chances of world conflicts.
Today Houston boasts of sister city relations with eighteen cities including Karachi. The other cities include Abu Dhabi (United Arab Emirates), Baku (Azerbaijan), Basra (Iraq), Chiba (Japan), Grampian Region, Aberdeen (Scotland, UK), Guayaquil (Ecuador), Huelva (Spain), Istanbul (Turkey), Leipzig (Germany), Luanda (Angola), Nice (France), Perth (Australia), Shenzhen (China), Stavanger (Norway), Taipei (Taiwan), Tampico (Mexico) and Tyumen (Russia).
Among those who participated in the conference, many showed interest in building bridges with Pakistan. The Japanese delegation expressed keen desire in strengthening ties with Pakistan. Mentioning historic Lahore and port city of Karachi, the delegates of Chiba emphasized that embassies of both countries should play their part in bringing these cities and their people closer. The Consul General of Japan Excellency Toshikazu Isomura is already working on the very lines. He is relentlessly trying to link either of the port cities of Yokosuka or Kibichuou with Karachi.
Developing sister cities relations helps people. It serves as a tool to invent ways to reach out in almost every sphere of society. Since its inception in 2009, HKSCA has developed and supported projects in not only humanitarian assistance but also in trade and culture. This has led to three international awards and a US Congressional Recognition. The President of the Houston Karachi Sister City Association Mr Saeed Sheikh said their 'mission is the promotion of peace through mutual respect, understanding and cooperation through people to people exchanges'.
Over the years, HKSCA has installed a water filtration plant in Karachi and hugely helped during floods in Pakistan. In July, it had dispatched a container full of medical equipment for a different governmental hospital in Karachi. Along with Mayor Wasim Akhtar, Commissioner Karachi Iftikhar Shilwani and Metropolitan Commissioner Dr Saif graced the ceremony.
They were thrilled to be treated by Houston as the members of its dearest city Karachi. I introduced them to Dr Pamela, who had already fallen in love with Karachi. And, was all praise for one of its citizen Javaid Anwar.
Dr Pamela said, 'This nation is a better place because of international trailblazers like Mr Javaid Anwar. Hearing his incredible life story at the gala, meeting the Mayor of Karachi, and networking with Pakistani constituents from International Sister Cities was indeed an honour'. On the other side, leaving the hall, George Bush was patting Javaid Anwar who was humbly saying, 'Thank you very much. And, I am deeply honoured, deeply honoured. Thank you, Mr President'.