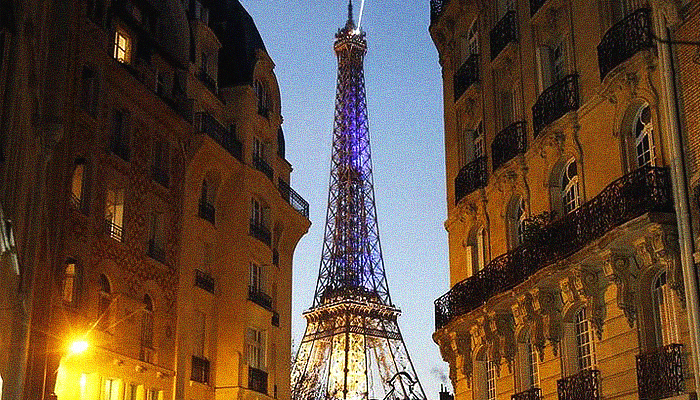 "If you are planning higher education in France, opt for cities other than Paris," remarked Ambassador Marc Baréty. "But, if you can afford and stay focused, then follow your heart and stay in the best student city in the world," he added in the same breath.

The French ambassador shared his views after inaugurating Campus France in Karachi — where Consul General Didier Talpain, representatives of the French Ministry of European and Foreign Affairs, the facility's staff, and French universities' alumnae accompanied Baréty as he toured different sections of the newly-opened institute.
Campus France is housed in the sprawling Alliance Francis, a place for learning French language, art, and fun; its opening signals the potential of Pakistan that has over 65 percent youth population.

A PhD in literature, Ambassador Baréty expressed hope that this campus would duly offer information and advice about the French universities and process applications of potential candidates.

In the last few decades, the realisation of acquiring higher education from Ivy League universities has risen in Pakistan, where students aim to get into schools in the US, UK, Canada, Australia, and Germany — a common trend among Asians.
However, due to economic reasons, Pakistanis form only a small fraction of the 5.1 million students from around the world who study abroad. Plus, despite being the fourth most popular destination for international students after the US, UK, and Australia, France is yet to become one of their top priorities.
Baréty explained how the French institutions offer quality education at a competitive cost and why investing in higher education was key to uplifting families, societies, and countries at large.
The ambassador's initiative in Karachi comes in line with the French government's overall policy to double the number of foreign students by 2027.
Currently, the number of international students stands around a quarter of a million, most of them visiting France to study business and finance, engineering, environment, art, and hospitality sector, among other related disciplines.
Bringing their number to 500,000 is a challenge that can only be accomplished if France attracts students from economies of non-English speaking countries. To their advantage, a solid structure is long in place.
For decades, France has not only been one of the top tourist destinations but the home to some of the world's top universities. According to Times Higher Education's University Ranking 2020, 38 French universities are among the world's top institutions.
Of them, three French universities have made it to top 100. Paris Sciences et Letters (PSL) — which has secured 45th position — caters to 21,298 students, of which 26 percent are international students.
Sorbonne University, with over 40,000 students (19 percent international), made it to the 80th position, while Ecole Polytechnique, with only 3,030 students and over 40 percent international strength, managed to bag the 93rd position.
The level of higher education is such that 26 Nobel prizes in physics, chemistry, medicine, economics, and literature are awarded to researchers from the PSL.
It comes as no surprise that the first multiple recipient of the Nobel Prize was Marie Curie — a naturalised French physicist and chemist known for her work on radiation. The Curie family is unique to have five Nobel Laureates.
France has also produced the most Nobel Prize winners.
Yet, it's an irony that after US, UK, and Germany, France ranks only fourth in having the number of Nobel Laureate citizens. Its number stands at a modest 68. However, with 16 Laureates, France rightly boasts of having the highest number of recipients for the Noble Prize for Literature.
The passion for higher studies is created by highly subsidising the education. Even for non EU-students who enrol themselves in Bachelors or Masters program, the state covers two-thirds of the training cost. Their fee ranges from €2,770-3,770 a year.
For doctoral programs, the fee is further subsidised to €380 per year. And that's exactly the reason why a third of French PhDs are awarded to international students.
French President Emmanuel Macron's government has also tripled the amount of scholarships offered to international students. And after two years of stay, students may also apply for the grants offered by the Ministry of Higher Education and Research or regional councils.
France is also home to institutions that cater only the elitist of the elitists. The ones born with silver spoon in their mouth go to universities that charge up to €30,000 a year.
The French educational system has its own style. Unlike the US where sport is promoted at every level, French institutions only encourage after-school activities.
Here, students also choose their area of specialisation in the first academic year of their professional education. It benefits only those who have a clear understanding about their goals in life.
Studying in France offers some advantages and pose challenges as well. Food and clothing is expensive, while housing and transport is relatively cheaper than the UK.
Overall, one spends at least a €1,000-1,500 a month depending on the city of their stay. And if one develops a taste for gourmet food and enjoys lavish cultural activities Paris is known for, they may end up with spending thousands everyday.
Hence, many students — even from a middle-class background — seek part-time jobs in France as they do across the developed world. Almost similar to UK and US, France permits them 19.5 hours per week during term time and full-time during holidays.
So, a third of the international students who opt Paris try their luck in making some money or availing opportunities for internships. After all, Paris is seventh-best student city in the world when it comes to employer friendliness.
This attitude of opening doors wide open to international students is for a reason. Over the years, the education sector has taken the shape of a large-scale industry. Every developed country is attracting capital by offering incentives.
International students not only contribute to their economies but can also add to the country's goodwill. The ones who opt to go back to their countries become an advertisement of the institution they graduated from. And those who get to the decision-making positions become an asset.
In the last few decades, Pakistan's private sector has also invested in higher education and established some institutions that have become successful in making their names to some extent. It's long way to go before they greatly contribute to our economy by attracting thousands of international students.
Till then, the top 100 universities should be encouraged to start an exchange program and, hopefully later, open their chapters in at least Karachi, Lahore, and Islamabad.
After all, if the United Arab Emirates can host them, why not Pakistan?