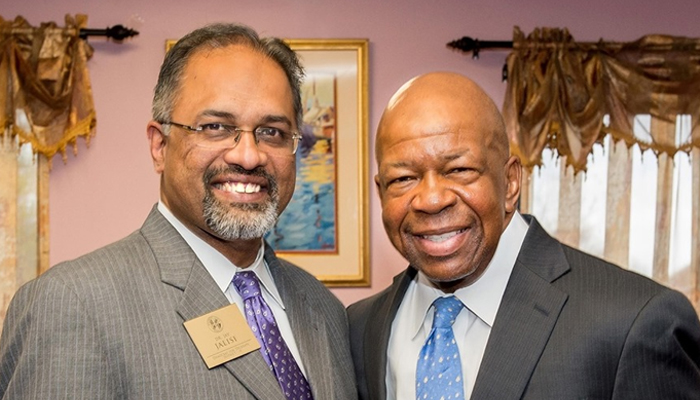 With grass root Democrats entering the race, a ray of hope has emerged that the New Year will bring the first Pakistani-American into Congress. It is something the community is looking for the last seven decades.

Dr Hasan 'Jay' Jalisi is the man who can make it possible. He has already taken the first step by filing the nomination for the US House Maryland District 7. The John Hopkins University graduate has already served the state as a representative of its 10th District.
Congressional District 7 is considered quite a safe Democrat seat, so no surprise that 24 Democrats are keeping an eye on the pie. Whoever wins would have to fill the big shoes. After all, the seat lies vacant after the death of Congressperson Elijah E Cummings, who had represented the District since 1996. Cummings died in October at the age of 68.
The man with a broad smile on his face, Cummings was a champion of civil rights and his death was mourned by Democrats and Republicans alike. Among his mourners were the Obamas and the Clintons as well as leading Republicans.

As chairperson of the US House Committee on Oversight and Reform, Cummings had led one of the three committees dealing with the impeachment inquiry against US President Donald Trump and remained one of his staunchest opponents.
Yet, Mark Meadows — one of the US president's closest allies — struggled to hold back tears as he delivered a stirring eulogy. Even Trump himself admitted that it would be "very hard, if not impossible, to replace Elijah Cummings".
The late Democrat was the Pakistani-American's mentor. It was Cummings' persistent encouragement that brought Dr Jalisi, who otherwise would have enjoyed his life as a medical practitioner, to politics.

Thanks, however, to Cummings' support that Dr Jalisi later successfully contested Maryland Assembly seat.
By winning 10th District, Dr Jalisi was honoured to become the first Pakistani-American who represented any state assembly of the United States. Last year, he easily retained the seat and is now vying to move on to the next stage.
However, to reach the US Congress, Dr Jalisi has to first jump the primaries obstacle, where the field is fiercely being contested. The Democrat hopeful for the seat also includes Cummings' widow.
Maya Rockeymoore Cummings is a former chair of the Maryland Democratic Party. Two years ago, she had tried to unseat Governor Larry Hogan. Lady luck, nonetheless, was not with her as her husband was hospitalised and she had to drop out of the race.

Last month, she underwent a double mastectomy to beat cancer. Though she is recovering fast but an even bigger battle lies ahead. The party's acting chair has raised major financial concerns, including the party's bank balance during her tenure.
Cummings' wife was also caught in a domestic dispute as his daughters, Jennifer and Adia, have openly criticised their stepmother. They also recently endorsed one of their father's former staffers, Harry Spikes.

Other Democrat hopefuls include T Dan Baker, Talmadge Branch, Alicia Brown, Anthony Carter, Jill Carter, Matko Lee Chullin, Jay Fred Cohen, Nathaniel Costley, Darryl Gonzalez, Mark Gosnell, Leslie Grant, Dan Hiegel, Jermyn Davidson, F Michael Higginbotham, Terri L Hill, Paul Konka, Adrian Petrus, Saafir Rabb, Charles Smith, Charles Stokes, and Kweisi Mfume.
In 1996, Representative Mfume had stepped down to lead the National Association for the Advancement of Colored People (NAACP), a civil rights organisation. It has taken him 23 years to seek a comeback.
Mfume, too, has a baggage as he is embroiled in an affair with a female staffer. Admitting it as a boneheaded mistake, Mfume said it happened everyday in the society. As he campaigns to regain congressional seat, Mfume keeps his fingers crossed.
On the other hand, Republican hopefuls include Christopher Anderson, James Arnold, Ray Bly, Brian Brown, Reba Hawkins, Kim Klacik, Elizabeth Matory, and William Newton. But none of them is considered a serious challenger in a state that Trump considers a "disgusting, rat and rodent infested mess".
For Republicans, it's almost a lost game. But whichever democrat wins the primary on February 4, their political future would be secure for decades to come.
After all, the April 28 election does not translate to only completing the rest of Cummings' 10-month term; the same day voters will nominate candidates for the 2020 election. Keeping an eye on that, Dr Jalisi has filed nomination papers for the next primary as well.
The district constitutes half of Baltimore City and parts of Howard and Baltimore counties. With 68 per cent Democrat voters, the seat is considered a gift to the primary winner.
But in a district that has 7,16,136 residents, 3,74,252 inhabitants are African-Americans, 2,51,762 white, 52,833 Asians, and around 4,238 Arabs.
Can the Pakistani-American secure their votes to win a primary? That remains an open question?
Over the decades, the turnout for special elections — like in Pakistan or elsewhere — had remained alarmingly low. For Dr Jalisi, it's a double-edged sword as he needs to mobilise not only the Asians but also the larger African-American community.
It's a strange fact that in the freezing weather conditions, only elderly men come out to vote, which can only favour an African-American candidate. So Dr Jalisi needs to redouble his efforts to not only knock every door but also bring voters to polling stations.
Still, he is luckier than another Pakistani-American, Tahir Javed, who contested the primary from Texas' 29th congressional district last year. Despite spending hard-earned money, the latter could secure only 3,821 votes, whereas his Democrat rival, Sylvia Garcia, bagged 11,727 votes. Garcia went on to beat Philip Arnold with a wide margin.
Will Dr Jalisi become successful in following the footsteps of his mentor by winning primary and then the subsequent elections? Considering his past performance, he does appear to be at least one of the front-runners.
As a Karachiite from a middle-class background, the Pakistani-American has struggled all his life to this day. Now, however, he has two months to gather all his energies and resources to fight the battle of a life time.
Fortunately, long before going to the 'dance with the angels', his mentor, Cummings, had shown him the way forward by winning special election in the same way.