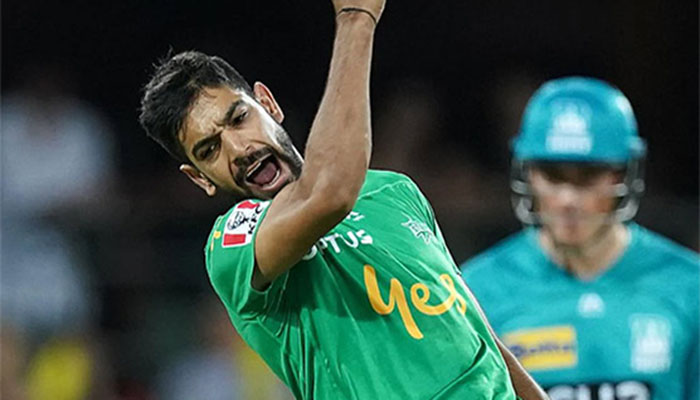 Two years ago, Haris Rauf was just a name, a no one, an unknown entity. Today, he is playing for Melbourne Stars in the Big Bash League.
The 26-year-old pacer had never played organised cricket before September 2017 when he travelled from his hometown of Rawalpindi to Gujranwala to appear in Lahore Qalandars' player development programme (PDP) trials.
His fierce bowling impressed everyone and he was immediately picked up by the Qalandars for their development squad's tour of Australia. In 2018, he made his first organised T20 appearance for the Qalandars at Abu Dhabi T20 Cup, guiding his side to a title triumph.
Earlier this year, he made his Pakistan Super League (PSL) debut and got everyone's attention with his pace and attitude. 
On Friday, he started his Big Bash League career for Melbourne Stars and took two wickets for just 20 runs against Brisbane Heats, including a wicket on his first-ever delivery in BBL.
The management of Lahore Qalandars feel that the emergence of Rauf is the success of its famous talent hunt.
"When we joined PSL, there was no real emerging talent available, which is why we started the PDP because we wanted to win through a process — a process of developing our talent which is otherwise lost in oblivion due to unavailability of platforms," said Qalandars CEO Atif Rana.
"The way Haris has been performing all over and being sought after by other teams is a recognition of our player development program," Rana said.
Before joining the Qalandars, Haris used to play tape-ball cricket on streets but is now featuring in some of the biggest leagues in the world.
"It is like a dream come true for me as I had never thought of playing top-level cricket like this. All the credit goes to Lahore Qalandars," Rauf told Geo News in an earlier interview.
His performance on debut even left Melbourne Stars' captain Glenn Maxwell impressed.
"Haris Rauf was outstanding. He scared a few of the boys the other day in the nets and his debut was outstanding," said Glenn Maxwell after the game.
The success of Haris is also a dream come true for the Qalandars.
"This is what we believed in when we started PDP. Now we are getting the fruits of untiring efforts, and credit goes to Aqib Javed that he's producing talent for everyone," Atif Rana said.
"As you call it in Urdu, paisay wasool (bang for the buck)," he highlighted.
Rana highlighted the Qalandars' "trust in process", pointing out Rauf as well as Sohail Akhtar — another local lad who has ascended to franchise captaincy.
"I am confident that the same group of young talent developed through the PDP will win the PSL for us," Rana said.