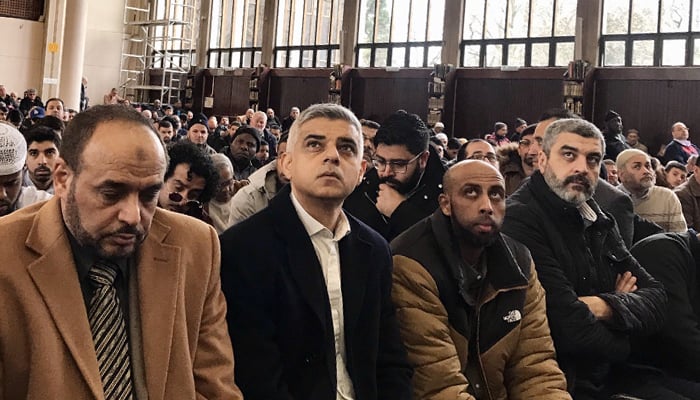 LONDON: People should "be the eyes and ears of our police" in order to help avoid any untoward incident, London Mayor Sadiq Khan said Friday as he visited the Regents Park Mosque, targeted in a stabbing a day prior.

Khan, according to the UK's Daily Mail, was escorted through a crowd. He asked people, especially the worshippers, to always remain vigilant and told them that police would be stationed outside the mosque for security ahead of Ramazan.

"If you see anybody acting suspiciously please be the eyes and ears of our police so they can keep us safe," he said on the loudspeaker after the prayers concluded.
Rafat Maglad, the muazzin — a religious leader who calls the faithful to prayer — and the only man who was wounded in the neck during the Regents Park Mosque stabbing, also returned defiantly with his arm in a sling escorted by police.

London's Metropolitan Police, which earlier confirmed that the 29-year-old suspect was arrested, had said it was not treating the incident as a terror-related one. Before authorities had arrived, the worshippers had tackled the assailant themselves.

Photos posted on Twitter had shown a white man in a red red top being pinned to the ground and handcuffed by two police officers as a group of male worshippers in their winter overcoats stood nearby and watched the scene.

Also read: Police rule out terrorism after London mosque stabbing
Recounting the incident, the mosque's adviser, Ayaz Ahmad, said: "Everybody's reaction was shock and horror, the men were screaming. It was a vicious attack.

"We live in a society where we hear a lot about knife crime and what have you but actually to physically be in a situation where you're first-hand watching an attempted murder take place, it's very shocking," the publication added.

Some of the London mayor's detractors, however, were also present at the scene, asking: "What has he done for us?"