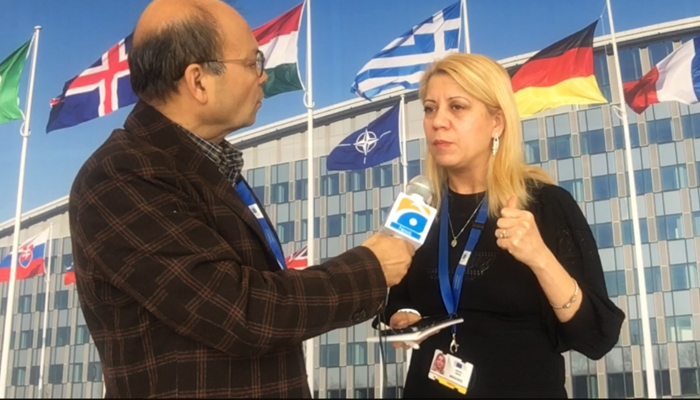 BRUSSELS: On the eve of the highly-anticipated US-Taliban agreement, an Afghan journalist said she hopes for "real peace" and thanked Pakistan for hosting refugees for more than four decades.
Speaking to Geo.tv here in the city, which also hosts the North Atlantic Treaty Organization's (NATO) headquarters, Lailuma Sadid said it was not only her "but also Afghan citizens who hope for peace in the country and we hope that very soon we will reach real peace in the country".
Sadid said she was happy that the international community had made efforts to sign a deal with the Afghan Taliban; however, she underlined that she was not very optimistic of intra-Afghan peace prevailing.

"The most important thing for Afghanistan will be to establish relations with its neighbours, such Iran and Pakistan, because for 40 years, they have welcomed our refugees," she said. Islamabad had a very important role in the establishment of peace in Afghanistan, she added.
The journalist stressed how Pakistan's role was significant in Afghanistan and the region, saying how the government honestly "put a little bit pressure and [brought Taliban] to a negotiation table".

With regard to the Taliban and their relationship with Kabul, she highlighted how they never contacted or negotiated directly with the Afghan government, making the path to peace "very, very difficult".

"If they are not coming in the negotiation table, how do you think we will arrive in peace? … If somebody is fighting or they are not trying to solve the problem, then the neighbours cannot do anything for them.
"But I hope that the countries trying to help Taliban, they should bring the Taliban into the negotiation table directly with the Afghan government," Sadid added.
She also spoke of how it was important for the Taliban to explain how they intended to conclude the war in order to allow citizens to start a normal life.
"The Taliban should also come [to] the negotiation table and [if] they are trying to be a part of the Afghan government ... they should involve themselves in the country, show that they are trying to [opt] for peace," she said.
The Taliban should stop the war, engage with the government, and play their part in the development of the country, she said.