Pakistani computer scientist Dr Umar Saif on Thursday urged authorities in Pakistan and the wider world to adopt cutting edge practices to battle the coronavirus pandemic as hospitals come under increased pressure to treat a growing number of patients. 

In a message posted on the social networking platform Twitter, Saif outlined a simple six-step approach that could be adopted by Pakistan to improve efficiency in identifying and dealing with suspected patients of the coronavirus by using mobile phone technology. 
Also read: Here is what Sindh has done so far to tackle the spread of coronavirus
"My proposal on how to use technology for tracking and containing the Corona outbreaks in a targeted approach without inundating the hospitals," he wrote on his Twitter post, attaching a picture detailing how technology could be used to combat the spread of the virus.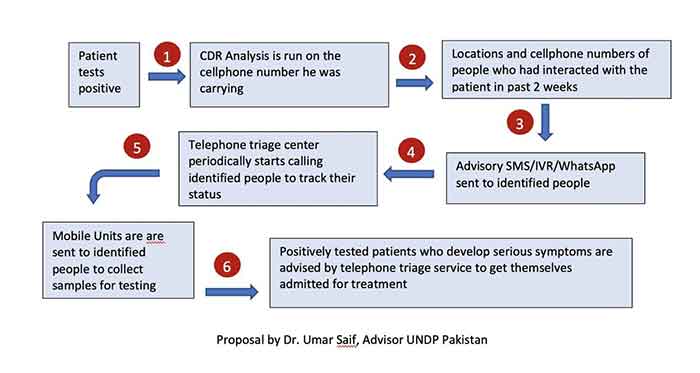 According to the plan Saif wants implemented, the key idea is to use call data records (CDRs) of the cellphones carried by a person who tests positive for the virus and analyze the data from that phone to screen for possible patients of the viral disease. 
Also read: China reports zero new domestic cases of novel coronavirus for first time in months
The locations visited by a person, as well as cellphone numbers of everyone else who was at the same place when this person visited that location, could be obtained from the cellphone data of the patient tested positive for the cornoavirus. 
This data can be used to identify those people who may have been infected by a confirmed patient, and the data is further used for connecting with those people to advise immediate social isolation, to keep track of their symptoms, and conduct tests. 

Also read: Dating in the time of coronavirus: chat online, meet much later
The approach can result in a more targeted identification of suspected coronavirus patients and perhaps eventually limit the spread of the disease if timely action is taken, digital health experts say. 
Globally, 176 countries have been affected, more than 8,900 people have died and more than 218,000 infected by the disease as it spreads rapidly to new territories. Pakistan has more than 300 confirmed cases.