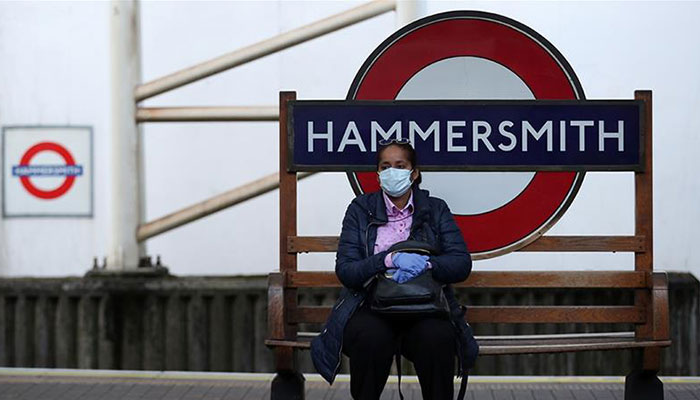 As the British government carries out an official investigation into deaths among ethnic minorities from COVID-19, Duncan Bartlett considers the risks facing the United Kingdom's Pakistani community.
On instructions from Britain's minister of health, Public Health England is urgently trying to establish why non-white people appear to be disproportionally affected by the COVID-19 outbreak.
According to figures from the National Health Service England, by the middle of April, of the 13,918 patients in hospitals in England who tested positive for the virus at the time of death, 16.2% were from ethnic minority groups. People of such backgrounds account for 10.8% of the overall UK population, showing that a greater proportion of deaths are within ethnic minority communities.
The British Labour Party member of parliament for Coventry South, Zarah Sultana, says: "It has now been more than a month since the lockdown was implemented and I know how challenging it has been for so many people. This crisis is affecting us all, but the truth is that it is not affecting us all equally. While the virus itself does not discriminate, the system in which it operates does."
Higher risk
Most scientists believe that black and Asian people are at greater risk of catching the disease not because of their race, but because of social and cultural factors.
Duncan Young, a professor of intensive care medicine at the University of Oxford, says: "There is a possibility of a genetic cause for the disproportionate number of ICU admissions in Asian and black patients, but as it is occurring across two different ethnic groups, this is not likely."
Many British Pakistani people do jobs where their physical presence is essential, such as working in small shops or on the transport network. Doctors say this could place them at more risk of contracting the virus from outside than people who are working from home. Sometimes, younger members of the family go out to work and may inadvertently bring back the infection, putting older relatives at risk.
British-Pakistanis more vulnerable to COVID-19 than majority UK population: report
Crowded homes
In London and other cities in the UK, many Pakistanis also live in multigenerational family groups, sometimes in cramped conditions. This makes social distancing difficult. Analysis by the New Policy Institute has shown that the most crowded regions of the UK have seen 70% more COVID-19 cases than the least crowded.
Sultana – who is of Pakistani heritage – says that her constituents in the city of Coventry have contacted her to say that Britain's National Health Service sometimes charges migrants for treatment and this is deterring disadvantaged people from seeking help when they need it most.
She has also called on the government's chief medical officer to include ethnicity on death certificates. "The evidence suggests that black and Asian people are being hit particularly hard and we need to get to the bottom of why. Our response to this crisis should be to tackle and challenge inequalities, not deepen them."
Dr Rehan Khan, a consultant psychiatrist who works in Britain but is currently in Pakistan, agrees that ethnic minorities often face high-risk situations, such as people who drive taxis or minicabs. "I also do a lot of work in care homes for older people, where most of the staff are from minority groups. If one person gets the virus, it can easily be transmitted to other people," he says.
Read also: Another British-Pakistani doctor loses life to coronavirus
Health factors
People with underlying health conditions are particularly hard hit by the coronavirus. The British Medical Association says that some chronic problems, which affect all ethnicities, are especially common in minority groups. It says there are higher rates of hypertension (high blood pressure), coronary heart disease and diabetes among ethnic minority communities than within the general population.
Dr Khan does not think that genetic factors are particularly significant, pointing to signs that coronavirus has been relatively slow to spread through India and Pakistan. But he does believe a mixture of genetic and lifestyle factors can leave people more prone to the underlying health issues which cause trouble for COVID-19 patients. "Even among my friends who are doctors, I know of only one person who regularly goes to the gym. I'm afraid the others, including myself, rarely bother," says Dr Khan.
As a psychiatrist, Dr Khan observes that the pressure on people in lockdown is intense. He is offering online consultations to patients in Pakistan using a mobile phone. He says life is especially challenging for people who don't have enough money to support their families and must breach the lockdown to go out to work. "Especially during Ramadan and with Eid approaching, it's very difficult," he says. "People want to celebrate with a feast but many cannot afford to do so," he says.
During Ramadan, health authorities in the UK have urged Muslim communities to adhere to strict social distancing guidelines. Dr Habib Naqvi, the NHS deputy director of workforce race equality, says there are many ways Muslims could use the internet to connect with their community online.
"The coronavirus restrictions are still very likely to remain in place by Eid, so the key message remains the same: stay at home, protect our NHS and save lives," Dr Naqvi said.
Bartlett is the Editor of Asian Affairs magazine and a former BBC Correspondent in the region.