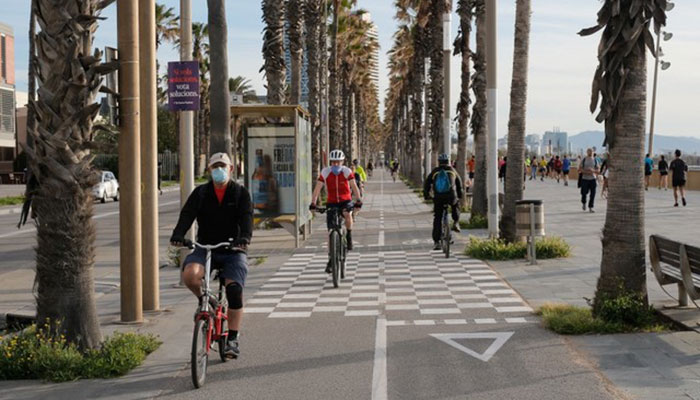 The coronavirus has spread to more than 210 countries across the world, causing the deaths of more than 200,000 and infecting more than 3.7 million. 
Not only is the virus making it difficult for people to live or adding strain on health systems around the globe, it is also hurting businesses and has rendered millions jobless in the worst affected economies.
The economic hardships faced by countries have forced governments around the world to consider easing lockdown measures. 
As resources run out, governments are finding it increasingly difficult to take measures aimed at supporting the economy, such as unemployment allowances, business schemes and relief packages.
Hence, many countries have arrived at the conclusion that some degree of freedom has to be allowed to businesses to resume operations, albeit with stringent Standard Operating Procedures (SOPs) in place. 
The US and Canada are cautiously easing lockdown controls. In the same vein, many European countries have announced similar measures to reopen businesses and allow life to return to normal.
France
French Prime Minister Édouard Philippe said a few days ago that the country will have to "learn to live" with the coronavirus. 
"We are going to have to learn to live with COVID-19 and to protect ourselves from it," he said. "It is a fine line that must be followed. A little too much carelessness, and the epidemic restarts. A little too much caution, and the entire country sinks," he added.
Philippe warned that though the lockdown will be eased, the measures will be relaxed in accordance with areas classified as red, orange or green, depending on their infection level.
Schools
The government has ruled that French children can begin to return to pre-school and primary classes from May 11 on a "voluntary basis" and that classes will be restricted to a maximum of 15 pupils.
While the government will decide at the end of May whether to reopen senior schools in June or not, junior high schools will be allowed to reopen from May 18 in areas where infections are low.
Companies
The French PM said that all companies will be encouraged to ensure that their employees worked from home and if this was not possible, introduce shift working to ensure physical distancing. Masks will be obligatory where that is not possible.
Shops
Most shops across the country will be allowed to reopen from May 11, except those in shopping centres. Cafes, bars and restaurants will not be allowed to reopen from May 11. 
Transport
Seventy percent of the Paris transport network is expected to run from May 11 and public transport is also expected to resume in other parts of the country.
Safety precautions for travel include wearing masks on public transport and leaving every other seat empty. Traveling between France's regions and outside a 100km (60 miles) radius from home will not be permitted except for professional or urgent family purposes.
Public spaces
As far as socialising is concerned, beaches and parks will remain closed till June 1. People will be allowed to travel freely without showing certificates and social gatherings of no more than 10 people can be held. Individual sports will also resume throughout the country.
Libraries and small museums will be able to reopen from May 11, but large museums will not. The government has asked religious authorities not to organise any services before June 2.
The French government plans to conduct 700,000 coronavirus tests a week until the end of May. Authorities say they plan to trace and test all those that come into contact with a confirmed case.
Spain 
Spain's Prime Minister Pedro Sanchez has unveiled a plan through which the country will ultimately relax lockdown measures so that life can return to normal in the country. 
Spain's death toll from the coronavirus has surged past 25,000, with more than 200,000 confirmed cases of the virus.
While the government has extended the countrywide lockdown till May 9, it has come up with a four-phased plan until the end of June which aims to ensure life returns to normal in the country.
The country underwent a strict 48-day lockdown from March 14, ever since coronavirus cases surged in Spain. Only adults were allowed outside to buy food, medicines and walk their dogs. Children were told to stay indoors.
Spain has made it compulsory for its citizens to wear masks on public transport. Previously, authorities had deemed wearing masks "highly recommended" and following the government's decision, millions are to be distributed among people.
People above 70 will be allowed to go out for three hours each day (two hours in the morning starting 10:00am and an hour from 7:00pm). Before and after the elderlies' slots, adolescents above the age of 14 (not more than two from each house) can go out for walks of less than 1km from their houses.
People have not been allowed to meet others outside their households while some shops, bars, churches, gyms, cinemas and theatres will be reopened. The inter-regional travel ban will stay in place till the end of June.
PM Sanchez had said, of the ability of the country to fully return to normalcy, that "it depends on all of us. Any irresponsible behaviour will harm society overall. We have to curb our impatience and allow ourselves to be guided by the experts. Our behaviour can save lives and this is what patriotism means right now."
UK
The UK is the worst-affected European country, with the death toll from the coronavirus surging past 30,000 on Monday. However, Prime Minister Boris Johnson is prepared to announce a plan under which the government plans to ease lockdown restrictions so that life can go back to normal in the country. 
According to some drafts prepared by the UK government, offices will be directed to implement social distancing measures and introduce new policies for their staff. The introduction of shift work, encouraging the maximum number of employees to work from home and ensuring people sit sideways and not face each other in offices. 
Those working at branch offices or other places where public interaction stake place, should have plastic screens in front of them. British citizens are being told to stay at home at all times unless they need to work, buy essentials or take daily exercise. However, at all times, they must be two metres away from each other. 
According to documents obtained by Buzzfeed, these measures are set to be introduced for all workplaces. 
Staggering arrival/departure times to reduce crowding in and out
Providing additional parking or bike racks
Reducing congestion, for example by having more entry points to the workplace.
One for entering the building and one for exiting if possible
Handwashing or hand sanitation at entry and exit points
Alternatives to touch-based security devices such as keypads
Storage for staff clothes and bags
Staff to change into work uniforms on site using appropriate facilities/changing areas
Washing uniforms on site rather than at home
Discouraging nonessential trips within buildings and sites
Reducing job and location rotation, for example, assigning employees to specific floors
Introducing more one-way flow routes through buildings
Reducing maximum occupancy for lifts, providing hand sanitiser for the operation of lifts, and encouraging use of stairs
Regulating use of corridors, lifts, and staircases
Reviewing layouts to allow staff to work further apart from each other
Using floor tape or paint to mark areas to help staff maintain 2 metres
Avoiding employees working face to face — working side by side or facing away from each other where possible
Using screens to create a physical barrier between people where appropriate
Staggering break times to reduce pressure on the break rooms, using outside areas for breaks
Using protective screening for staff in receptions or similar areas
Reconfiguring seating and tables to maintain spacing and reduce face-to-face interactions
Providing packaged meals or similar to avoid opening staff canteens
Following guidelines to be implemented for shops and branches
Defining the number of customers that can follow 2-metre social distancing within the store
Taking into account total floor space as well as likely pinch points and busy areas
Limiting the number of customers at any one time
Suspending or reducing some customer services
Encouraging customers to shop alone
Informing customers who are accompanied by children that they are responsible for supervising them at all times
Using outside premises for queuing
Communicating with nearby premises to manage shared queueing areas
Shopping centres should take responsibility for regulating the number of customers in the centre
Continuing to keep customer restaurants and/or cafés closed until further notice, unless offering hot or cold food to be consumed off the premises
Providing clear guidance to people on arrival
Creating social distancing "champions" to demonstrate social distancing guidelines to customers
Staggered collection times for customers collecting items
Setting up no-contact return procedures
Cashless refunds
Keeping returns separate from displayed merchandise
Offices
Office staff should work from home if at all possible.
Employees in roles critical for business can go in
Employees who cannot work from home due to home circumstances can go in
Planning for the minimum number of people needed on site
Monitoring the wellbeing of employees who are working from home
Keeping in touch with off-site employees including welfare, mental and physical health and personal security
Review layouts, line setups, or processes to let employees work further apart
Arranging for employees to work side-by-side or facing away from each other
Screens to create a physical barrier between people
Floor tape or paint to mark areas to help employees keep to a 2-metre distance
Avoiding use of hot desks and spaces
Limiting use of high-touch items and shared office equipment
Using remote working tools, to avoid in-person meetings
Avoiding transmission during meetings, avoiding sharing pens
Only necessary participants should attend meetings
Hand sanitiser in meeting rooms
Holding meetings in well-ventilated rooms
Limiting or restricting occupancy in group interaction spaces
For areas where regular meetings take place, using floor signage to help people maintain social distancing
Germany 
German Chancellor Angela Merkel said earlier that the country had achieved "interim success" against the coronavirus after new cases of the infection slowed in the country. 
The government has now announced several measures to ease the lockdown, which came into force after May 3. 
According to Merkel's adviser, Helge Braun, social distancing measures such as wearing face masks on public transport, during shopping and during office hours, will be in place till May 10. Other measures include maintaining a distance of 2 metres away from each other. 

The government had also allowed book stores, car dealers and bicycle shops to open up throughout the country as well as hairdressers. All were, however, subject to the maintenance of strict hygiene measures. 
Merkel has been credited with fighting the lockdown better than most European countries through large scale testing. Germany can test more than 650,000 people for COVID-19 in a week. 
Turkey
President Erdogan announced Monday that Turkey, following other European countries, is also moving towards easing the lockdown. The youth and elderly will be allowed to venture outside for walks in four-hour time slots each. 
In a move to cushion the damage done by the coronavirus to the tourism sector, Turkey has lifted domestic travel restrictions on seven provinces that are tourism destinations, including the seaside cities of Antalya and Bodrum.
Erdogan said that the lockdown of major cities such as Istanbul, Ankara, and Izmir will continue. "We are at an important point in the fight against the epidemic," he said. "Our number of patients is constantly decreasing, and the number of patients that are recovering increases exponentially. We will return to normal, but this will be a new normal. Nothing will return to the order we knew before in our country as well as the whole world."
The lockdown has had disastrous effects for Turkey, with the country facing a $437bn debt. The pandemic has hit Turkey hard, with its currency losing value and inflation rising. 
Turkey had imposed a severe lockdown across the country, with anyone below 20 or above 65 barred from the streets. On weekends, only medical officers and security officials were allowed to venture outside in the 31 provinces of the country. 
Erdogan has been keen on opening the economy. The Turkish government has allowed some construction, manufacturing and mining to continue despite the pandemic forcing other sectors to close down. 
Italy
After seven weeks of a strict lockdown, more than 4.4 million Italians are now at work in the country. Italy, once the worst-affected country in Europe, has reported a little over 30,000 deaths from the virus and more than 200,000 cases of the infection. 
The move to ease restrictions was taken by the government after it emerged that Italy's economy had shrunk the most ever since the 1930s Great Depression. 
Italians have been allowed to meet family members and those with whom they have an "established emotional bond". People can go to parks for jogging or other exercises. However, it is mandatory to wear masks in public transportation and in closed public places.
Funeral relaxations include allowing 15 mourners to attend the ceremony. Bars, hair salons and restaurants will be reopened after June 1, but masses and weddings have to wait. 
The government says it is working on a contact tracing app but it is still not ready yet.