PDM jalsa: Live updates for Opposition's second anti-PTI rally hosted by PPP at Bagh-e-Jinnah Karachi
Updated Sunday Oct 18 2020
The Pakistan Democratic Movement's (PDM) second anti-government power show was held on Sunday, with scores of workers present at the Bagh-e-Jinnah in Karachi to listen to the major Opposition parties' leaders speak.

The PDM flexed its political muscle and held its first power show in Gujranwala on Friday, October 16, where it lashed out at Prime Minister Imran Khan and his government. 
For coverage of the last jalsa click here.
The highlights of the Karachi jalsa are provided below.

12:25pm — Fazlur Rehman talks about PDM's aims
Maulana Fazlur Rehman, in a wide encapsulating speech, speaks of the PDM's aims, which are to restore a "free, democractic atmosphere" and to ensure the survival of the state.
"No amendment will be accepted which would reduce the rights of the people," said Fazlur Rehman
"If the people of Sindh do not want, no one can dare to divide Sindh."
He said it is "not conscionable to recognise this government".

---
11:56pm — JUI-F, PDM chief Maulana Fazlur Rehman makes entry to song of his own name

---
11:55pm — Crowd enthralled by speeches, still at venue at this late hour
---
11:52pm — PPP chairman closes speech by saying that the people 'will no longer remain silent'
"Remember this: The people will no longer remain silent. The walls of their homes will shake with the chants of the people."
"We want [Pakistan to have] true democracy. Give us true democracy. The democracy that comes with the will of the people."

---
11:30pm — Bilawal says PDM waging a war for every citizen
PDM is a fight for workers, farmers, lady health workers, government employees and every section of the country, says Bilawal.
"The prime minister has to go; this movement is against hunger, injustice and oppression."
---
11:28pm — 'Punjab a joke, Sindh being robbed of its rights'
PPP chairman says Punjab has been turned into a "joke" and "attempts are being made to rob Sindh of its rights".
He said Sindh was not given Rs 300 billion for NFC award.
"A conspiracy to separate Karachi is brewing," Bilawal added.
The PPP chairman said the Rs1,000bn package for Karachi is a "scam" and demanded that the ordinance for the development of islands be rejected in the Senate.
---
11:26pm — Bilawal says this is 'not a fight for power', it is one for democracy
PPP chairman says this is not a fight to gain power. "Whenever there is an attack on democracy, people are crushed under the weight of such injustice."
"The poor people go hungry, people's lives become unsafe, the air becomes unbreathable."
"The freedom to speak, to breathe, to live a life of dignity and freedom from poverty — democracy is the answer to all of this," Bilawal stresses.
---
11:24pm — 'Country at an important, turning point in history'
PPP chairman says Pakistan has reached at important cross roads and the people will decide the fate of the country.
We have to fight for the supremacy of the Constitution and for democracy and this fight has to be fought by the people, he said.
Bilawal said that one by one, all those institutions that can safeguard our rights "are being hollowed out".
"All those voices are being stifled that are being raised against dictatorship. The judiciary is under pressure, the media is being silenced and we are not allowed to speak in the parliament."
"But oppression is oppression. It will be wiped out one day."

---
11:19pm — Bilawal pays tribute to mother, 'martyrs of Karsaz'
Bilawal pays tribute to his late mother Benazir Bhutto and all those who laid down their lives in the Karsaz attack 13 years ago.
He said that this pain and sorrow is one that will remain a life time. But this pain must be turned to strength just like the path PPP took after the "political murder" of Zulfiqar Bhutto

Bilawal said that soon after the Karsaz carnage, Benazir Bhutto visited the hospital and stood firm and resolute and comforted those injured.
"Benazir never feared anything, never left the side of the people [...] PPP has shed its blood in the defence of the nation. We are indebted to those who laid down their lives that night."

---
11:16pm — Bilawal takes the stage
---
10:46pm — Maryam demands answers from PM Imran over govt's 'failures'
"The world knows that you have taken over [National Accountability Bureau], Federal Investigation Agency, Federal Board of Revenue, Securities and Exchange Commission of Pakistan," Maryam says to PM Imran Khan.
"Come and tell the people: why did you steal the people's employment? Tell the people, why did you rob the people of [affordable] medicine?"
Responding to PM Imran Khan's allegations against her and Bilawal, she said: "The person who spent his life living off his rich friend's money should not make such comments."
Slamming the prime minister further, she said that the Panah Gah that had been established, catered to those people who had lost their homes after PM Imran Khan came into power.
---
10:45pm — 'Stop analysing Nawaz's speech if you can't allow it to be broadcast'
Maryam said that despite a ban on Nawaz's live speech, Prime Minister Imran Khan commented on it. "If you are so troubled that you can't allow the people to hear Nawaz's speech, then stop providing your analysis on it."

"The speech that was delivered day before yesterday wasn't aired on TV. Were you then hiding somewhere, secretly watching his speech?" she asked, taking a jibe at the premier.
---
10:44pm — Maryam tells Bilawal the two parties must never resort to mud-slinging
Talking about her relationship with other party leaders, she said that despite the parties being PML-N's political opponents, Maulana Fazlur Rehman, Bilawal Bhutto Zardari, Asif Zardari, and Mahmood Achakzai had always treated her with the utmost respect.
"Today, we are fighting for the rights of the Pakistani people, and when we will compete with each other in the political battleground then we will become competitors, but we won't become each other's enemies," she said.
Addressing Bilawal, she said that his mother (Benazir) and her father were like brothers and sisters. "Bilawal and I are continuing to honour that relationship."
"Let us make a promise Bilawal, that we will fight in the political battleground, and not against each other," she said.
---
10:43pm — Maryam responds to PM's 'nani' comment
The PML-N vice-president says that she did not like to respond to the premier's comments as "it is below my dignity".
However, Maryam said that she couldn't resist responding to the premier's statement where he had mockingly referred to her as a "nani (maternal grandmother)".
"Nani is the mother of the mother; you have disrespected this wonderful, beautiful relation," Maryam said.
---
10:42pm — 'People paying the price of you occupying the PM's seat'

"You were a servant before, and after occupying the prime minister's seat, you have become a paid servant whose price the people of Pakistan have to pay," Maryam goes on to say to PM Imran Khan.

The self-dubbed "foot soldier" of PML-N supremo Nawaz Sharif said that PM Imran Khan "is not worried in the least about the people, rather he always addresses the Opposition, Nawaz, Maryam, Bilawal, or the ones who brought him into power".
---
10:40pm — PM Imran Khan 'troubled' after one jalsa
Referring to Prime Minister Imran Khan's Saturday speech, she says that the premier is "troubled" after one jalsa.
Maryam said that she knew that PM Imran Khan was under pressure, but he could have at least respected the prime minister's office. "If there is no one to teach you [how to react under pressure] then you could have learned from Nawaz Sharif."
Maryam reminded PM Imran Khan that despite his 126-day-long sit-in, Nawaz "hadn't mentioned him even once".
"In a fight among elders, there is no room for children," she said, adding that "no one had ever mentioned your name".
---
10:31pm — Maryam Nawaz fondly recalls meeting with Benazir  Bhutto

Maryam Nawaz says that she has come to Karachi after several years and it has reminded her of Benazir Bhutto, whom she had met only once.
"She had met us when we were living in exile. Like a mother she spent three hours with me," she said. 
"I cannot forget that meeting," Maryam said, adding that the way she was welcomed in Karachi, she would not be able to repay them.
"I did not feel any difference between the streets of Lahore and Karachi," she said.
---
8:51pm — Venue's main gate closed as attendees increase
The management of PDM's Karachi jalsa has closed the main gate of the venue as the number of attendees increased, causing hurdles for the people.
---
8:49pm — National Party's Baloch pays tribute to 'those who sacrificed their lives for their cause'
National Party leader Dr Abdul Malik Baloch, during his speech, pays tribute to those who sacrificed their lives for their ideologies.
"I pay tribute to Mir Hasil Bizenjo, as through his struggle, the Opposition parties are on a single platform," he added.
He also spoke of the island ordinance, saying "it is an old conspiracy — the conspiracy to divide Sindh".

---
08:42pm — PMAP chief Mahmood Khan Achakzai says 'we are not traitors'
Pakhtunkhwa Milli Awami Party leader Mahmood Khan Achakzai says "when we talk about self-reliance, we are labelled traitors".
"We are not traitors, we are loyal to the land," he said, adding that "his people had fought for the country's independence".

---
8:30pm — PDM out to 'bring real' democracy: Sajid Mir
Jamiat Ahle Hadith chief Sajid Mir says that the PDM is out on the streets to "bring real democracy" to the country and to ensure the rights of the people.
He said the "one page that the government is on, will be turned with the power of the PDM".

---
7:36pm — Aijaz Dhamra pays tribute to people who died in Karsaz massacre
PPP leader Aijaz Dhamra, in his speech during the jalsa, paid tribute to the people who died in the Karsaz massacre. "Through their [people who died at Kasaz] struggle we were able to defeat dictatorship."
---
---
07:16pm — '2021 to be the year of election': Owais Noorani
JUIP chief Shah Owais Noorani says that 2021 would be the year of election.
"The Green Line project has been halted because it had Nawaz Sharif's plaque on it", Noorani added.
---
---
6:50pm — Prominent PDM leaders reach Bagh-e-Jinnah
Several prominent PDM leaders have reached Bagh-e-Jinnah, including Akhtar Mengal, Mahmood Achakzai, Shahid Khaqan Abbasi, among others.
Meanwhile, according to Geo News's correspondent Kamran Razi, scores of people have reached the venue.
---
WATCH: Live from Bagh-e-Jinnah
---
07:23pm — Fazlur Rehman arrives
JUI-F chief Fazlur Rehman has also arrived at the venue and come onto the stage to wave to his supporters.
---
07:20pm — Maryam Nawaz, Mahmood Khan Achakzai join Bilawal

PML-N's Maryam Nawaz and Pakhtunkhwa Milli Awami Party's Mahmood Khan Achakzai have joined Bilawal on the stage.
---
07:18pm — Bilawal Bhutto Zardari takes the stage
PPP chairman Bilawal Bhutto Zardari has taken the stage and is surrounded by his supporters.
---
06:51pm — 'Govt will not complete tenure', says Maryam

Speaking to Geo News about what the people can expect from PDM, Maryam says that the Opposition would target its focus on the alleged rigging in the 2018 general elections and the government's current policies.
Maryam said that the government would "not complete its tenure as it has troubled the people immensely."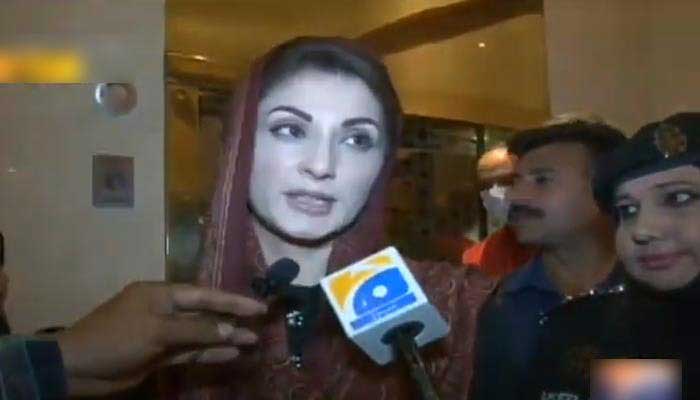 ---
06:47pm — Maryam thanks supporters for warm welcome that 'exceeded her expectations'
Maryam Nawaz, speaking to a Geo News reporter at a hotel where a pre-jalsa meeting is expected to take place, says she wishes to thank the scores of supporters that showed her a welcome that "truly exceeded her expectations".
---
06:21pm — Security appears non-existent as swarm of people storm into venue
The rally venue is jam packed with a steady stream of people continuing to storm into Bagh-e-Jinnah. Security apparatus seems to have failed with the sheer number of participants forcing their way through.

Coronavirus safety protocols are also nowhere to be found with the majority of participants standing shoulder to shoulder, maskless.

---
06:18pm — JUI-F chief Fazlur Rehman, BNP-M's Akhtar Mengal reach Bilawal House
Jamiat Ulema-i-Islam-Fazl chief Fazlur Rehman and Balochistan National Party head Akhtar Mengal have reached Bilawal House for a pre-jalsa meeting.

---