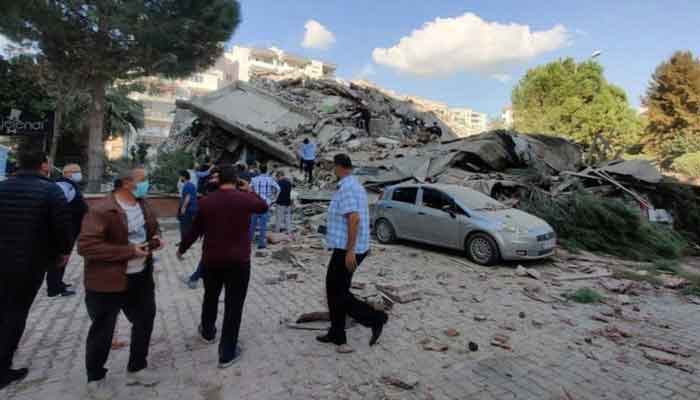 At least 12 people were killed in Turkey and two were reported dead in Greece after a strong earthquake struck the Aegean Sea on Friday.
According to US Geological Survey (USGS), the quake struck off of Turkey's Aegean coast, north of the Greek island of Samos.

USGS added that tremors were felt as far away as Istanbul and Athens.
---
                                                       In brief

Strong earthquake hits Turkey, Greek islands
US Geological Survey (USGS) records it at 7.0 on the Richter scale, Turkey's disaster management authority (AFAD) puts magnitude at 6.6

USGS says epicentre 33.5km off Turkey's coast, AFAD says epicentre 17km off the coast of Izmir

Tremors felt in Izmir, Istanbul, Athens and Samos island

Twelve killed, 419 injured in Turkey; two reported dead, eight injured on Samos

High tidal waves send debris into Izmir, warnings in place on Samos

---
Casualties

Turkey's Disaster and Emergency Management Presidency (AFAD) said 12 people have died and 419 people have been injured.
On the Greek island of Samos, two were found dead and eight were injured, an emergency official said.
The two teenagers, a boy and a girl, were confirmed dead after being found unconscious in an area where a wall had collapsed in an area of Vathy, a town on the island.

Tremors caught on tape
Buildings come crashing down

The earthquake brought buildings crashing down and set off tidal waves which slammed into coastal areas and nearby Greek islands.
Videos of buildings reduced to rubble and people going through the debris were shared widely on social media. These could not be independently verified.
Rescue efforts
Search and rescue operations at 17 collapsed or damaged buildings continued well into the night.
TRT television showed rescuers being helped by residents and police using chainsaws as they tried to force their way through the rubble of a seven-floor building that had collapsed.
Rescuers called for silence for signs of any survivors, clearing boulders, and other debris in a human chain.
CNN Turk showed one woman being pulled out alive.
The Istanbul Metropolian Municipality said its teams are "on their way to Izmir to join the ongoing search and rescue efforts and provide logistic support".
"Stay strong Izmir, we are with you."

'Chaos' in Greece
On the Greek island of Samos, near the quake's epicentre, people rushed out into the streets in panic.
Samos has a population of about 45,000.
"The walls of some houses have crumbled and several buildings are damaged," the island's deputy mayor Michalis Mitsios was quoted as saying by public broadcaster ERT.
"It was chaos," added fellow deputy mayor Giorgos Dionysiou. "We have never experienced anything like this."
The Greek civil protection agency told Samos's residents in a text message to "stay out in the open and away from buildings".
The island's airport was also closed as a precaution.
Residents were also urged to stay away from coastal areas, Eftyhmios Lekkas, head of Greece's organisation for anti-seismic planning, told Greece's Skai TV.
"It was a very big earthquake, it's difficult to have a bigger one," said Lekkas.
Flooding in Izmir

Footage on social media showed water rushing through the streets of Izmir from an apparent sea surge.
Ismail Yetiskin, mayor of Izmir's Seferihisar, said sea levels rose as a result of the quake. "There seems to be a small tsunami," he told broadcaster NTV.
Footage showed debris including refrigerators, chairs and tables floating through streets on the deluge. TRT Haber showed cars in Izmir's Seferihisar district had been dragged by the water and piled on top of each other.
Idil Gungor, who runs a hotel in Izmir's Seferihisar district, told broadcaster NTV that people were cleaning the debris after the floodwaters receded. She said fish had washed up on the garden of the hotel, around 50 metres from the shore.
Turkish president says state stands by citizens

Turkey's President Recep Tayyip Erdogan tweeted: "Get well soon İzmir."
"With all the means of our state, we stand by our citizens affected by the earthquake. We took action to start the necessary work in the region with all our relevant institutions and ministers," Erdogan said.
Greek PM calls Erdogan to offer condolences
Greek Prime Minister Kyriakos Mitsotakis called Turkish President Recep Tayyip Erdogan to offer his condolences after the deadly quake that hit both countries.
"I just called President @RTErdogan to offer my condolences for the tragic loss of life from the earthquake that struck both our countries. Whatever our differences, these are times when our people need to stand together," he said on Twitter.
France offers Turkey, Greece help

The French government offered help to Turkey as well as Paris's close ally Greece.
"Full solidarity from France with Greece and Turkey after the earthquake," tweeted Clement Beaune, the European affairs minister. "We are ready to provide the necessary assistance."
Interior Minister Gerald Darmanin added: "France stands alongside the Turkish and Greek people to face this terrible ordeal."
"If the governments of these countries desire, French aid can be immediately dispatched to the scene," he added.


— Additional reporting by Reuters, AFP
---
This is a developing story and more details will be added shortly. Please refresh the page in a while for the latest version.

You can receive Breaking News on a smartphone or tablet via the Geo News App (available on Android and iOS). You can also follow @geonews_english on Twitter and Geo News English on Facebook to get the latest alerts.