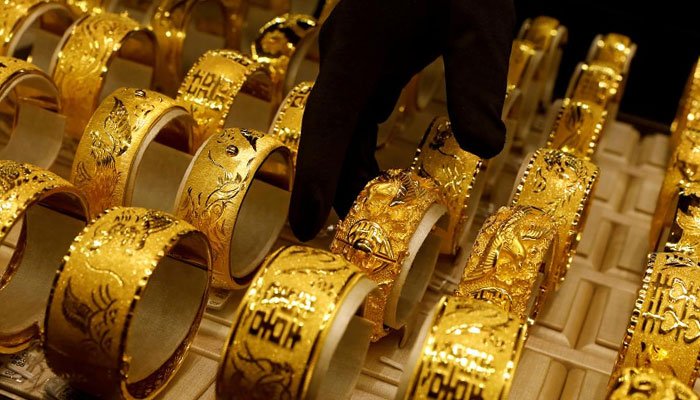 A single tola of 24-karat gold in Pakistan was being sold for Rs113,300

 10 grams of 24k gold was sold for Rs97,136 at the closing of trading

10 grams of 22k gold was traded for Rs89,042

---
KARACHI: A single tola of 24-karat gold in Pakistan was being sold for Rs113,300 Saturday, January 9, at the closing of the bullion market.
Likewise, 10 grams of 24k gold was sold for Rs97,136 at the closing of trading.
Meanwhile, 10 grams of 22k gold was traded for Rs89,042 with one tola of 22k gold was traded at Rs103,859.
Read more: Gold rate increase by Rs700 in Pakistan on Jan 8
On Friday the gold rates in the local market had decreased by Rs700/tola, said the All Sindh Saraf Jewellers Association.
Similarly, the price of 10 grams gold dropped Rs600. While in the international market the gold rates had decreased by $23 to reach $1,893/ounce.
Jewellers believe that the gold prices in the local market continue to remain Rs3,000/tola lower compared to the Dubai gold market.
Meanwhile, silver rates also dropped Rs50 to Rs1,350/tola. The rate of 10 grams silver also decreased Rs42.87 to Rs1,200.27.