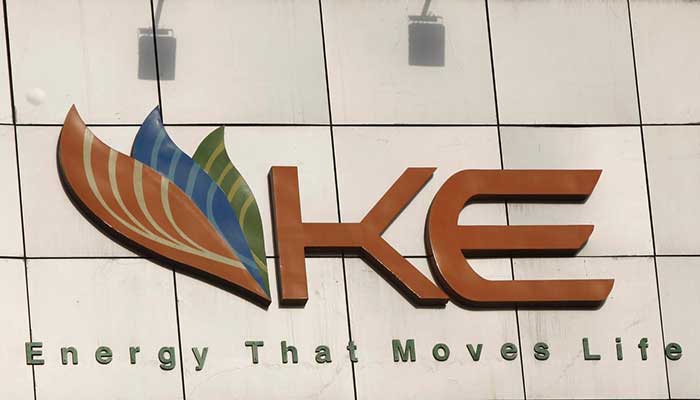 KE stakeholder Hamad Aljomaih holds meetings with president, PM, energy ministers.
Hamad hopes that release of pending payments will enable power utility company to continue investing in Karachi's power infrastructure.
Saudi businessman hopes that Pakistan government would expedite the removal of any impediments to allow Shanghai Electric Power to take a 66.4% controlling stake in K-E.
---
ISLAMABAD: The federal and Sindh government have agreed to remove all hurdles and speed up the delayed K-Electric transaction that has been stopping Chinese company Shanghai Electric Power from buying stakes in the power utility company. 
Hamad Aljomaih, MD Investments at Aljomaih Holdings, one of the largest business groups in Saudi Arabia having stakes in K-Electric, stated this after holding a series of meetings with top officials of the federal and Sindh governments during his two-day stay in Pakistan. 
Aljomaih arrived in Pakistan on March 15 and left the country on March 16.
Read more: Shanghai Electric proposes $9bn investment plan for K-Electric
During the trip, Aljomaih held a meeting with President Arif Alvi, Prime Minister Imran Khan, Finance Minister Dr Hafeez Shaikh, Federal Minister for Privatisation Mohammed Mian Soomro, Energy Minister Omar Ayub Khan and Special Assistant to PM on Petroleum Nadeem Babar and other senior officials.
All the officials reportedly agreed to remove all hurdles, particularly the issue of receivables and payables, in the way of the K-Electric's transaction.
The Saudi businessman also held meetings with Sindh Governor Imran Ismail, Sindh Energy Minister Imtiaz Shaikh, and Adviser to CM Sindh on Law Murtaza Wahab, among others to this effect. All the officials assured the Saudi businessman that they would help speed up the transaction for K-Electric.
Read more: K-Electric warns of approaching international court if its exclusivity is ended
The talks focused on KE's continued commitment to Karachi, and its upcoming 900 megawatt power plant located at Bin Qasim.
Hamad hoped that the release of the pending payments would enable the power utility company to continue investing in Karachi's power infrastructure, and also remove hindrances to the signing of fresh agreements critical to improving the city's demand and supply situation.
In a statement, the Saudi businessman hoped that the Pakistan government would expedite the removal of any impediments to the conclusion of Shanghai Electric Power's (SEP) proposal to take a 66.4% controlling stake in K-Electric Limited.
Aljomaih is one of the largest investors in KE through the consortium that bought out the KESC in 2005.
Hamad, who is one of the largest investors in KE, was in Pakistan to resolve the challenges facing K-Electric, including the long-standing issue of payables and receivables involving KE and several government entities.
Read more: Issue of KE's privatisation should have been taken up with relevant forum first, says CJP
He lauded the Pakistani government for assurances to speed up the process of approvals so that held up Tariff Differential Claims to the tune of around Rs275 billion on a principal basis, are released at the earliest.
During his meetings with the Pakistani leadership, Aljomaih said that a strategic investor with utility expertise would leverage its strengths to bring further advancements, benefiting the consumers and economy at large.
The KE stakeholder said that KE after its privatization has been attracting investors like Shanghai Electric, the company that transformed the city of Shanghai from 3,000MW to 30,000MW.
He said that this would have been impossible 15 years ago, adding that the transaction has been lingering since 2016. He added that when completed it will open the doors to the investment of billions of dollars into Karachi's energy infrastructure.