Stocks slide over 500 points due to widening trade deficit to close the session at 46,903.06.

Trading volume rise to 544.4 million shares compared to 536.6 million shares traded on Wednesday. 

Major losers were UBL, HBL, Lucky Cement, MCB and Cherat Cement.
---
KARACHI: The Pakistan Stock Exchange (PSX)'s benchmark index extended its decline with a fresh fall of 510.40 points or 1.08% to settle below the 47,000-point barrier at 46,903.06.
Investors started abandoning positions from the opening bell as the market reacted to a widening trade deficit hurting economic recovery. Panicky investors tended to follow the general trend to dump-and-run.
The trade deficit rose 133% to reach $4.05 billion in August compared to $1.74 billion in the period last year.
Fluctuations in commodity markets also pulled prices of some index-heavy sectors on the PSX to new lows. Along with economic instability, political noise and uncertainty created more anguish among market players.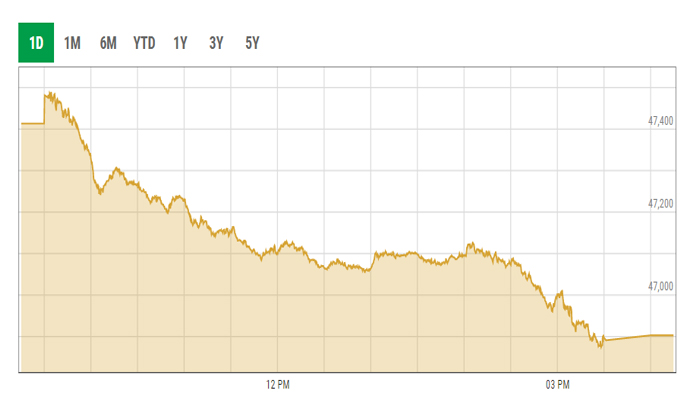 The benchmark KSE-100 index lost 510.40 points or 1.08% on Thursday, to close at 46,903.06 points.
A report from Arif Habib Limited noted that the market saw a draw-down of 539 points with the depreciating rupee, rising costs of commodities (particularly coal for cement) and redemption calls from mutual funds in the backdrop.
"Cement sector endured significant selling pressure followed by banks and technology stocks due to cost pressures and limited flexibility to pass on the cost," it said.
Weak investor sentiment, as evident from longer than anticipated consolidation of the KSE-100 benchmark, made even the depreciating rupee a negative factor for technology, textile and exploration and production sector stocks, which would otherwise benefit.
Trading volume rose to 544.4 million shares compared to 536.6 million shares traded on Wednesday (September 1).
During the session, shares of 530 listed companies were traded. At the end of the session, 139 stocks closed in the green, 363 in the red and 28 remained unchanged.
Ghani Global Holdings was the volume leader with 58 million shares, gaining Rs0.98 to close at Rs47.18. It was followed by WorldCall Limited with 53.34 million shares, losing Rs0.06 to close at Rs3.50 and Azgard Nine with 42.1 million shares, gaining Rs0.03 to close at Rs25.85.
Sectors contributing to the performance included banks (-138 points), cement (-125 points), fertiliser (-43 points), exploration and production (-38 points) and technology (-32 points).
Individually, major gainers were National Refinery (+8 points), PSX (+7 points), Attock Refinery (+7 points), Byco Petroleum (+6 points) and Mari Petroleum (+4 points).
Meanwhile, major losers included UBL (-41 points), HBL (-40 points), Lucky Cement (-36 points), MCB (-30 points) and Cherat Cement (-25 points).