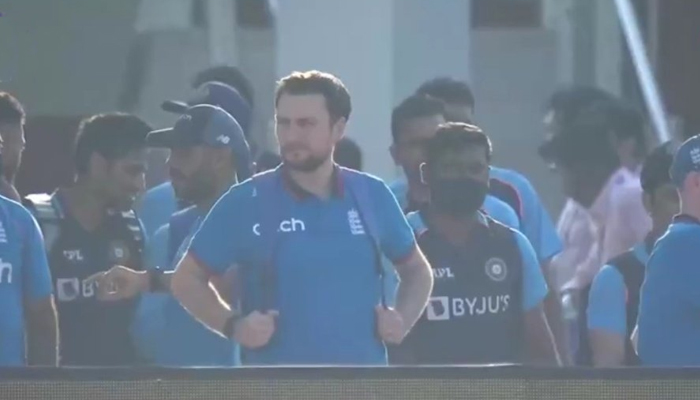 DUBAI: It was a sight for sore eyes for cricket fans in general to see the Indian cricket team watch Pakistan skipper Babar Azam score a half-century, when they arrived for their warm-up fixture against England on Monday. 
Images showed the Indian team arriving at the venue before their own warm-up fixture against England. Kohli's team, accompanied by mentor Dhoni, could be seen watching as Pakistan captain Babar Azam batted his way to a half-century. 

Also watching Babar Azam were the English players, who had arrived to play their warm-up fixture against India. 
As usual, Pakistanis took to social media to share loads of memes of the Indian team watching Babar Azam skillfully score 50 runs.
A few of them referred to the Indian cricket team as "fans" of Babar Azam who had showed up to watch him bat. 
Here's how they reacted:
Anmol Farya, obviously impatient for the Asian cricket giants to lock horns on Sunday, loved the sight of the Indian cricket team watching from the stands as Babar Azam effortlessly stroked the ball to the fence every now and then.
"Indian cricket players have arrived in stadium while Pakistani players are in the middle. That 24th October's feeling is already here," she tweeted.
The Pakistani captain, who ranks as the best ODI batsman, scored an impressive half-century with the help of six 4s and a six, as he helped his team beat West Indies.

Pakistan had defeated West Indies by seven wickets through an all-out team effort in their warm-up match.
The Pakistani bowlers also put up a strong show against an aggressive West Indian side. The Windies never looked comfortable batting first, losing wickets at regular intervals and only managing to finish their inning at 130/7 from their 20 overs.
Babar Azam confident of victory against India
Pakistan captain Babar Azam is, meanwhile, confident of beating India and winning the ICC Men's T20 World Cup as he said the Men In Green were focusing on what's to come and not their past performance.
Speaking during a virtual press conference last week, the skipper had said Pakistan would beat India and carry on the momentum throughout the tournament to win the World Cup.
"There is pressure [on the team] during mega-events, but there is added pressure during matches against India," Babar Azam had told reporters during the press conference.
The Pakistani captain had said the men in green had practised for the World Cup with complete focus and that the team would go into the tournament prepared.
Pakistan will play another warm-up match against South Africa before beginning their campaign with a blockbuster clash with arch-rivals India on October 24 in Dubai.