At close, the benchmark KSE-100 index fell by 584.82 points to close at 44,363.70.
Shares of 341 companies were traded during the session.
Bulls remained on the sidelines taking cue from gloomy macroeconomics outlook.
---
KARACHI: The Pakistan Stock Exchange (PSX) on Wednesday remained in free fall for the third straight day as the rout triggered by a higher-than-expected monetary tightening continued to stoke a panic-selling spree.

Bearish sentiments ruled the market since the start of the trading as a policy rate hike by the State Bank of Pakistan as part of its monetary tightening overshadowed the Pakistan-IMF agreement, triggering negative sentiments in the market.
The bulls remained on the sidelines, taking a cue from the gloomy macroeconomics outlook as investors traded cautiously during the session after the circulation of news regarding mini-budget in the upcoming months.

At close, the benchmark KSE-100 index dropped by 584.82 points, or 1.30%, to close at 44,363.70.
Arif Habib Limited stated that the bears continued to dominate over the bulls for the straight three consecutive sessions in a week as investors feared the upcoming mini-budget. 
"Moreover, the IMF has rejected Pakistan's request to keep a door open for borrowing from the central bank and also did not agree on any meaningful accountability of the State Bank of Pakistan (SBP)," it said.
The brokerage house added that the third day of the roll-over week remained under pressure despite attractive valuations. 
Across the board, selling was witnessed. Meanwhile, on the institutional front, a cautious stance was recorded due to the concerns of foreign selling spree in the upcoming MSCI re-balancing day.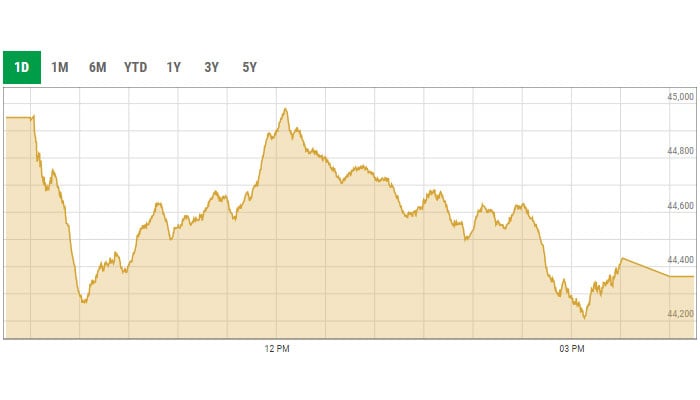 A report from Topline Securities in its post-market commentary noted that Pakistan equities continued its yesterday's negative momentum.
"Investor remained varied over monetary tightening and ambiguity over the IMF programme which led the market to open sideways," it said, adding that afterwards market touched an intra-day low of 740 points where major pressure came from Lucky Cement, Engro Corporation, HBL, Fauji Fertiliser and MCB.
Shares of 341 companies were traded during the session. At the close of trading, 76 scrips closed in the green, 245 in the red, and 20 remained unchanged.
Overall trading volumes surged to 310.4 million shares compared with Tuesday's tally of 12.9 million. The value of shares traded during the day was Rs12.9 billion.
TRG Pakistan was the volume leader with 26.5 million shares traded, gaining Rs1.76 to close at Rs90.11. It was followed by WorldCall Telecom with 24.7 million shares traded, losing Rs0.06 to close at Rs2.11, and TPL Properties with 24.1 million shares traded, losing Rs3.37 to close at Rs42.39.