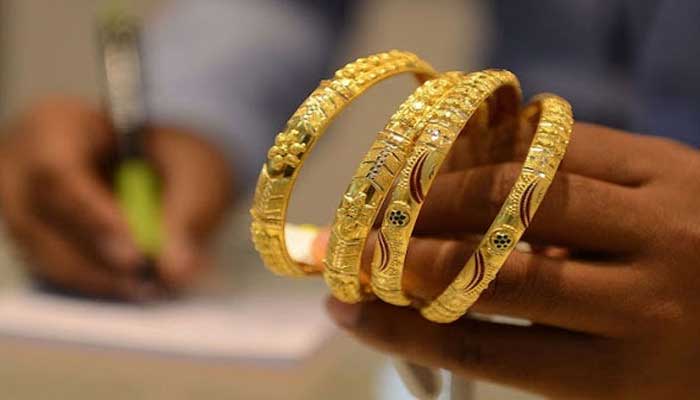 Gold rates in Pakistan record a decrease of Rs450 per tola.
Bullion price settles at Rs126,600 per tola.
Silver price remains unchanged in local market.
---
Gold edged lower on Friday as the rupee rebounded after four days of losses, with the yellow metal remaining under pressure from expectations that the recovery phase will help stocks and currency stay firm.
The rates went down by Rs450 per tola to Rs126,150 and dropped by Rs386 per 10 grams to Rs108,153 compared to Thursday's prices.
According to rates issued by All Sindh Sarafa Association, gold prices clocked in at Rs126,600 per tola and Rs108,529 per 10 grams on Thursday.
The association determines local prices based on rupee-dollar parity and international rates. According to the market practice, local prices of gold usually go down on the rupee's appreciation against the US dollar and rising prices of commodities in the international market.
A firmer tone to economic data and strengthening currency would undermine support for gold, which has benefited in recent times from the plunge in local currency.

Meanwhile, the yellow metal fell below the key $1,800-per-ounce level in the international market with a decrease of $28. The price settled at $1,784.
It is pertinent to mention that the gold rates in Pakistan are around Rs2,000 below cost compared to the gold rate in the Dubai market.

Meanwhile, silver prices in the domestic market remained unchanged at Rs1,470 per tola and Rs1,260.28 per 10 grams today.