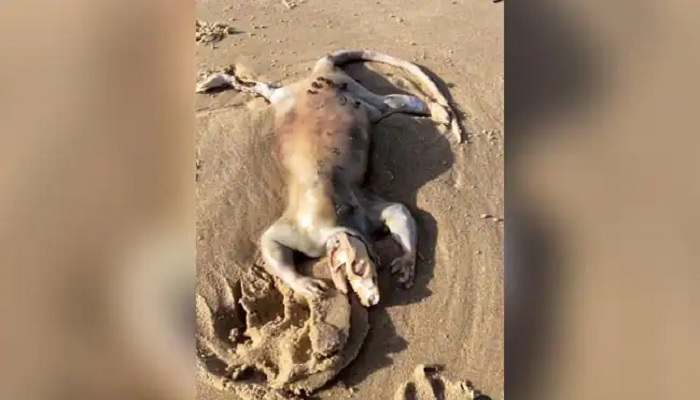 Mysterious creature appears on shore of Australian beach.
Local calls it 'extraterrestrial'.
It is not uncommon for Australian locals, however, to bump into such creatures.
---
An uncanny creature appeared on a beach in Australia's Queensland and left onlookers surprised, NDTV reported.
The video of the creature was posted by a user named Alex Tan on his Instagram.
The strange creature looks like a reptilian with loose limbs, a long tail, and lizard-like claws.
Alex said he was out on his morning walk when he bumped into it on the shore of Maroochydore beach in Australia.
"I've stumbled across something weird," he can be heard saying in the video. "This is like one of those things you see when people claim they've found aliens," Alex added.
Flies can be seen buzzing around the creature's body.
"Extra-terrestrial," the man said, ending the video.
Australian legend Steve Irwin's daughter Bindi, a wildlife expert, also commented on the post. A few said the creature looked like a wallaby.
It is not uncommon for locals, however, to discover such beings.
Previously, a few such creatures were found, one of which was identified to be a type of nudibranch or sea slug