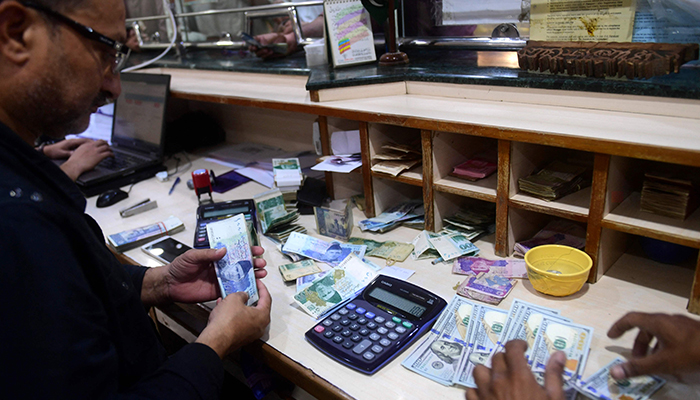 Pakistani rupee continues to fall against US dollar.
Rupee hits a historic low of 228.37 in interbank market.
Analysts blame IMF programme delay, political uncertainty.
---
KARACHI: The Pakistani rupee continued to fall against the US dollar, reaching a historic low of above 228 in the interbank market on Friday — taking its decline this week to nearly 8% and for the year to over 21%.
During the intraday trade, the rupee fell to as low as 229, but it closed at 228.37, losing Rs1.56 or 0.68%, the data released by the State Bank of Pakistan (SBP) showed.

Political uncertainty arising out of the outcome of the Punjab by-elections, a downgrade of Pakistan's ratings from stable to negative by Fitch Ratings, and a delay in the International Monetary Fund's (IMF) programme are attributed by analysts as reasons for the continued battering that the rupee has taken.

Finance Minister Miftah Ismail, however, believes that the economy is on the right track and once political stability returns — which has been uncertain since the coalition government's take over — the rupee will strengthen against the dollar.

Development economist Maha Rahman said that at this hour, foreign assistance from IMF and our long-term allies and its timeliness is more critical than ever before.

"The [rupee's] depreciation this week, amongst other factors, has been triggered by the political surprise that the electorate delivered in Punjab on the weekend, and this frenzy should fizzle out soon," she said.
But Pakistan, she said at this hour, needs active intervention as the overall outlook is fast becoming precarious with fast depleting liquidity.
"I usually also stress upon long-term planning but at this hour adept fire fighting is extremely critical," Rahman stressed.
Shedding light on the situation, economist and former adviser to the federal ministry of finance Dr Khaqan Hassan Najeeb said that Pakistan follows a market-determined exchange rate system.
"In this regime, trade deficit and market influencing news make a lot of impact on currency changes," the former adviser to the finance ministry said.
Dr Hassan said that the recent adjustment of the Pakistani rupee is partly influenced by uncertainty due to election results coupled with a Fitch downgrade.
Talking about the increased demand for the greenback in the interbank market, the economist said that banks do not cover LC payments on opening but completely cover them at the time of getting the flows.
"With the pronounced rupee slide, financial institutions tried to cover import payments. It created a higher demand in the interbank," he explained, adding that when the rupee is depreciating exporters hold their proceeds for a better rate in the future.
Commenting on the intervention of the central bank, he said that the SBP can smoothen the disorderly movement but limited foreign exchange reserves position, as well as bindings of the IMF considerations, constrained SBP.