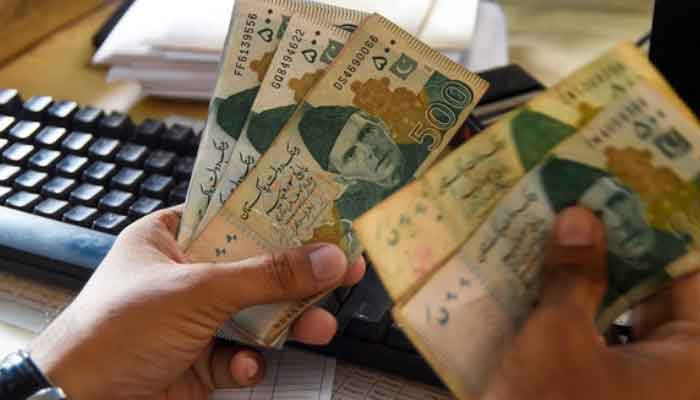 Rupee closes at Rs239.94 against US dollar in interbank market.
Depreciates Rs3.92 against greenback in a single-day.
Analyst says higher dollar demand and outflows are taking a toll on currency.
---
KARACHI: The Pakistani rupee plunged to a new low on Thursday while continuing its downward spiral against US dollar in the interbank market despite Finance Minister Miftah Ismail assuring investors that the pressure on local currency will soon "vanish".
Data released by the State Bank of Pakistan (SBP) showed that the local unit closed at a historic low of 239.94 against the US dollar — surpassing its last day low of 236.02 after depreciating by Rs3.92, or Rs1.63% today.
Speaking to Geo.tv, Arif Habib Limited's Head of Research Tahir Abbas said the currency pressure continued today as well, amid higher dollar demand and outflows — mainly oil-related payments tagged with lower inflows.

Fears have risen about Pakistan's stuttering economy as its currency fell nearly 8% against the US dollar in the last trading week, while the country's forex reserves stood below $10 billion with inflation at the highest in more than a decade.
Alpha Beta Core CEO Khurram Schezad said that the US dollar is getting stronger in the global market almost against all the world currencies — and the rupee is not an exception.
In addition, he said, Pakistan's external account issues are not settled as yet though imports are slowing.
He noted that although the International Monetary Fund (IMF) is on board for disbursement, the flows are yet to materialise as the Executive Board's final approval is awaited.
"Global rating agencies have put a negative outlook on the economy, so that is an additional burden that is weighing in on the financial markets in general and forex market in particular," he added.