KSE-100 index closes at 40,150.36 points.
Index oscillated between red and green zones.
Shares of 312 companies were traded during the session.
---
KARACHI: The Pakistan Stock Exchange (PSX) closed the futures rollover week on a negative note with a loss of over 100 points.
The index oscillated between red and green zones as certain sectors experienced selling pressure. Investors were concerned over the subdued economic growth and dismal economic numbers, which prevented the market from advancing further.
However, encouraging corporate results coupled with an appreciation in the Pakistani rupee helped the index arrest a major decline.
Earlier, trading began on a negative note, fortunately, the bourse failed to sustain the momentum. After trading resumed in the second session the index started moving towards the south and ended the session with losses.

At close, the benchmark KSE-100 index closed at 40,150.36 points with a decrease of 126.28 points or 0.31%.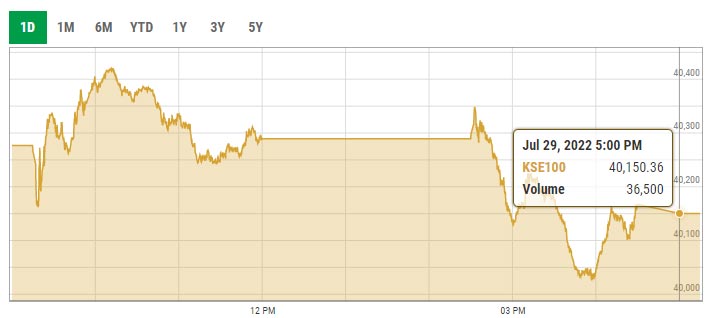 A report from Arif Habib Limited noted that a range-bound session was observed in the market today due to the last day of rollover week.
The benchmark KSE-100 index opened in the positive zone but sluggish activity was witnessed. In the last trading hour, profit taking was observed which led the index to close in the red zone.
Volumes remained dry on the main board although healthy volumes were witnessed in the third-tier stocks.
Shares of 312 companies were traded during the session. At the close of trading, 108 scrips closed in the green, 179 in the red, and 25 remained unchanged.
Overall trading volumes dropped to 170.27 million shares compared with Thursday's tally of 251.27 million. The value of shares traded during the day was Rs6.3 billion.
Unity Foods was the volume leader with 13.93 million shares traded, gaining Rs0.45 to close at Rs18.74. It was followed by Lotte Chemical with 9.96 million shares traded, losing Rs0.76 to close at Rs29.47 and Cynergyico PK Limited with 8.78 million shares traded, losing Rs0.04 to close at Rs4.79.