KSE-100 index gains 1,946 points.
Finishes four out of five sessions in green.
Interest in main board sectors kept market buoyant.
---
KARACHI: The Pakistan Stock Exchange (PSX) recouped losses from the previous week with the benchmark KSE-100 index gaining 1,946 points or 4.9% to settle at 42,096.24. Trading remained volatile throughout the week with the index finishing four out of five sessions in the green.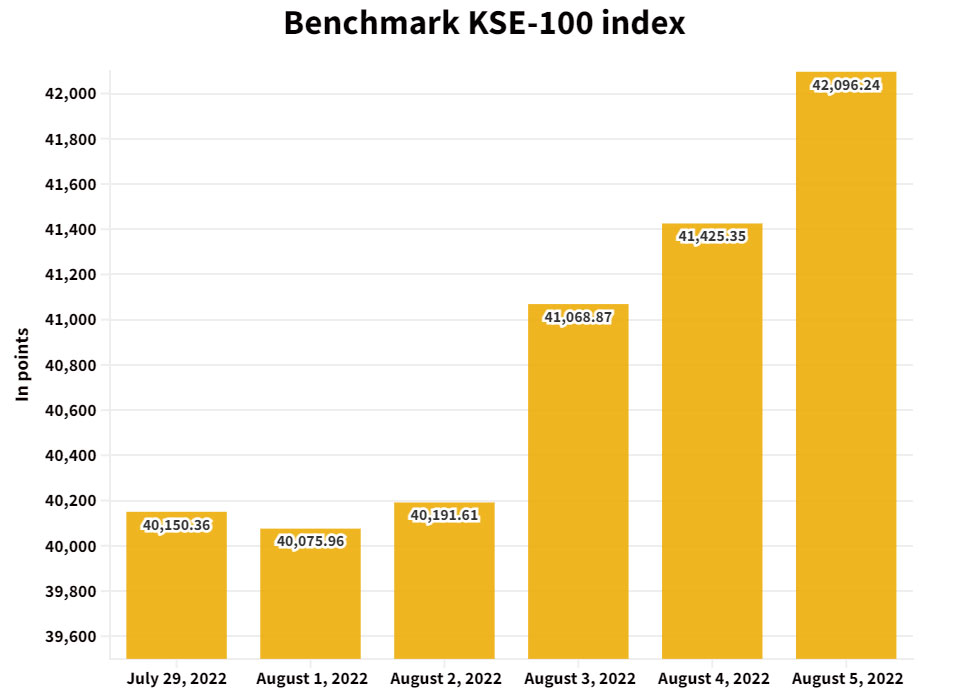 Interest in main board sectors kept the market buoyant as investor participation remained strong. The index maintained a healthy momentum on back of trade deficit and strengthening rupee against the US dollar. Additionally, sector-specific developments also spurred buying interest in select stocks, which further fuelled the rally.
The market commenced the week on a negative note as inflation for the month of July 2022 came in at 24.9%, — highest level in last 14 years.
Fortunately, tables turned and the sentiment turned positive after the International Monetary Fund (IMF) announced that Pakistan had fulfilled the last remaining pre-requisite for the loan (incremental hike in petroleum development levy on MS and hi-speed diesel).

With this renewed hope, the Pakistani rupee strengthened against greenback, gaining Rs15.33, or 6%, week-on-week to close at Rs224.04 this week.
Furthermore, trade deficit significantly declined in July, down by 47% month-on-month. Moreover, reduction in international oil prices post OPEC+ meeting (WTI trading below $88 per barrel compared to $98.62 per barrel last week) further cemented the ground for bulls.
Other major developments during the week were: ministry agreed to increase oil marketing companies margin on MS (petrol), hi-speed diesel, SBP's forex reserves fell $190 million to $8.4 billion, banks give Rs298 billion financing in PIB auction, refineries' gross margin declined 83% in August, and oil sales in July 2022 clocked in at the lowest level since February 2021.
Meanwhile, foreign selling this week clocked in at $0.69 million against a net buy of $0.57 million recorded last week. Selling was witnessed in banks ($0.9 million), and fertiliser ($0.6 million).
On the domestic front, major buying was reported by brokers proprietary ($2.2 million), followed by mutual funds ($1.6 million).
During the week under review, average volumes clocked in at 263 million shares (up by 75% week-on-week), while average value traded settled at $34 million (up by 56% week-on-week).
Major gainers and losers of the week
Sector-wise positive contributions came from banks (+427 points), cement (+421 points), fertiliser (+112 points), chemical (+111 points), and oil marketing companies (+106 points).
On the flip side, negative contributions came from close-end mutual fund (-3 points), and real estate investment trust (-1 points).
Scrip-wise major gainers were Luck Cement (+155 points), UBL (+124 points), MCB (+87 points), PSO (+78 points), and Colgate-Palmolive (+73 points).
Meanwhile, major losers were Faysal Bank (-10 points), Mari Petroleum (-6 points), Interloop (-4 points), and Adamjee Insurance Company (-3 points).
Outlook for next week
A report from AHL predicted: "We expect the market to remain in the green zone given hopes on loan disbursement from IMF once approval is granted by the Executive Board."
"Moreover, with the ongoing result season, certain sectors and scrips are expected to stay under the limelight given anticipation of robust results," it said, advising investors to cherry-pick fundamentally strong blue-chip stocks.
"The KSE-100 is currently trading at a PER of 4.3x (2022) compared to the Asia-Pacific regional average of 12.5x while offering a dividend yield of 8.9% versus 2.8% offered by the region," the brokerage house stated.