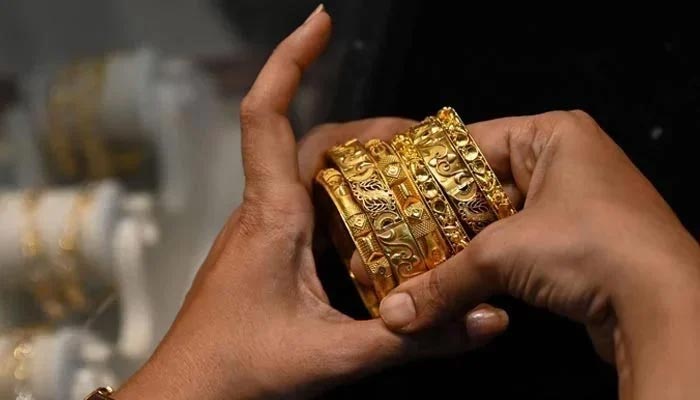 Price of the yellow metal settles at Rs138,500 per tola.
Gold price closes at Rs118,741 per 10 grams.
Precious commodity lost around Rs5,000 per tola in last four sessions.
---
KARACHI: The gold price in Pakistan declined for the fourth day on Saturday and decreased by Rs500, falling below the threshold of Rs140,000 per tola.
The price of the yellow metal settled at Rs138,500 per tola and decreased by Rs429 to settle at Rs118,741 per 10 grams.
The rates of gold were Rs139,000 per tola and Rs119,170 per 10 grams on Friday.

Cumulatively, the precious commodity has lost around Rs5,000 per tola in the last four sessions.

The dealers had already anticipated the market to undergo a correction after the precious commodity scaled to new peaks. The gold hit an all-time high of Rs162,500 per tola on July 28.
Pakistan is a small market for gold at the global level. It meets the commodity's demand through imports as it does not produce the commodity locally.
It should be noted that the gold price is standing below cost. Gold is cheaper by Rs4,000 per tola compared to its price in Dubai.
In the international market, bullion prices increased by $12 per ounce to settle at $1,802.
Meanwhile, silver prices in the domestic market remained unchanged at Rs1,560 per tola and Rs1,337.44 per 10 grams today.