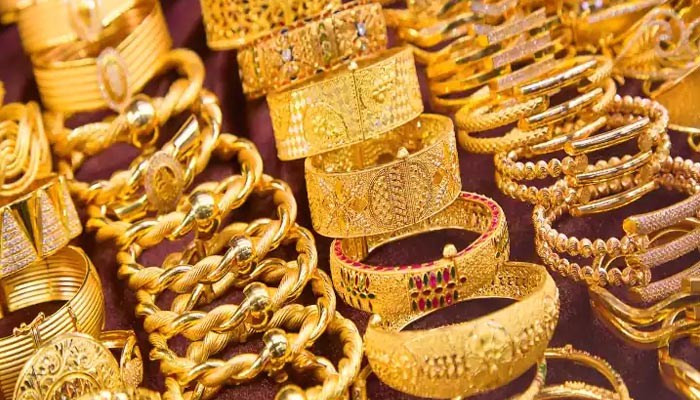 Gold price soars by Rs1,000 per tola.
Per tola rate settles at Rs157,000.
Silver prices remain unchanged.
---
KARACHI: Gold prices in Pakistan scaled a 3.5-month peak on Tuesday, as the rupee pulled back after tepid US dollar demand weighed on the local currency.
The price of gold soared by Rs1,000 per tola and Rs851 per 10 grams to settle at Rs157,000 and Rs134,602, respectively, data released by the All Pakistan Sarafa Gems and Jewellers Association (APSGJA) showed.
Pakistan is a small market for gold at the global level. It meets the commodity's demand through imports as it does not produce the precious metal locally.
Accordingly, the gold price for local markets is determined by keeping in view its prices in world markets, rupee-dollar exchange rate, and demand and supply in domestic markets.
The latest price for local markets was determined to keep in view the prices at which trade took place among buyers and sellers.

In the international market, the price of the yellow metal surged by $18 per ounce settling at $1,775.

The precious commodity's rates in Pakistan are around Rs5,500 below the cost compared to the rate in the Dubai market.
Meanwhile, silver prices in the domestic market remained unchanged at Rs1,680 per tola and Rs1,440.32 per 10 grams.