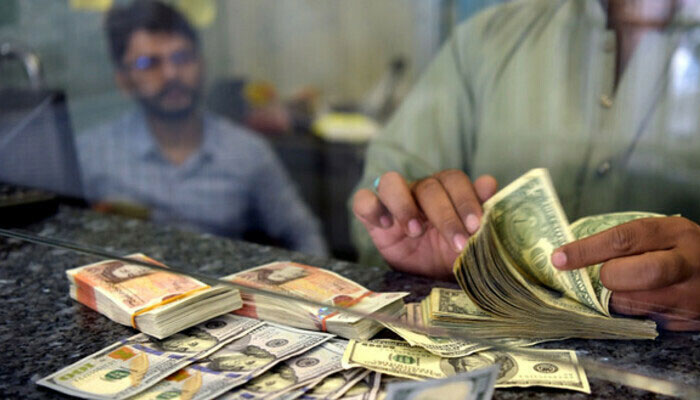 Rupee closes at same level as Tuesday.
Investors wary of economic impact.
They say economy exposed to shocks.
---
KARACHI: Pakistan rupee Wednesday maintained its Tuesday's parity status quo against the dollar in the interbank market.
State Bank of Pakistan (SBP) said the local currency closed at Rs223.95 against the greenback.
Currency dealers said even after receiving Asian Infrastructure Investment Bank's (AIIB) $500 million, concerns over the thinning foreign exchange reserves were far from over. 
"We are still vulnerable to external and internal pressures owing to a thin dollar cover," the dealers added.
According to another forex dealer, following AIIB funding, they were expecting a slight increase in the local currency.

However, the rupee traded flat instead, indicating no respite in foreign exchange reserves-related jitters amid increasing doubts about its ability to meet its external financing requirements, including debt repayment.
Pakistan has a $1 billion international bond repayment due later this week.

The country's total foreign reserves with the central bank stood at $7.9 billion as of November 18.
Meanwhile, the ninth review of the International Monetary Fund (IMF) Extended Fund Facility may not be completed soon, and the disbursement of the $1.18 billion tranche may not take place until January of next year.
The US dollar stuck close to a one-week high on Wednesday, holding on to gains from a three-day rally, as investors braced for comments from Federal Reserve Chair Jerome Powell later and a crucial monthly jobs report at the end of the week, Reuters reported.
The US dollar index, which measures the greenback against the euro and five other rivals, eased 0.13% to 106.72 after reaching 106.9 in early Asian trading for the first time since November 23.
The index has dipped to around 105.3 twice since the middle of the month, amid bets the Federal Reserve would pivot from aggressive rate hikes after inflation showed signs it may be close to a peak.
---
—Additional input from Reuters