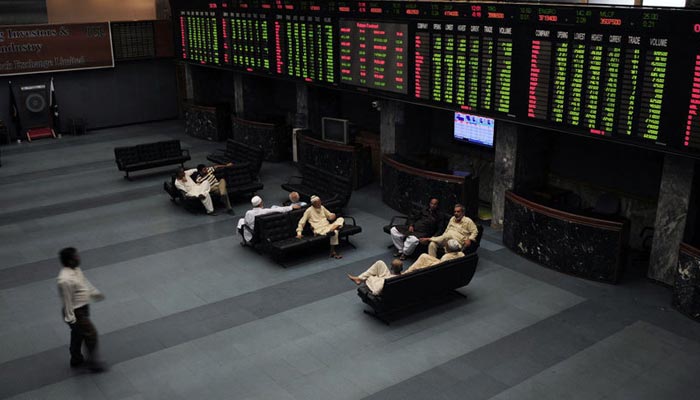 Bullish sentiment prevailed throughout the day.

KSE-100 index closes at 41,819.29 points with an increase of 0.67%.

Shares of 334 companies were traded during the session.

 
---
The bulls staged a comeback at the Pakistan Stock Exchange (PSX) on Wednesday marking an end to the three-day-long losing streak as the benchmark KSE-100 index registered a decent rally.
The bullish sentiment prevailed throughout the day that kept the KSE-100 index in the positive territory.
The trading activity received a major boost on clarification from the Finance Division regarding economic emergency and the International Monetary Fund (IMF) ninth review.
A day earlier, the Finance Division rebutted reports of an "economic emergency" being imposed in Pakistan. 
"Finance Division not only strongly rebuts the assertions made in the said message, but also categorically denies it and that there is no planning to impose economic emergency," a statement from the division read.
Moreover, it stated that with the efforts of the current government, the IMF programme has come back on track and negotiations leading to the ninth review are now at an "advanced stage".
Earlier, the trading session started on a positive note and the KSE-100 index continued its upward march with minor oscillations.
The benchmark KSE-100 index closed at 41,819.29 points with an increase of 279.35 points or 0.67%.

Arif Habib Limited, in its post-market commentary, noted that the benchmark KSE-100 index finally ended its losing streak and traded in the green all day.
"Following a clarification by the Finance Division regarding the ninth review of the IMF programme, the market opened in the green and maintained its positive trend throughout the day," it stated.
Investors gained confidence as mainboard volumes gained momentum and participation remained healthy, with third-tier stocks leading in terms of volume.
Sectors contributing to the performance included cement (+54.1 points), commercial banks (+48.5 points), technology and communication (+48.4 points), miscellaneous (+37.3 points), oil marketing companies (+26.4 points).
Shares of 334 companies were traded during the session. At the close of trading, 196 scrips closed in the green, 111 in the red, and 27 remained unchanged.
Overall trading volumes rose to 221.48 million shares compared with Tuesday's tally of 131.69 million. The value of shares traded during the day was Rs5.86 billion.
Dewan Cement was the volume leader with 29.55 million shares traded, gaining Rs0.50 to close at Rs6.04. It was followed by WorldCall Telecom Limited with 21.47 million shares traded, losing Rs0.01 to close at Rs1.36 and Kohinoor Spinning Mills with 13.6 million shares gaining Rs0.41 to close at Rs3.15.