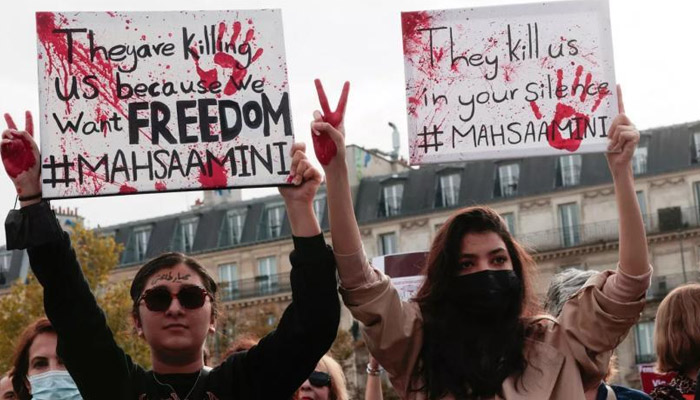 GENEVA: Iran is weaponising the death penalty, attempting to crush dissent by frightening the public with the execution of protesters, the United Nations said Tuesday.
The republic has been rocked by a wave of protests since the death in custody on September 16 of Mahsa Amini, following the 22-year-old's arrest for allegedly violating Iran's strict dress code for women.
Tehran has executed four people in connection with the demonstrations, following expedited trials that did not meet the minimum guarantees of fair trial, the UN Human Rights Office (OHCHR) said.
"Criminal proceedings and the death penalty are being weaponised by the Iranian government to punish individuals participating in protests and to strike fear into the population so as to stamp out dissent, in violation of international human rights law," OHCHR said.
Two further executions are scheduled imminently and at least 17 other individuals have reportedly been sentenced to death, said the office of Volker Turk, the UN High Commissioner for Human Rights.
"The weaponisation of criminal procedures to punish people for exercising their basic rights — such as those participating in or organising demonstrations — amounts to state-sanctioned killing," Turk said in a statement.
OHCHR spokeswoman Ravina Shamdasani said the UN was against the imposition of the death penalty in all circumstances.
"However, in these instances, what we have seen is a lack of due process; charges that are completely spurious and don't make sense," she told a press briefing.
"These are charges of corruption on Earth and waging war against God, which are very vaguely worded."
She said there were also serious allegations of torture, mistreatment and humiliating treatment prior to the executions.
"In such circumstances, these executions amount to an arbitrary deprivation of life," she explained.
Listening to their grievances
OHCHR said it had received information that two further executions are imminent — that of 22-year-old Mohammad Ghobadlou and Mohammad Boroghani, 19.
"The government of Iran would better serve its interests and those of its people by listening to their grievances," said Turk.
"I reiterate once more my call to the government of Iran to respect the lives and voices of its people, to impose an immediate moratorium on the death penalty and to halt all executions," Turk said.
"Iran must take sincere steps to embark on the reforms that are required and demanded by their own people for the respect and protection of their human rights."
Mohammad Al Nsour, OHCHR's Middle East and North Africa chief, said Turk would be meeting soon with Iranian officials in Geneva.
Turk has voiced his willingness to go to Tehran and meet with the Iranian authorities, including supreme leader Ayatollah Ali Khamenei.
However, he said there was no agreed date and no discussion as yet on the terms of reference for such a visit.
Oslo-based group Iran Human Rights said Monday that at least 109 protesters now in detention have been sentenced to death or face charges that can carry capital punishment.
The crackdown and executions have sparked global outrage and new Western sanctions against Tehran.