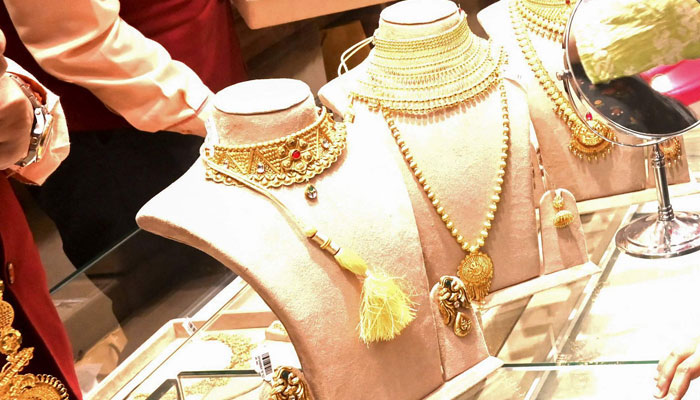 Gold price settles at Rs185,300 per tola.
Silver price declines by Rs20 per tola.
Price of gold is "overcost" by Rs2,000 per tola in Pakistan.
---
Gold price once again plunged over Rs1,000 per tola on Thursday as market volatility took a toll on the appeal of the safe-haven asset.

Data released by the All Pakistan Sarafa Gems and Jewellers Association (APSGJA) showed that the price of the precious metal fell by Rs1,200 per tola and Rs1,029 per 10 grams to settle at Rs185,300 per tola and Rs158,865 per 10 grams, respectively.
The gold price has been fluctuating since the start of the week as favourable and unfavourable economic and political developments affected the investors' mood.
The association reported that the price of gold has been "overcost" by Rs2,000 per tola in Pakistan, as compared to prices in Dubai. This means that, at present, the Pakistani gold market is more expensive than the world market.

It should be noted that Pakistan meets almost all its gold demand through imports, and traders follow its international price in setting rates in the country. Jewellers import the metal against the US dollar and UAE dirham before converting its price into rupees.
Goldsmiths also mentioned that the majority of the buyers in the local market comprise gold investors these days. Earlier, they were parking their savings in the US dollar to avoid the impact of rupee devaluation at a time of high inflation.
Last week, gold prices remained volatile during the week, with the precious commodity undergoing correction during the first three sessions; however, it regained its shine. The price rose by Rs2,000 during the volatile week that ended on January 14.
Goldsmiths believe that the investors started moving to the bullion market following the shortfall of the dollar in the open market. In the black market, illegal traders were selling the dollar for Rs290-300 compared to Rs229 in the interbank market.
Meanwhile, silver prices in the domestic market declined by Rs20 per tola and Rs17.15 per 10 grams to settle at Rs2,080 and Rs1,783.26.
In the international market, the gold pulled back from session highs and expectations of a slower pace of Federal Reserve rate hikes supported prices above the $1,900 threshold. The price settled at Rs1,909 per ounce after a decrease of $6.