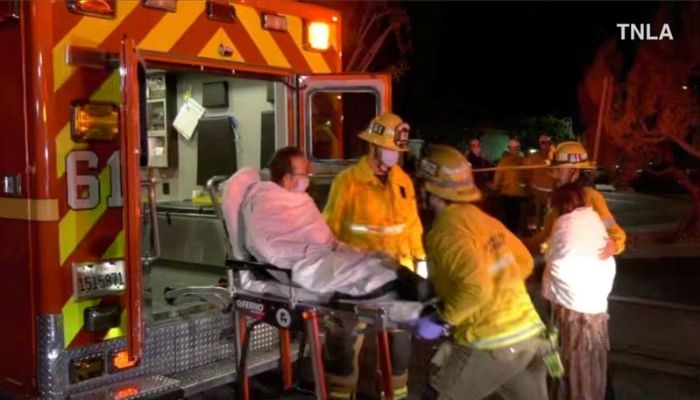 Shooting at location of Chinese Lunar New Year festival.
The suspect is currently at large.
White House says President has been briefed about the incident.
---
Ten people were killed in a mass shooting in the city of Monterey Park, California, at a ballroom dance venue late on Saturday, the Los Angeles County Sheriff's Department said.
The shooter, still at large 12 hours after the attack in the city of Monterey Park, was believed to be an Asian man between 30 and 50 years old based on descriptions from eyewitnesses, law enforcement officials said.

There was no information yet about a motive for the attack, the department added.
Another 10 people were taken to local hospitals to be treated for injuries, and at least one was in critical condition.
Officials were investigating whether an incident at another dance venue in the neighbouring city of Alhambra about 20 minutes later on Saturday night was connected with the massacre in Monterey Park. 
"We need to get this person off the street as soon as possible," Los Angeles County Sheriff Robert Luna told reporters at a Sunday morning news conference in Monterey Park, home to one of the largest Asian American communities in the United States.

At the second venue, witnesses said an Asian man walked in holding a gun that patrons were able to grab. No one was shot and the man fled, Luna said.

The shooting took place after 10 pm around the location of a Chinese Lunar New Year celebration held in Monterey Park, US media reported.
"Our hearts go out to those who lost loved ones tonight in our neighbouring city, Monterey Park, where a mass shooting just occurred," Los Angeles City Controller Kenneth Mejia said in a tweet.
Tens of thousands of people had attended the festival earlier in the day.
The Los Angeles Times quoted the owner of a nearby restaurant as saying that people who sought shelter on his property told him there was a man with a machine gun in the area.
Monterey Park is a city in Los Angeles county, around 7 miles (11 km) from downtown Los Angeles.
The White House said President Joe Biden had been briefed on the attack and had directed the Federal Bureau of Investigation (FBI) to assist local police.

Mass shootings are recurrent in the United States, and the attack in Monterey Park was the deadliest since May 2022, when a gunman killed 19 students and two teachers at a school in Uvalde, Texas. The deadliest shooting in California history was in 1984 when a gunman killed 21 people at a McDonald's restaurant in San Ysidro, near San Diego.