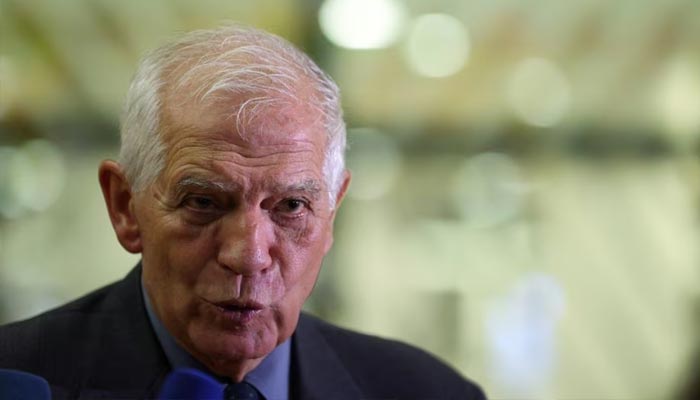 BRUSSELS: The European Union (EU) on Monday introduced new sanctions against Iran for a "brutal" crackdown on protests, but the bloc's top diplomat said the country's Revolutionary Guards (IRGC) cannot be listed as a terrorist group without a court decision.
Relations between the 27-nation EU and Tehran have deteriorated during stalled efforts to revive talks on its nuclear programme, worsening further as Iran has moved to detain several European nationals.
Sweden, which currently holds the EU's rotating presidency, said the bloc's foreign ministers meeting in Brussels on Monday "adopted a new package of sanctions against Iran, targeting those driving the repression."
"The EU strongly condemns the brutal and disproportionate use of force by the Iranian authorities against peaceful protesters," said Sweden's Foreign Minister Tobias Billstrom, according to a Twitter post by the country's EU diplomatic mission.
EU diplomats told Reuters last week the bloc was set to add 37 names to a blacklist of Iranian people and entities banned from travelling to Europe and subject to an asset freeze.
The European Parliament has called on the EU to go further and list the IRGC as a terrorist entity, blaming it for the clampdown on protests now into their fourth month and the supply of drones for Russia's war against Ukraine.
The IRGC was set up shortly after the 1979 Islamic Revolution to protect the Shi'ite clerical ruling system. It has an estimated 125,000-strong military with army, navy and air units, and commands the Basij religious militia often used in crackdowns.
"The Iranian regime, the Revolutionary Guards terrorise their own population day after day," German Foreign Minister Annalena Baerbock told Monday's meeting.
But the EU's top diplomat said a court ruling with a concrete legal condemnation had to first be handed down in a member country before the EU itself could apply any such designation.
"It is something that cannot be decided without a court... decision first. You cannot say I consider you a terrorist because I don't like you," Josep Borrell told reporters on the sidelines of the Brussels talks.
The ministers were meeting in the EU political hub where thousands took to the streets a day before to protest against the detention in Iran of Belgian aid worker Olivier Vandecasteele.
Iran earlier warned the EU against designating the IRGC as a terrorist entity.