Rupee recovers slightly as it closes at 262.60 against dollar.
Local unit settles at Rs266 against greenback in open market.
Greenback has gained Rs31.28 in interbank market since Thursday.
---
The Pakistani rupee extended its downward trend on Friday with the local currency plunging Rs7.17, or 2.73%, against the US dollar in the interbank market as the government eased its control over the currency in order to convince the International Monetary Fund (IMF) to release pending loan tranche.
The local unit recovered slightly by day end as it closed at an all-time low of Rs262.20 after dropping to 268 during intra-day trade. A day earlier, the rupee settled at Rs255.43 in the interbank market following a single-day highest decline of over 9%.
The greenback has gained Rs31.28 in the interbank market since Thursday as forex companies removed a cap on the exchange rate — a key demand of the IMF as part of a bailout programme agreed upon in 2018.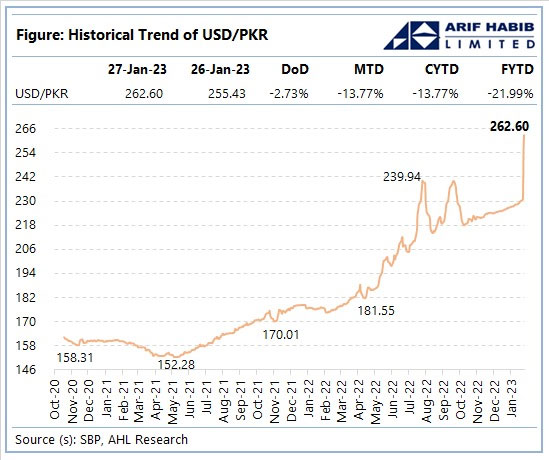 The rupee fell to 269 to the dollar in the open market, a decline of Rs3 compared to the day before, according to the rates provided by the ECAP.

A market-driven currency rate is one of the key requirements the IMF has set for restarting the stalled bailout programme. 
Attempts by Finance Minister Ishaq Dar to defend the rupee since his appointment in September, including reported currency market interventions, had run counter to the IMF's advice. 
A day earlier, the rupee shed 24.11 in the interbank market, falling as low as 255.43 rupees to the dollar. The 9.6% decline is the second-biggest drop in a single session.

The previous low of 239.94 rupees was recorded on July 28, 2022, when Pakistan's long-struggling economy was further weakened by political chaos and devastating floods.
Facing an acute balance of payments crisis, Pakistan is desperate to secure external financing, with less than three weeks' worth of import cover in its foreign exchange reserves, which fell $923 million to $3.68 billion in the latest data.
Pakistan secured a $6 billion IMF bailout in 2019. It was topped up with another $1 billion last year to help the country following devastating floods, but the IMF then suspended disbursements in November due to Pakistan's failure to make more progress on fiscal consolidation.
In 2019, the government of former prime minister Imran Khan brokered a multi-billion-dollar loan package from the lender of the last resort.
But the economy slid backwards when Khan reneged on his promise to cut subsidies and market interventions that had cushioned the cost-of-living crisis.
Prime Minister Shehbaz Sharif, who ousted Khan in a no-confidence vote last spring, has also been reluctant to meet loan conditions amid falling popularity.
Exchange Companies Association of Pakistan President Zafar Paracha told AFP the cap was lifted on Wednesday "in consultation with the state bank".
---
— Additional input from Reuters and AFP